Farmville Greenhouse Guide - Make new crops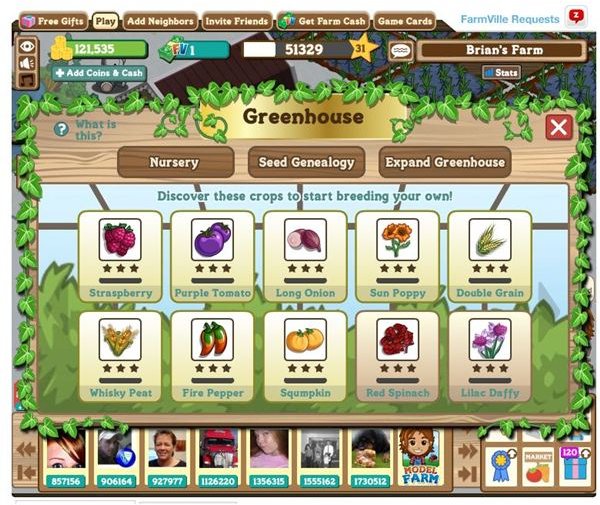 Farmville Greenhouse Guide Basics
To build the Farmville greenhouse you'll need four wooden boards, four nails, and four bricks to complete the greenhouse at the lowest level in the game. With each upgrade you'll get more seed trays for your new crops. Greenhouse crops take two normal crops and change them into a hybrid crop. You'll need to search for crops that will match each other as not every crop can be merged to form a hybrid crop. It will take some trail and error to get the right crops together for the match. You can use seed genealogy to get ideas for the best matches making the task easier. With more bricks, nails, and boards you can expand your greenhouse and see the look of your greenhouse change. Be sure to use the special delivery Farmville gift to get the parts you need from your friends or just buy them with game cash.
Making a New Crop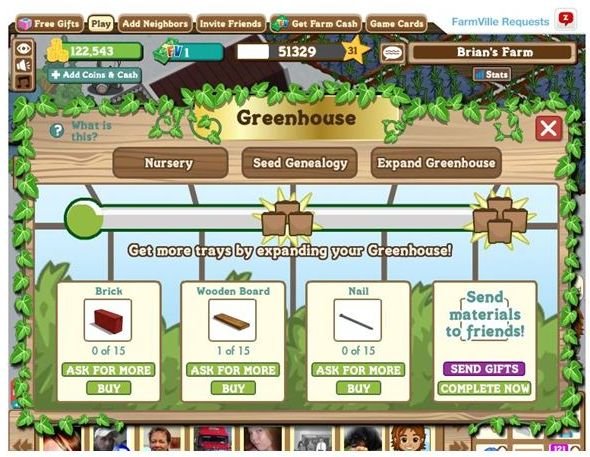 The greenhouse takes two different crops and forms them into a completely new crop you can use on your farm. So for example, jalapenos and peppers combined together form the new crop fire pepper. You can use Facebook friends to help you speed up the growing process or just wait until the new crop has completed. Once your crop is done you can use it on your farm. Come back and repeat the process to get more seeds from the new hybrid crop. Fifty seeds will be available after the new crop is ready. If you try to match crops that aren't compatible, you'll get an error message and you'll have to start over with different crop combinations.
Greenhouse Crops and Mastery
Your new crops will work just like regular Farmville crops and you can even master them the same way you do with normal crops. Some examples of the new crops available include double grain, strasberry, sun poppy, long onion, whisky peat, and red spinach. The greenhouse is perfect for Farmville players who like to master crops as this gives the player more options and crops to work with. Once your greenhouse is fully upgraded, you can produce quite a few seeds to plant and get those masteries done quickly. New players probably won't need a greenhouse for along time but for veteran players who want something else to do in the game the greenhouse is a solid option to add to your farm.
Conclusion
Zynga continues to support Farmville with new options and things to build. The greenhouse will give you new unique crops to master as well as extra content for those veteran players who want a bit more out of their game. Look for more content in addition to the greenhouses with the England Farmville expansion coming soon to the game on Facebook.