Farmville Craft Shop Guide- New options for your favorite farming game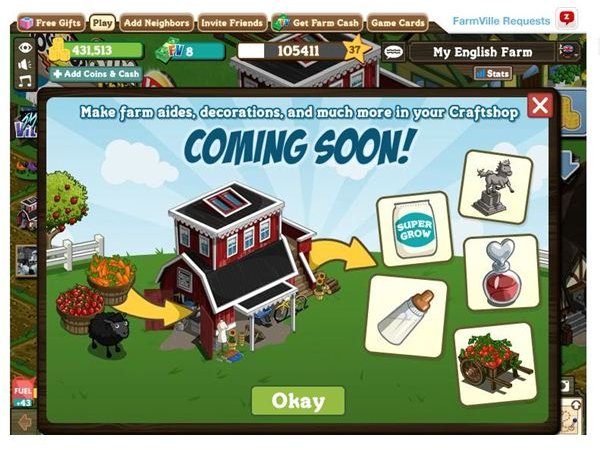 The Farmville Craft Shop Guide- The Basics
Farmville has been a popular Facebook game because Zynga is always introducing new features that give players more options in terms of game play. Farmville will soon have a brand new craft shop feature, which will allow players to build items with completely new crafting options. This will go beyond the spa or bakery feature and give the player actual items to build such as farm aid or new decorative items for your farm. Players can build the craft shop now and the new features will arrive in the game shortly. Players receive the new craftshop structure free but need special items to complete the building and get ready for the features.
Items Needed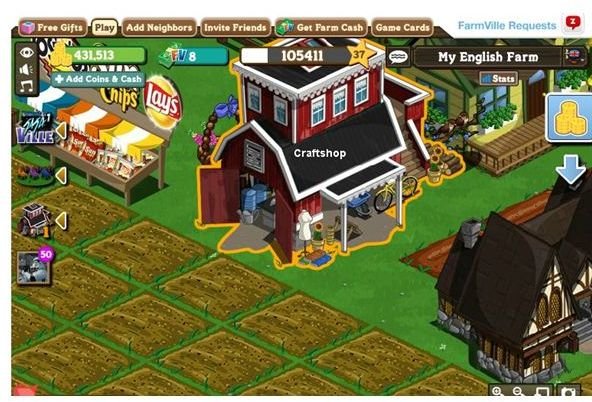 Older Farmville buildings require nails, boards, and bricks to complete but the new crafting shop uses different building materials. The craft shops needs ten hammers, ten spools of twine, and ten bags of concrete, until it's completed. Each Farmville player gets one craftshop for his or her farm. Obtain building materials from Facebook friends by posting wall messages and if you have extra parts, you can send these to friends as gifts. Those that want to spend farm cash can buy the parts directly from the game marketplace and finish their crafting shop without waiting for the parts from Facebook friends.
Quests
The new craftshop feature has several different quests associated with it.
Quest One – Working On the Craftshop (Buy one craftshop, fertilize friends farm plots 25 times) Reward: 100 XP, 2 hammers, 2 bags of concrete,2 spools of twine, and 2,500 coins.
Quest Two - Shoulder to the Plow – (Get six cans of elbow grease, harvest 100 Morning Glory) Reward: 250 XP, 1 milk jug cart, and 5,000 coins.
Quest Three – Finishing Touches – (Complete craftshop, harvest 100 wheat) Reward: 500 XP,5 farm cash, and 7,500 coins.
What To Expect With the New Shop
The new craftshop will bring Farmville players new things to create for their farms. According to some images, you'll be able to make statures, decorations, love potions for baby animals, fertilizer and more. This feature will give farmers new incentive to grow different crops and it would be great if this new feature opened up some sort of trade options in the game such as a player-to-player marketplace where players could buy and sell goods with each other. Another idea would be to produce some item in the craftshop and get seeds or an animal in return. It is hard to tell what this feature will give players but it looks like it will enhance the game play. Be sure to visit the Zynga forums and keep up to date with the progress of this new feature that will soon arrive to your farm and give you more options to play your favorite farming game on Facebook.
References
All images from Farmville.
Source: Article is author's own expereinces playing Farmville on Facebook.