Where are the Good Farmville Forums - Farmville Tips Every Farmer Should Know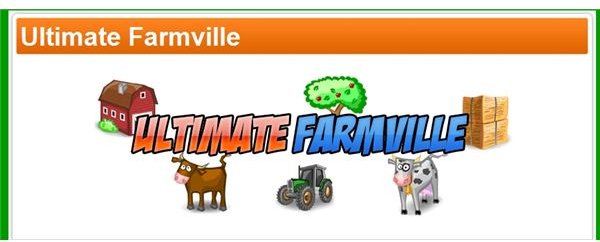 Forums Ultimate Farmville Strategy
When trying to master the popular Zynga game on Facebook known as Farmville there are multiple resources that can help. One of the best places to go for the latest virtual farming techniques is Farmville forums. Forums provide an open platform for fans of Farmville to easily connect with other players. Users can exchange Farmville tips and tricks, ask questions, add members as neighbors, assist in various quests, and even make some new friends. The level of participation is totally up to each individual. Serious players post and contribute daily on quality boards. So, if learning how to level up faster, increase the rate of crop mastery, earn more coins, gifts, finding collector's items, advancing chicken coops, and an effective Farmville strategy than forums might be the missing link between you and total farming domination.
Farmville Freak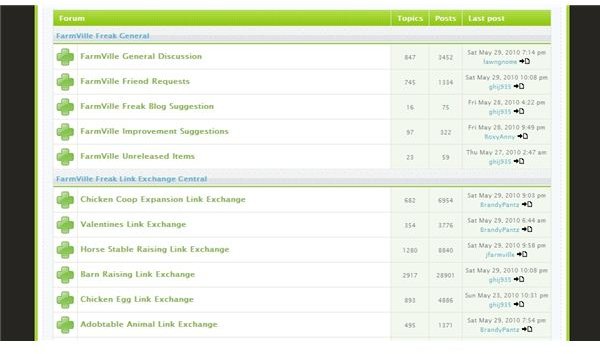 Farmville Freak is not only one of the best Farmville forums online but it also features a regularly updated blog which posts the most current news for the game. The site is overflowing with information on how to play Farmville. Topics are categorized and listed in the side panel for easy access. There are mini guides for new players starting out as well. The forum heavily populated with thousands of members to converse with. The board is broken up into two major categories General and Link Exchange. Users can discuss the game, ask questions, and request new neighbors in the General section. The Link Exchange area is used for players who need help with horse stable or chicken coop expansions. Members can post their profile link for others to send specific building materials or gifts to assist in the construction process. It's an excellent way to quickly progress in the game without spamming all of your Facebook friends.
Farmville Zynga Forum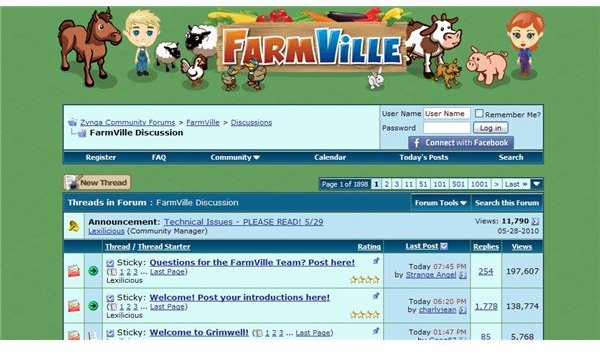 Another great site to check out is Zynga's Farmville Forum. They feature more in-depth advice on Farmville designs. Users can learn the secrets to sculpting the coolest farm through viewing other members' layouts and tips. This is really helpful if you're looking for some more creative plans or happen to be lost when it comes to decorating. Players can list their complaints, suggestions, and questions to broad active community. Farmville forums are wonderful resources to answer specific problems you might be having in the game. Most likely another player has experienced the same situation and can save you valuable time or frustration by posting the solution.
Where are the Good Farmville Forums?
There are hundreds of Farmville forums online that can serve as a useful tool in mastering the game. Websites such as UltimateFarmville.com, Topix.com, and FreeForums.org provide boards for virtual farming fans to swap hints on time tested methods to level up higher in the game. Farmville Freak and Zynga are two of the best due to their large member base and vast array of Farmville tips. Browsing some of the other less populated forums can be beneficial as well. Like all forums they give users the opportunity to make new friends that share the same passionate interests. Whenever in doubt ask or post in one of these good forums for the answer.