Farm Town vs. Farmville - Which Farm Game is Best?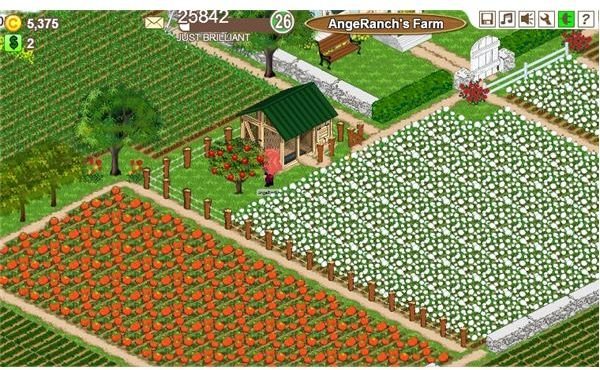 Farming Games on Facebook
When it comes to farming games on Facebook there is plenty to choose from. Two of the most popular games are Farm Town and Farmville. Both have millions of players who log in each day to tend to their virtual farms and socialize with friends. Although, similar they vary in game action, difficulty, and design. Farm Town is by Slashkey and still in the beta phase. The 2D virtual farming community relies heavily on social interaction with other players as well as your friends to level-up. Farmville by Zynga games focuses more on mastering the elements of farming while adding a few social features.
Farm Town
Every gamer has their preference when it comes to gameplay. In Farm Town players design their own farm, decorate it, plow, and plant various crops. When you add friends as neighbors they appear at the bottom of your screen. Users can chat and visit their friend's farms. Sometimes a neighbor's farm my need tending to. Players earn extra coins and experience points for helping out. In Farm Town you can play with more people than just your facebook friends.
There is a virtual town with an open Marketplace, Inn, Realtor Office, Fuel Station, and Bank. All players that are online who enter the open Marketplace will have an avatar appear. Players can work for other farmers and earn additional cash harvesting their crops. Plowing another farmer's land earns experience points as well. When a player has 13 neighbors or more they can enter the Marketplace and hire workers to plow for them. There are also tools that users can buy like a Solar-Powered Tractor or Big Seeder to increase the amount of crops harvested at a time.
Farmville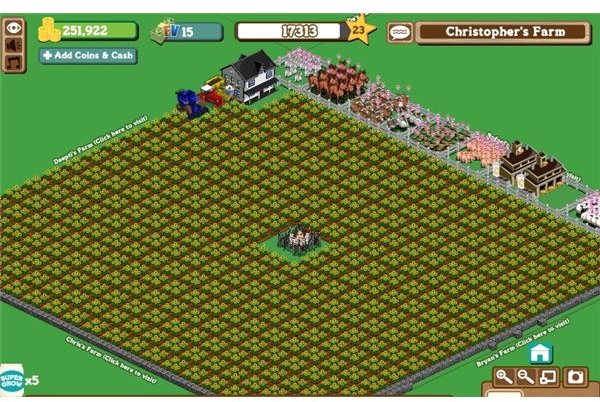 Farmville is all about farming. Each crop has three levels of mastery. To reach one level of mastery players must plant and harvest a specific amount of that crop. Some crops require 2000 harvests to acquire one level of mastery. Unlike Farm Town which only uses flowers for decoration purposes Farmville considers it as a crop. Roses and other flowers are harvested for coins. Players only can interact and chat with their facebook friends who are neighbors. There is no open Marketplace or side farming jobs that you can accept from strangers. Animals also have a purpose in Farmville. Players can collect wool from a sheep, truffles from pigs, milk from the cow, and eggs from chickens to exchange for coins.
Farming Difficulty vs. Farm Town Levels
If you're looking for more of a challenge than Farmville is your best bet. Although, both games are fun Farmville is higher in difficulty. The highest level in Farmville is 70 while Farm Town top is only 34. With the focus solely on mastering crops it's difficult to quickly level up in Farmville. Opportunities for coins mainly come from your own crops and livestock. In Farm Town players can easily reach a million coins if they work as an extra farmhand. It's not easy to achieve that large amount in Farmville. Players can reduce the amount of manual harvesting and plowing by hiring others in Farm Town. Farmers in Farmville have to rely on their on farm skills to get the job done. You don't have to master crops in Farm Town so players have more freedom to play around with their crops.
Which Farming Game is the Best?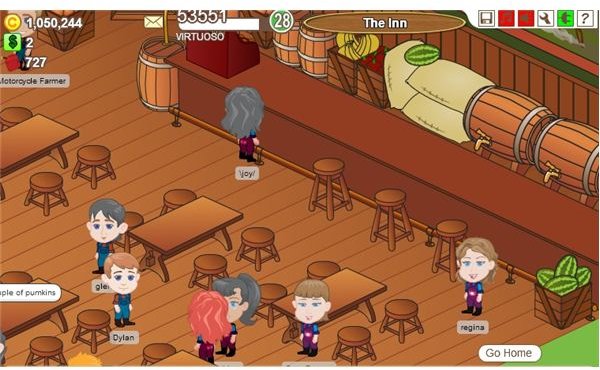 There are some really cool features in both [games](https:// http//www.brighthub.com/video-games/mmo/articles/47624.aspx). Farm Town has an open Marketplace where players can find jobs and chat with random players. They also have an INN that is still in beta phase but players can have a drink and chat. It may have more options later. Farmville has a new fertilizer feature. Players can fertilize their friend's crops and earn coins. When someone has fertilized your crops they sparkle and grow twice as large yielding more money. Farmville also has a mystery box option in their market that you can buy. Each box contains a rare item few have. Both games are still in the Beta phase and improving consistently.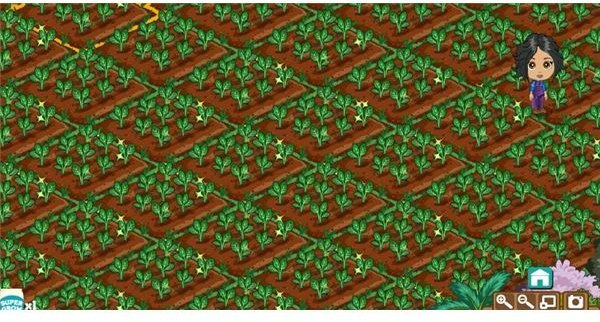 If you're new to virtual farming than Farm Town is the best game to play. It has just enough of everything to get anyone addicted. If you love a challenge or previously reached level 34 on Farm Town than Farmville should be your next destination. Players who have never played virtual farming games before might get frustrated with the slow pace of Farmville. Farm Town is more user-friendly and faster paced in leveling. Like most facebook game applications it's totally up to the player. Farm Town is a perfect introduction into virtual farming games while Farmville is great at challenging players. It's easy to become a farming game addict with either.