Puzzle Game Guides: Gardens of Time on Facebook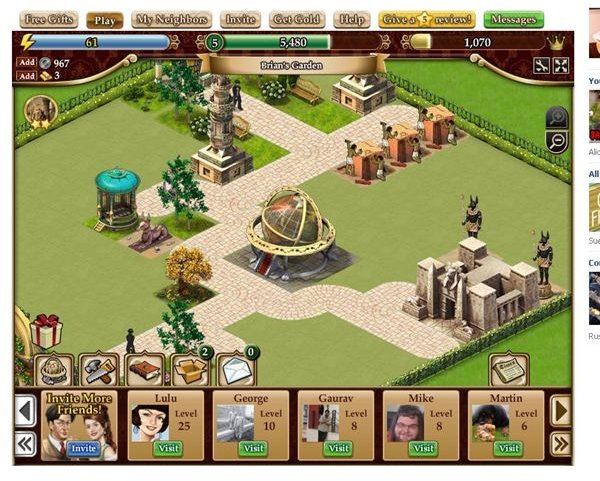 How to Solve Puzzles – The Basics
Gardens of Time is a hidden object game. Your goal is to find the hidden object from within the scene you are playing. As you play the game, the scenes will get harder to complete. The easiest way to play the game is to play each scene in full-screen mode. You'll see a lot more this way and it will be easier to complete the scene in less time. Start at the top of the scene and work your way down and try and spot the items you need displayed at the bottom of your screen. Some of them will be easy to find while other will be difficult. At the far right, you'll find the spyglass use this if you can't seem to find an item but it takes time to recharge so be patient. You can use other tools but you need to buy them or have Facebook friends send them as gifts. Keep playing the scene to earn stars and don't forget to send your Facebook friends a bonus once the scene is complete. You'll need to complete some scenes to fulfill quests so check your quests at the left hand side of your screen.
Building Your Garden Part One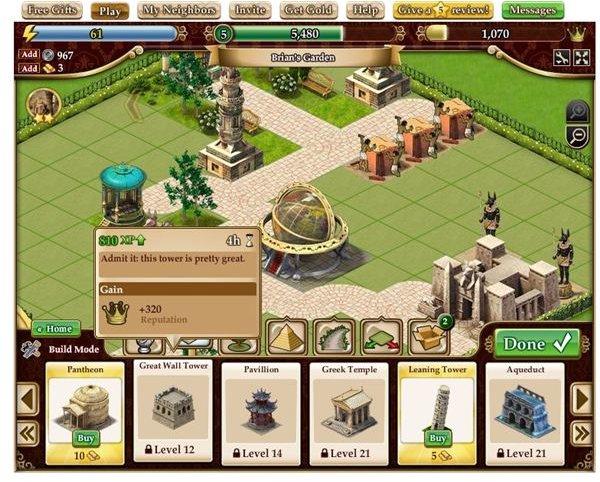 Not only does Gardens of Time have great hidden object puzzles you also get to build a garden and see it progress through the ages as you add different buildings from ancient Egypt, Greek times, through to the modern age. Items that you add to your garden help to increase your reputation. You'll need these points to unlock other scenes and items for your garden. Adding items to your garden will also help you level up since they can give you a great deal of additional experience points. The build mode for your garden is located at the bottom of your screen with the saw and hammer cross icon. Your garden build menu has several sections you need to deal with which we will address in part two.
Building Your Garden Part Two
The first tab on the build menu is the artifacts screen. These special items help to raise your reputation points and you'll need to build some of them to complete quests in the game. Artifacts change to different ages as you scroll through the list but you will start with ancient Egypt artifacts. Through the building tab you can add several different structures to your garden and as you level new structures from different ages are available.
Building Your Garden Part Three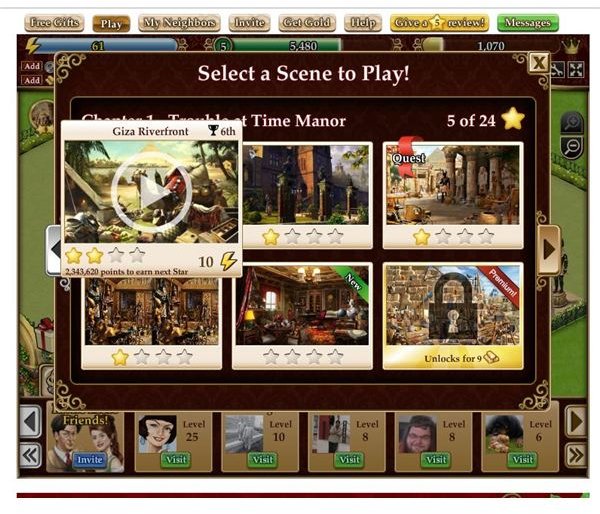 You can also increase your reputation point with decorative items such as trees, shrubs, and flowers. You'll find a large selection of items through the decorations tab for your garden. The game also features wonders and you can start the construction of these once you finish the required quests for each wonder. Put your pointer over the wonder to see which quest you need to unlock the wonder. Through the building tab, you can also expand your garden area to accommodate more items.
Other Parts of Gardens of Time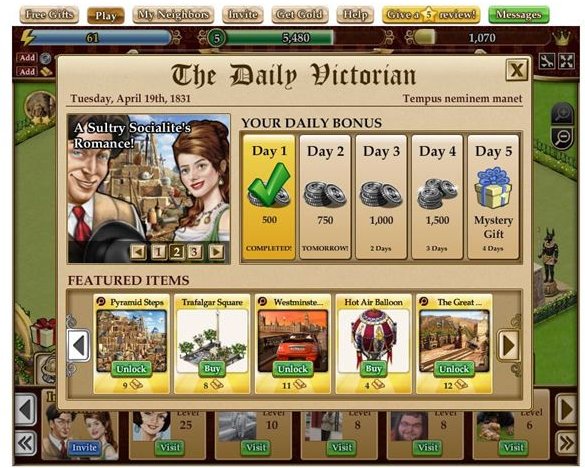 On the multiplayer side of the game, you can send your friends gifts trough the gift screen like other Facebook games. Once you complete a scene, send a friend a bonus and visit your friends to receive experience, coins, and an energy point. Collections will be coming to the game later so the collections icon doesn't work. You have an inventory to store gifts from your Facebook friends and a message center to collect gifts and view other requests from Facebook friends. At the far right of your screen you can view the news for new features of gardens of Time and pick up the latest goodies for the game. Through the news feature you can also collect a coin bonus for each day you login with the fifth login day a chance at a special mystery prize gift.
Conclusion
Gardens of Time is a fun game that you can play as little or as often as you like. Be sure to visit your Facebook friends playing for some bonuses. The garden building is the best part of the gamebut there are plenty of hidden object scenes to complete giving you the best of two worlds. Check this guide often for updates and new material. Gardens of Time is new and the features may change so this guide may not reflect the most recent changes. Please send any comments if you have questions about gardens of Time on Facebook.
References
All images from Gardens of Time.
Source: Article is author's own experiences playing Gardens of Time on Facebook.