Working Facebook Country Life Cheats to Dominate the Game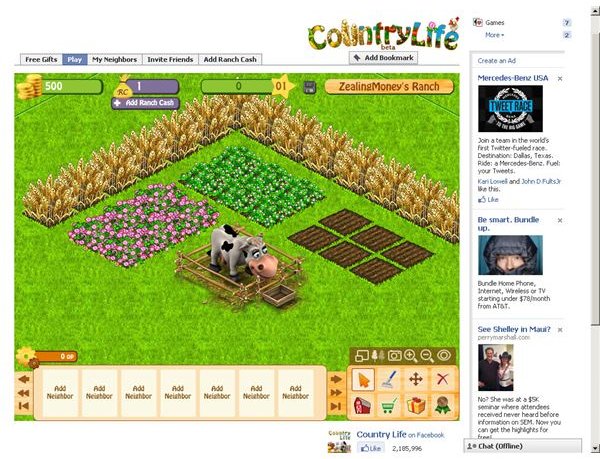 Country Life Facebook Game
There are number of farming games out there, however, Facebook Country Life is a different game. If you are a Farmville fan you will feel the difference from the very moment you started the game. Country Life game gives you the opportunity to move the country, start a farm and produce products. Like similar games player can plow fields, plant crops, and sell your stuff. That's not everything you can do with Country Life and the game has some unique features that other games doesn't offer. You can not only sell crops but also buy gear for processing those crops into various items. In this way you have the advantage of earning more money and advancing through the game with ease.
Country Life Tips and Tricks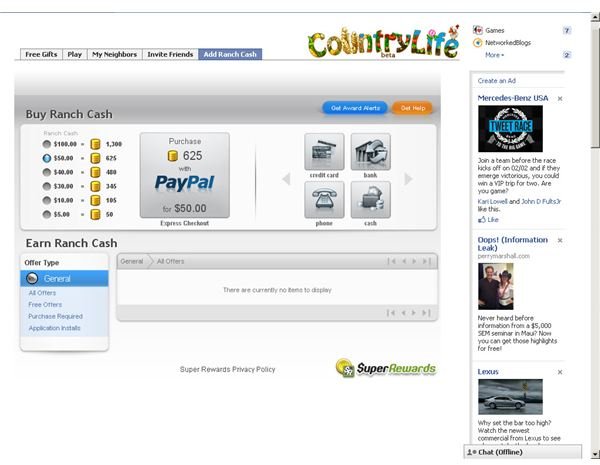 When you begin playing Country Life, you've a plot of land and several crops. In the initial stages, your aim on the game is making as much as money to buy gear so that you can accelerate the processing of crops.
If you want to reach the success in this game, it's extremely important to get neighbors. Invite friends and increase your chances of success. Items in Facebook Country Life are expensive. However you can complete offers to earn Ranch Cash and buy expensive items with Ranch Cash.
Cheats for Country Life on Facebook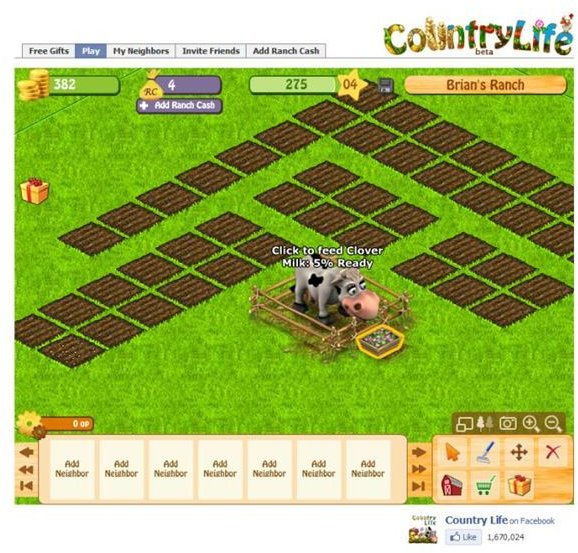 You may have a hard time finding Facebook country life cheats throughout internet. Actually it's hard to find cheats for online games like these. You might think about software like cheat engine for getting the assistance. By using such methods you risk all your progress and achievements. Also your account may get cancelled by the game owners.
Therefore best and safest way is to use cheats and tricks that help you to surpass difficult stages and get an advantage over usual game play. All of these Facebook Country Life cheats we have described here are safe to use and many of these are actually smart ways to play the game rather than blindly using cheat codes.
The Best Starting Combination for the Game
Start with clover as it is cheap (just 15 coins) and grow fast. You have the advantage of using clover for several purposes. If you buy bee hives for bringing bees onto your farm, bees will pollinate the clover allowing you to make honey. Feed pollinated clover to cows and they will produce milk. Then produce cheese out of milk. Advantage of this method is that you are gaining both money and experience at the same time. Then it's easy to earn more per crop.
Make Money Fast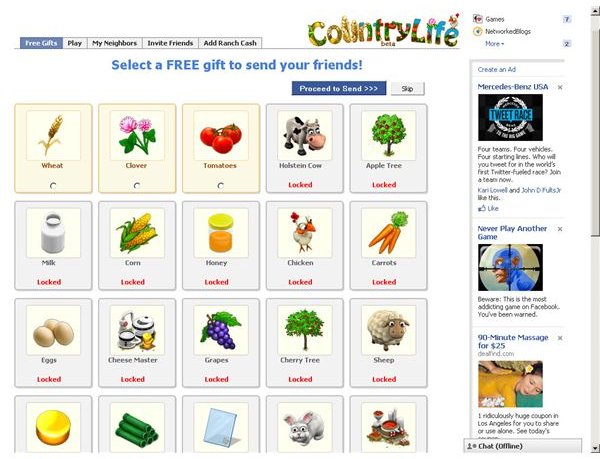 Best way to make money fast in Country Life game is planting grapes, if you afford a wine maker. If you are not in a high level to buy a wine maker, there's a trick you can do. You have the ability to get a wine maker by having someone gift it to you. Invite more and more Facebook friends and give them gifts. They will do the same and you'll be able to have a wine maker soon.
How to Level up Fast
To level up fast, just follow the combination that have described above under 'best starting combination'. Here is what you have to do advance through the game quickly. No need to say that clover is the fastest to grow making you quick money.
Plant only clover
Buy about 4 bee hives to pollinate the clover
Buy about 4-6 cows to feed clove and produce milk
Buy 3 cheese makers for making cheese
Key is to unlock gears soon and they won't usually unlock until later levels. For that you need to store as much as crops in your barn. If you follow these Facebook country life cheats and tips you'll be able to have a better chance of succeeding throughout the game.
This post is part of the series: Facebook Country Life Cheats
If you are interested in farming games, Country Life is a game you may love to play. These Facebook Country Life cheats will make things much easier for you if you want to play it.