Tips on How to Make Farmville Money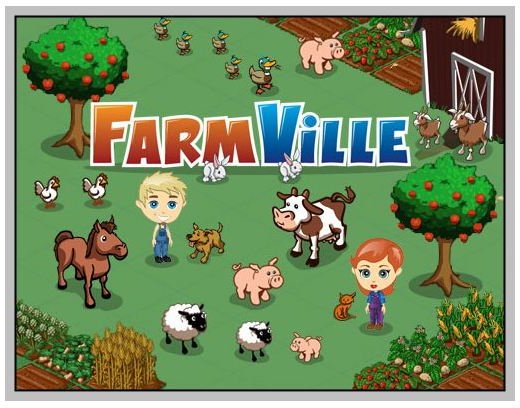 How To Make Farmville Money
The first few decisions you make in Farmville can either make it or break it. If this is your first time to plow and sow your own field, here are a few tips on how to be a successful Farmville farmer and how to make Farmville money fast.
Choose Your Crops
The start to making your farm grow faster is by carefully choosing the crops you plant on your farm. Though this may sound very simple, and most people are likely to choose the crop that appeals them the most, but careful consideration of the first few crops is a must if you are planning to earn as much Farmville money as you can with the shortest amount of time so you can finally afford to buy that chicken coop for the stray hen you just found. Since your crops don't stay "alive" forever and they eventually wither if not reaped after they have ripened, it's best to have your harvesting scheduled.
Keep Track of Your Harvest Time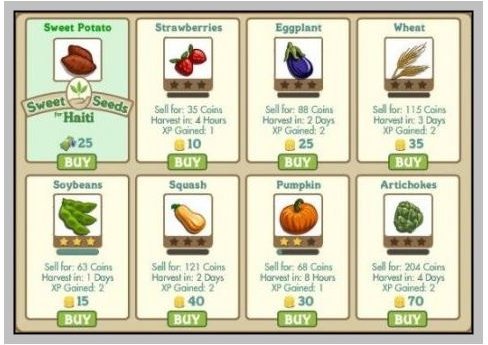 If you can check your farm at least every 6 hours, you can choose strawberries as your first, if not only, crop. Though they may not have that much market value, the harvest time is quick so it's a good advise to start on crops to earn Farmville money faster. If you consider the harvest time, purchase price and the market value of strawberries, you can earn more money with it compared to the other crops available at level 1 with higher market value but longer harvest time. This is also a good advice for people who can access their Facebook through their mobile phones.
If you're often busy with other things and can only check your farm once a day, you can start with the soybean. Soybean's harvest time is one day so this gives you enough time to check it before it withers away.
Keep your crops alive. Always be mindful about when you can harvest your crops. Remember that hard earned Farmville money is lost every time crops, and they come in multiple plots, withers away.
Expand Your Farm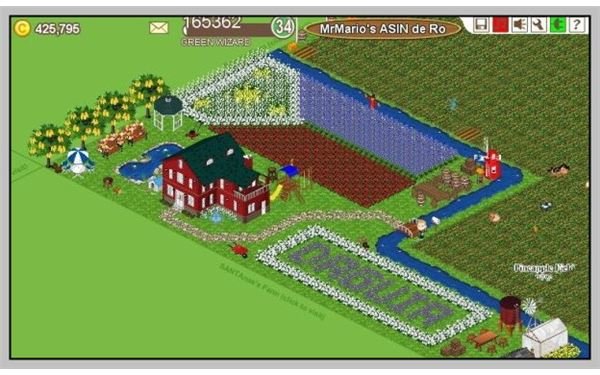 Though it may be tempting to have one of those decorative benches and ponds that don't really serve any other purpose, it would be best to save your money from your first few days of work for the expansion of you farm. And the more friends you invite as your neighbors, the more chances you have of expanding your farm a little further each time you get the money to do it. You will need at least 8 neighbors before can expand your farm for the first time.
The bigger your farm, the faster you'll earn Farmville money. The secret is to allocate as much land for planting as you can and to refrain from buying things that only eats up space.
Other Means of Earning Farmville Money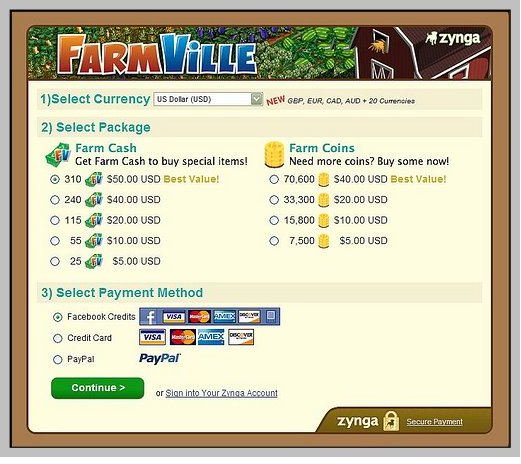 Farmville cash is used to buy mansions, cottages and other farm animals. You will automatically get 1 Farmville cash every time you level-up. Other than the "natural" means of earning Farmville money, you can also try clicking on "Get More Farm Coins." Here you will be asked to answer a few survey questions in exchange of Farmville money. You can also literally buy it through your credit card or through your PayPal account, you can choose to buy either cash or coins with corresponding USD rate.