Farmville on Facebook Guide to Making More Game "Cash"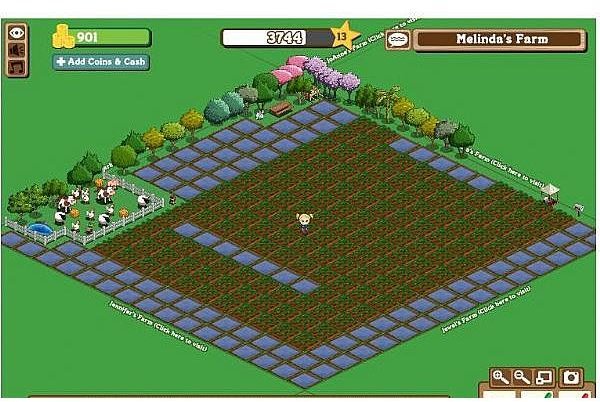 Farmville Cash Defined
Farmville cash is essential to progressing in the game. You acquire some extra cash by visiting and helping neighbor farms, but nothing significant happens.
Zynga offers a variety of payment methods for you to buy more Farmville bucks. But if you're like most MMO players, one game is not usually enough. If you're also playing Fishville, Café World, Restaurant City and any other Facebook games you could go broke quickly paying for Farmville cash.
Earning ribbons is a great way to gain experience points and coins, but does not result in that much-coveted Farmville cash.
Initial Buying Strategies
Most purchases, whether with cash or coins, not only increase your earning power but boost your XP (experience points.) Having lots of XP is essential to progressing, and no Farmville guide would be complete without making note of this.
A lot of cute and fun items that boost your XP are noted in the Farmville market. General offerings include fancy houses, dairy farms, tractors, harvesting, seeders and fuel refills. Periodically the designers feature special offers. Fall 2009 held a fall carnival theme with rides, floats, booths and more.
Special animals also show up throughout the market and usually can only be purchased with Farmville cash. While many animals (like the grey tabby cat or the doe offered in winter 2010 are cute and also generate periodic coins, this may not be the best investment of your hard-earned Farmville cash.
More Buying Tips
Purchasing farm equipment and fuel refills will enhance your XP and also save you time when plowing, planting and harvesting those crops! Unless you get tons of Farmville cash without spending your real-life money, limit the purchases of cute or fun items. This is especially critical when first progressing in the game.
Once you reach higher levels such as the 30's and beyond you may want to spend more time developing a cool farm. Purchasing villas and farm upgrades is an important step as you progress in the game. This should be done after you have a solid stable of farm equipment and fuel refills.
When you're done with these efforts, then you can focus more on buying cute cats and awesome fall festival rides. But also remember the game is not about deprivation. If you absolutely must have something like a doe to enhance your enjoyment of Farmville, don't feel guilty about buying that! But just keep in mind the trade-off may be potentially slowing your game progress.
Advanced Cash Acquiring Tips
If you're looking for advancement in the world of Farmville money, you can try trial offers such as Netflix and earn heaps of "cash." But the drawback is you must remember to cancel the trial offer in time to avoid a credit or debit card charge. Some purchases of books, newspaper subscriptions and videos can also earn you a load of Farmville dough. So before buying something new, check Farmville. You might be able to get extra Farmville money, a real bonus if you already planned to spend real-life cash!
Farmville Guide to Secrets of Increasing Game Cash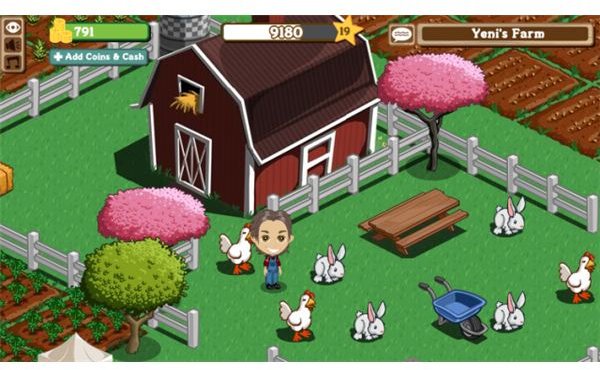 Before reaching to dial that 1-900 number, logging into PayPal or grabbing your credit card, read this Farmville guide section.
You can earn Farmville cash to advance your game strategy by completing "offers" in the game. These are issued by outside advertisers, and Zynga earns money through what is known as affiliate programs. Basically, companies want your business and are willing to pay Zynga a little cash if their users will visit their website.
But you can't just visit a website to get Farmville cash. Usually you have to fill out a form or survey. If you're worried about e-mail spam, create a different account to handle advertisements. You can still get Farmville cash to spend as you wish in the expansive Farmville market; your Facebook e-mail address doesn't have to match what you offer the advertisers. But it can't be fake!
Mafia Wars and Farmville Connection
In winter 2010, Zynga introduced a valuable connection between the Mafia Wars and Farmville games. You don't need to spend Farmville cash to get the super-powerful Hot Rod tractor, which enables you to plow nine Farmville plots at once.
Instead, you'll play Mafia Wars (if you're not already) and get to level 10. Then you are entitled to a Hot Rod tractor. This is a valuable strategy and will probably make it easier for you to use your Farmville cash on those more cute and fun items like pet cats and hot air balloons.