FarmVille on Facebook: Level 5 Player Guide
FarmVille Level 5: The Handy Farmer
At Level 5 in FarmVille you will become a Handy Farmer. You unlock a few more items from the Market and a new gift to give to your friends. At this point in the game you have more freedom to pick up the pace, with crops that grow in less time and offer a greater return on coins.
In FarmVille, you can find all your goods at the Market, and the new items that have been available to you for purchase. But going through the many pages of Market items can take some time, and there is basically no organization to the lists to make it simple for you to find what you can now buy.
This guide will save you the time of muddling through the Market to find the things you can purchase. Details on what the new items are worth, what you will get for harvesting, building or buying them, and tips for gameplay are included. Figure out what your farm needs and work out a plan of action so that you can be a prosperous farmer.
FamVille Market: What You Can Buy With Coins
Most of the time you will be working with coins as your currency in FarmVille. You earn coins when you harvest your crops or sell items you don't want or use. The coin icon can be found in the top left corner of your game screen, and will show a running balance of the amount of coins you have.
Seeds
1. Pumpkin: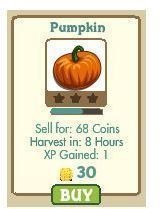 Buy for: 30 coins
Harvest in: 8 hours
Sell for: 68 coins
Experience earned: 1
Even though strawberries grow faster, they do not earn you many coins, and the four-hour growth time is too fast for many people. Farmville farmers tend to visit their farm one to two times a day, or every few days for many players (in that case of the latter, pumpkins are not good option for you). Growing pumpkins works a lot better for many farmers because they can perform many real-world activities while the pumpkins are growing- like completing a full work shift, or attending school.
FarmVille Market: What You Can Buy With Coins continued
Pumpkin continued
Knowing how often you plan to come back to your farm plays an important part in deciding what to grow. Your crops will wither if they are not harvested in a timely manner once they are ready (approximately half the time it takes for any crop to be fully grown).
One of the biggest advantages of being able to plant pumpkin is its growth time. Because it takes only eight hours to grow, you can grow two crops in a day, or plant them overnight so you can earn a big chunk of change in the morning.
Decorations
1. White Stool: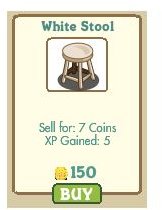 Buy for: 150 coins
Sell for: 7 coins
Experience: 5 (for purchase)
2. Brown Stool: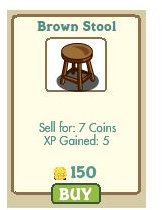 Buy for: 150 coins
Sell for: 7 coins
Experience: 5 (for purchase)
Animals and Buildings
At level 5 you do not unlock any new animals or buildings.
Gifts in FarmVille

One of the super cool features on FarmVille is giving and receiving gifts. Your FarmVille neighbors and friends can now get an Avocado tree from you. An avocado tree will give them an extra 37 coins when it's harvested.
Neighbors and Expanding Your Farm Neighbors
If you have enough neighbors and coins then you can increase the size of your farm so that you will have more space for crops (and thus, more coins) and more room for your animals, buildings and decorations. Simply invite your Facebook friends to become your neighbor. Tell them how addictive the game is, and the more friends that accept, the bigger the area of land you can purchase on Farmville.
You can also go to your friends and neighbors land to see how they've designed their farm. When you visit a friends farm you will be asked to assist them for coins and experience. They may have foxes or crows getting into their crops, and while they're aren't able to tend to their farm you can help by shooing the nuisances away.
Please Note: This guide does not include information on limited edition items, or items that can only be purchased with Farm Cash.
If you enjoyed reading this then you might like:
Credits
Resource and Images