Dad n Me Game Review - Best Flash Games to Play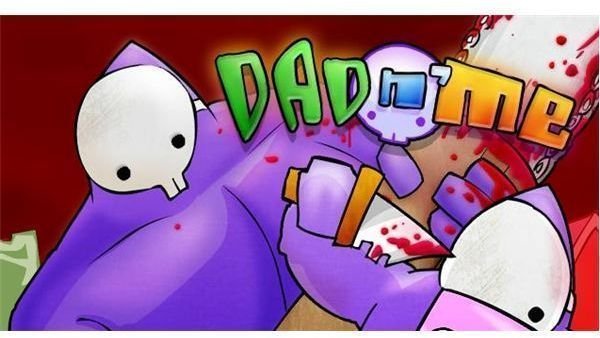 Bully The Bullies In Dad n' Me
In Dad n' Me you are the son of a fierce chainsaw wheeling purple monster. Follow in his violent footsteps to earn his respect. Become the bully that he can be proud of. When he drops you off at Almonds Hands Park, you make your way through the pleasant neighborhood in order to reach the other part of town where your evil dad is waiting for you. Along your journey you beat up every child or other bully you see. Armed with natural strength, powerful jabs, and a trusty blade you will terrorize the community. Use combo attacks and tap into your inner rage for super speed. Unleash the anger inside and become the bully of all bullies in this fun PC fighting game.
Gameplay (5 out of 5)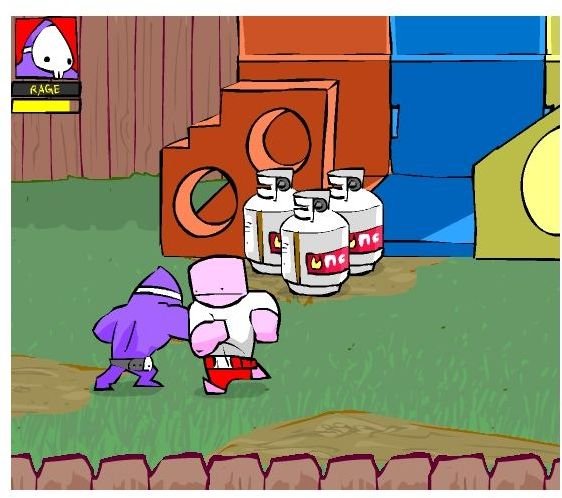 In Dad n' Me the main objective is to cause as much mayhem as possible. To progress in the game simply beat up every kid in sight. The game features a fun combo system. Perfect the art of jabs and heavy blows as you journey across town. Occasionally you'll encounter a bully or two. Fight them and take out the surrounding kids to move on. Not all children are push-overs in the Dad n' Me game. Sometimes a kid will be prepared for you. These children are equipped with a bright red protective helmet, toy gun, or getaway vehicle. If you get hit too many times your character will explode from rage and its game over. During the game there are propane tanks that you can pick up and toss to blow up things. Knock sand castles down, or take the ball from kids playing to shoot a few hoops yourself. The gameplay in Dan n' Me is wickedly entertaining.
Graphics & Sound (5 out of 5)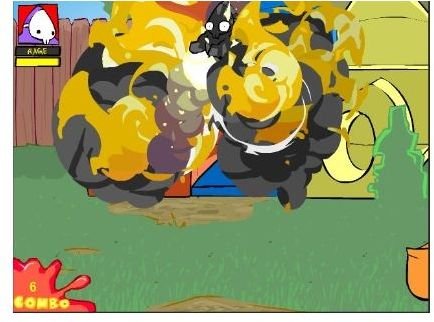 In Dad n' Me Dan, Paladin and Tom Fulp revive the beloved purple masked character from the Chainsaw the Children game. The resurrected chainsaw slinging monster along with his pint-sized replica add a bit of freakish horror to this animated flash game. The detailed scrolling environment depicts a cartoonish version of a typical suburban neighborhood.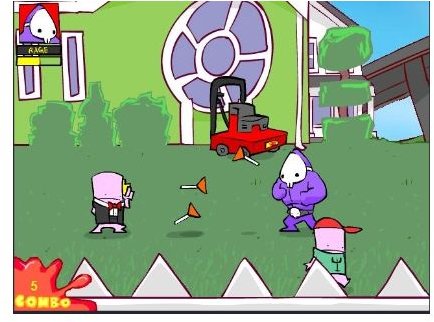 Realistic sound effects and tunes by Dustball compliments the game. The music tracks and tempo alternates between gameplay action. Rock to an almost techno beat blasts while players knock around their victims. Dad n' Me is one of the few free online games that possess the quality of console title.
Overall Rating - Dad n' Me Game (5 out of 5)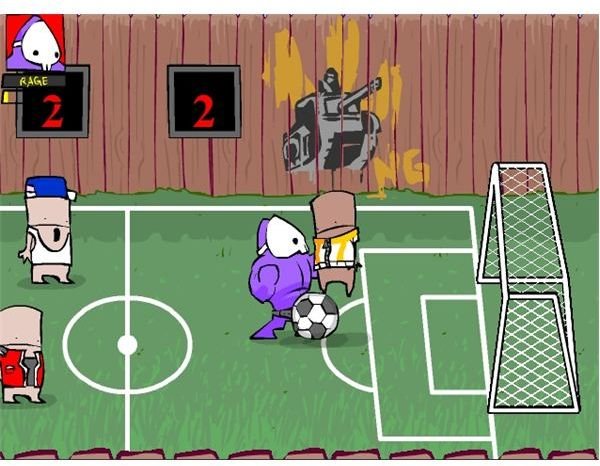 Dad n' Me is one of the best free online web games. This entertaining and addictive Flash game was featured at the Independent Game Festival in 2006.This console worthy fighting game has impressive graphics, mind-blowing gameplay, and an electric soundtrack by Dustball. Equally amusing as it is challenging, Dad n' Me is on my list of favorite Flash games to play. Creators Dan Paladin and Tom Fulp from Newgrounds bring a fresh innovative approach to browser-based gaming. Notorious for their runaway hit Alien Hominid which was later released as a console game this talented team of developers have formed a niche for high quality Flash games. Dad n' Me is another gem under their belt. Become the bully and rule the neighborhood in this fist full of fun PC game.