Incredibots Game Review - Ultimate Physics Game

Incredible IncrediBots

IncrediBots is not your average browser based PC game. In IncrediBots players construct custom robots by drawing various shapes and parts. Then they take control steering their creation in obstacle courses and even hurdle challenges. There is also a very cool feature that allows users to record animated videos of their robot to post on personal blogs, websites, or YouTube. The fascinating dynamics of combining robotics and traditional online gaming elements into a physics game places IncrediBots high on the best games to play list. Grubby Games IncrediBots were recognized at the 12th Annual Independent Game Festival Awards for it's originality.
Gameplay (5 out of 5)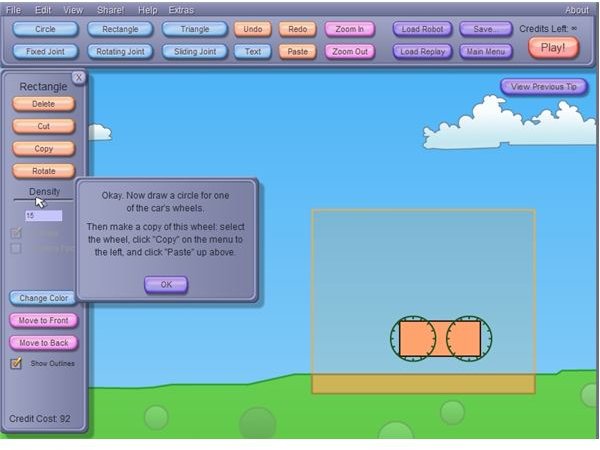 The IncrediBots game is challenging which sets its apart from other standard free online web games. There are 8 levels and 9 distinct challenges that players can compete in. Users have the option to play any level they want. Its recommended that beginners start on the beginner levels first to get a clear understanding of the game's physics engine. A tutorial pops up during the early stages giving players a walkthrough on how to build their robot. If you build your robot incorrectly it will fall apart or fail at accomplishing the higher level challenges. Every joint and motor must be in place and functioning properly. All challenges are timed so perfecting your building skills in the beginner levels is essential. In each challenge players have to construct a robot that is capable of completing the quest given. Tasks include fishing balls out of a lake, jumping hurdles, archery, and running a full obstacle course.
When players enter the Sandbox Mode they can record their own animated movies featuring their robot or creation. Movement, text, and other special effects can be added. Players have the option of posting their video on websites or platforms like YouTube. You can design a ragdoll, vehicle, or any other device in this fun physics game.
Graphics & Sound (4 out of 5)
All of the graphics are nicely done in the IncrediBots game. The animated environment is very colorful similar to a virtual world. The green grass, mountains, hills, and crystal blue sky depict an open land where anything is possible. Users can click and drag to explore the area. The replay and movie features play a polished version of the robots actions. There are no glitches in this game. It runs very smoothly. All of the links transition easily onto your desired blogs. The sound on the other hand is quite minimal. Since most of the gameplay relies heavy on construction and concentration any additional sound effects would be a distraction.
Overall Rating - IncrediBots (5 out of 5)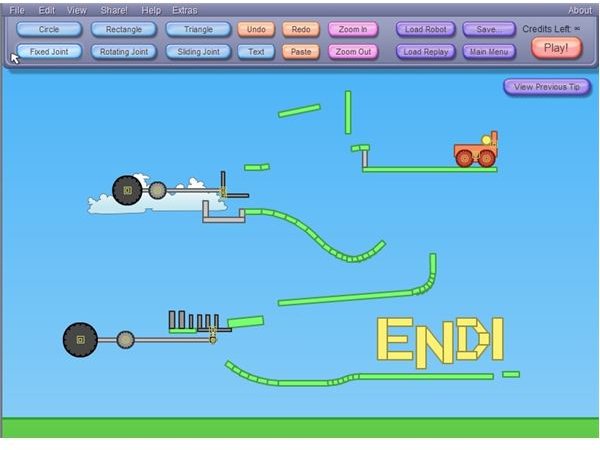 IncrediBots is a fun game. It's one of the few free online web games that truly make you think. Simple challenges like fishing or climbing turn into complex tasks as players must figure out how to construct a robot with functioning motors and extremities to complete the job. Compete with others to build the best functional robot or any other device you can imagine. There is no limit to what you can do in the IncrediBots world. Your imagination can run wild. The Sandbox Mode which allows players to create movies starring their robot and post on other platforms is extremely entertaining.The IncrediBots 2 game is also available for advanced players. The IncrediBots game is a must play for online gamers looking for something different.