Kuros - Sandlot Games Fun New Fantasy Hidden Picture Game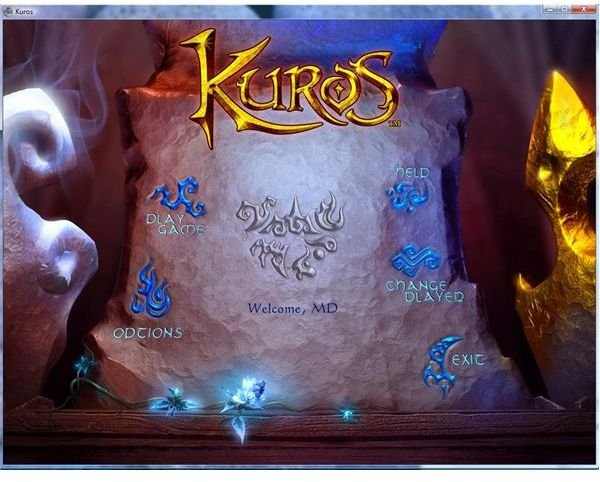 Storyline in Kuros (5 out of 5)
In Kuros from Sandlot Games, you are a young girl who doesn't remember who she is or where she came from. You search through the different areas of the game, putting together wands, make-shift poles, and more - all the while gathering up different map fragments. Once you have completed all of the puzzles in that area and you have all the map fragments, then you can put the map together and move on. As you go, you meet interesting new characters and learn who you are and where you came from. The story line itself is unique to Kuros amongst seek and find games and I feel that Sandlot Games did a great job with this one, as you won't find another hidden pictures or strategy game anywhere like this one.
Game Play (5 out of 5)
Kuros is a hidden pictures game, where you are finding different map fragments, crystals, ropes, and other objects that you need to get through that specific area. There are also other mini-puzzles that you will have to solve throughout the game, such as mixed up pictures, special crystal light puzzles, and more. Each different puzzle will help you through a specific area and help you further your position in the game. The good thing about the game play in Kuros is that it's challenging enough that anyone will enjoy it, yet it's not so hard that younger gamers can't play it.
Graphics (4 out of 5)
As you can see from the screenshots below, Kuros offers some beautiful graphics. The artwork that went into this online computer game is really well planned out, beautifully detailed, and works extremely well with the story line. The fantasy theme continues in the art work, the puzzles, and the areas that you will find yourself in, and they are actually believable instead of being cartoonish. It is easy to see that there was a lot of time and effort put into the graphics in Kuros and they are great to look at, no matter how long you play this great little game.
Images From Kuros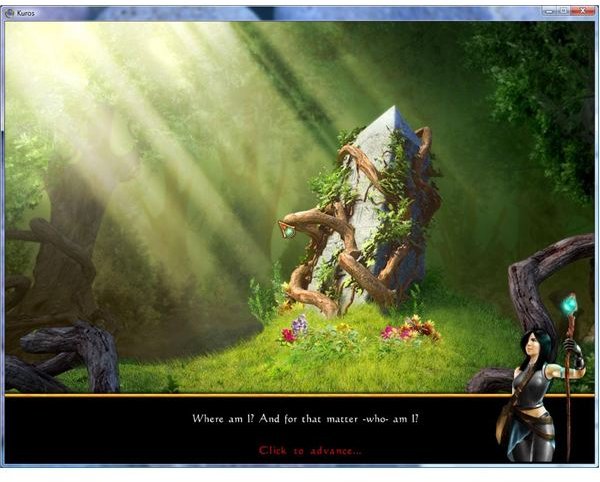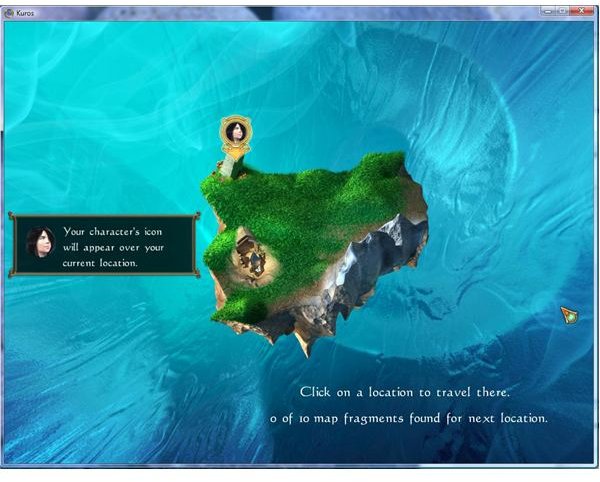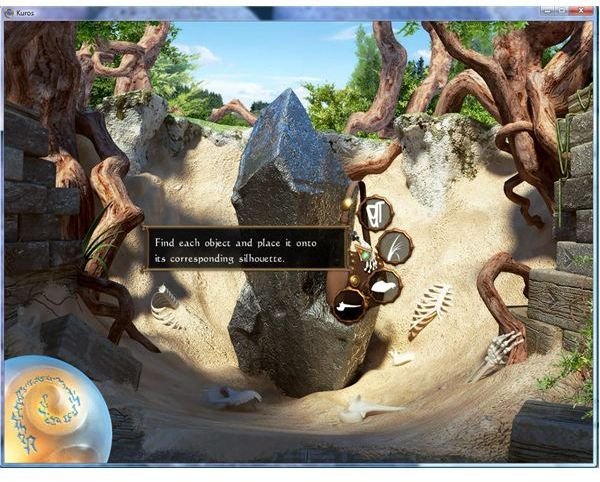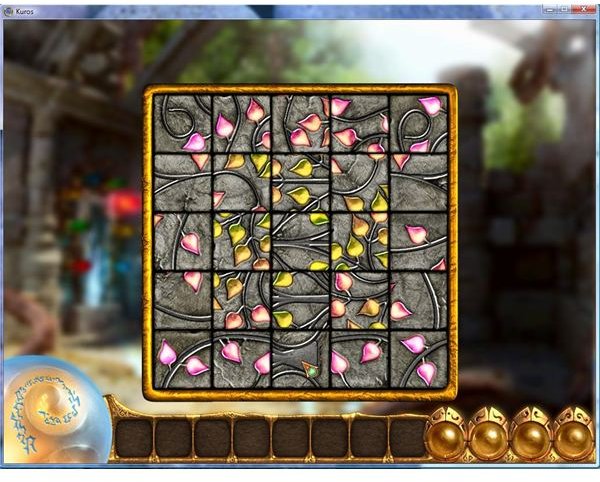 Sounds and Audio (4 out of 5)
This is one of the few hidden pictures games that I've played that has voice acting work in it. While the sounds and music of the game mimic the fantasy theme, I have to admit that actually having decent voice acting work makes it a little better. The voice acting is really good, understandable and at least a bit believable. The music in the game overall does get annoying after a while, and I normally play with the sound off. But, that's not too big a deal as I'm mostly playing with music of my own on when I game anyway! The sounds and audio of Kuros are unheard of by seek and find game standards, and will add to areas where younger gamers are trying to make it through a specific level.
Replay Value (3 out of 5)
The replay value does go down a bit, as the objects in the puzzles and areas don't really change. While you might have to watch the flashing lights to be able to remember the patterns again, the other puzzles and objects that you will have to solve and find are always the same. So, it's hard to get much replay value out of this one, but that doesn't mean that you won't find yourself playing it again.
Overall (5 out of 5)
For anyone that loves hidden pictures computer games, Kuros from Sandlot Games is a great one to own. It has a great price point, doesn't offer something that is too easy and you'll blow right through, and offers an in-depth story line that you unravel as you go as well. Overall, I really like Kuros, and I enjoyed playing it. My only problem was that the map fragments are hard to see sometimes in specific areas - but they shouldn't be too easy to find either.
Of course, Sandlot Games has several other great games out that you will enjoy as well. Here are some that you should also check out as you play Kuros:
Tradewinds Odyssey - A Gamer's Review
Cake Mania 3 Review