Castle Building Games for DOS PC - Interplay's Castles I and II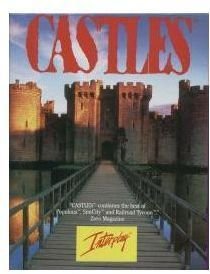 Castles (1991)
I have very fond memories of playing Castles on my old IBM 386 SX/20 PC back in the early 90's. This DOS game was one of the first computer games based around building and defending your own castle, and it helped to create a genre that is still around today. Although the game's graphics and gameplay may seem dated by today's standards, it is still worth reminiscing about. It was released by Interplay in 1991.
The basics of this game were fairly simple, but it does teach you a thing or two about resource management and the consequences of decisions. Your job is to build and populate your castle. In order for this to happen, you must hire workers and soldiers. Some minor role playing elements are also involved, and the outcome of these scenarios will affect your ratings that ultimately influence how many people you can hire and how much you can build.
Your goal in the game is to build and maintain a series of castles while defending them from attack. You can choose where to place your towers and walls, how your castle will look, and where to put your defenders. It's quite cool to watch the building progress, then ultimately you will get to test your design in battle. This is by no means an easy game, because it gets tougher as you go along and you have to figure out the right balance of size and military power because you are always working with limited resources.
For a DOS game, the graphics in this one were actually very good. The castles and the stone textures of the walls and towers looked good, as well as the little builders and soldiers. This game was around back when a lot of people were still playing the original Nintendo, and nothing on the NES looked quite as good as what you could find on PC games like this one.
Images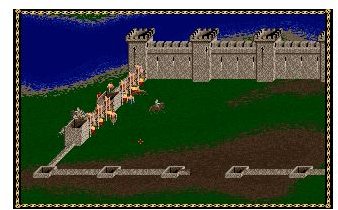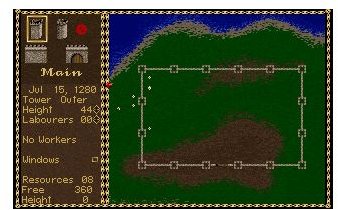 Castles II: Siege and Conquest
Castles II: Siege and Conquest was released by Interplay in 1992, and it offered some minor improvements over the original game that makes this one the favorite of most people who have played both. Most notable are the graphical improvements that make this one a little easier on the eyes.
The castle building part of this game is basically the same as in the original, but the graphics are improved slightly and you have some more options available. The biggest change is with the combat system, which has a little more to it. You get open battlefields in this game, although you don't have much control over what the soldiers do once battle begins. It's basically just a numbers game where whoever has the strongest army wins, so there isn't much in the way of tactical advantage.
The graphics are somewhat improved over the original game, and it has more colors and detailed textures than before. One real standout change is the inclusion of short black and white video cutscenes that appear to be brief clips from an old movie. The reason why these stand out is that video was a rarity back in those early days of the whole 'multimedia' change, so it was kind of neat to see actual video on a PC. The downside is that you'll get to watch the same couple of clips dozens of times when you play, so they do get old.
Where to buy: You can get Castles + Castle 2 from GOG.com for just $5.99 and it is guaranteed to work in Windows XP, Vista, and even Windows 7.
Images