Where to Play Poppit Games and More Online for Free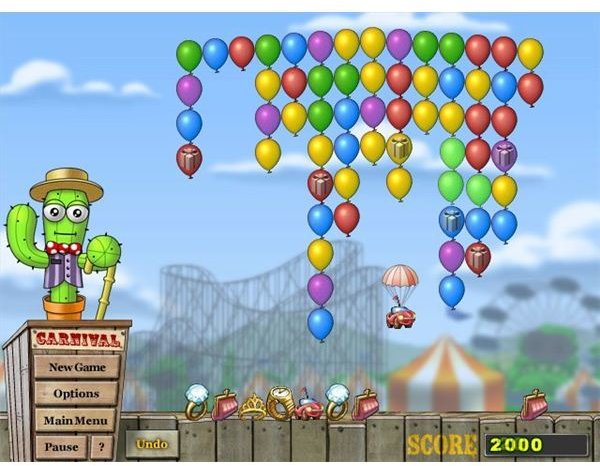 Free Poppit Game Play Online
There are a lot of great places online to play free games but only a few sites that focus on quick puzzle games like Poppit. The Pogo.com website is one such place. Under their puzzle games category, they offer three different types of the Poppit game and over forty other fun, quick and free online puzzle games.
Pogo.com does offer free online play for guest users without the need to register an account. Players can register an account to get access to game play benefits such as game downloads, discounted game buying and tournament gaming for cash.
Three Versions of Poppit Play
Poppit is a balloon popping puzzle game. The goal is to pop groups of two or more of the same colored balloons to clear the board. As you pop the balloons in game play, you will get presents and inside game items that can help you as you go along in the game. If you are able to clear all the balloons with the items in them, you'll be able to advance to the next level without clearing all colored sets of balloons. The balloon popping game has over one hundred popping puzzles and showcases the game's mascot, Spike, who is smirking cactus set in a pot to the left hand side of the screen.
Among the three types of this game that Pogo.com has currently available are Poppit! Holiday, The Poppit Show and Poppit To Go. In Poppit! Holiday, the classic online game play is the same except for having balloons filled with Christmas presents and show the cactus dressed in a sweater and Santa hat. In ThePoppit Show game, players star in the show and pop balloons for prizes that will allow the player to spin for jackpots. Last but not least, is thePoppit To Go game which sets the backdrop of balloon popping in a carnival type atmosphere. You can check out all three versions of this game by clicking through here: Poppit!
More Free Puzzle Games
Other free online puzzle games offered, along with Poppit include the following:
Bejeweled 2: Move explosive jewels around the board in this popular match three game.
AstroPop: Learn spaceship shooting, as you break colored bricks to rack up the points.
Mahjong Safari: Clear matching tiles, play solo or with up to four players with in game chat.
*Image of Poppit!™ © 2009 Electronic Arts Inc.