Android Alchemy Mobile Game Review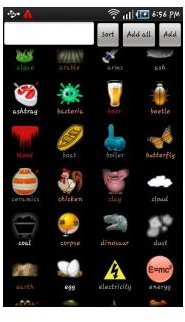 Introduction
Ever wanted to be an alchemist? Someone who can take certain elements and combine them together to create something new? It is going to be hard to do it in real life, but you can definitely do it virtually using the Alchemy Android app. The basic premise of this game app is that you are given four elements in the beginning and you need to combine those elements to create new elements. Up to 270 elements can be created so the game functions as a collection game. It is also quite educational because it provides facts about the elements that you have created.
Graphics (3 out of 5)
The graphics of this game may not be its strongest point because it is just composed of icons on a black background, but its simplicity adds to its charm. It brings more focus on the mechanics of the game instead of distracting the player with flashy graphics. However, it would not hurt if the visuals were spiced up a bit if there was ever an upgrade to be implemented in the future by the developers. For its simple graphics, it gets an average score.
User Interface (4 out of 5)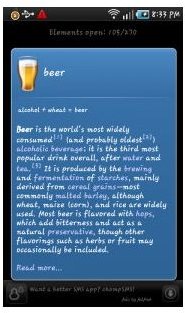 As previously stated, the visuals of this app involve icons on a black background. This provides the player a very straightforward way to combine elements and create new ones. The elements created can be viewed in a list which is also the source for the elements to be used in a current combination session. Each element has a description page which can easily be accessed by clicking on the icons. A simple and straightforward user interface, even if it is not attractive, brings accessibility to the player, letting them play the game with no fuss. Its straightforward user interface gets a rating of 4 out of 5.
Features (3 out of 5)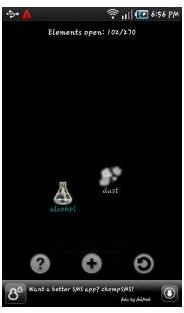 As a collection game, there is not much to talk about beyond the actual combining of elements in this game. The only notable features the game has are the informative descriptions of each element and the list of created elements that can be sorted when it gets large enough. This lack of extra features brings the focus of the game to the combination of elements and the sometimes very amusing descriptions of each element, which is probably why the game can get very addictive very quickly. For its bare bones features list, that may be a downside for some, it gets an average score.
Conclusion (4 out of 5)
From 4 elements, you need to create all 270 elements and complete the list in this Alchemy Android game. It is a fast paced game app thanks to its stripped down features list, visuals and user interface. That may scare off people who are looking for more immersive game experiences, but in a way, this game can still offer that. It can be a game of trial and error, but the more you discover new combinations, the more you want to keep playing and discover more. It gets an overall rating of 4 out of 5 - which is a good score.
This Android Alchemy game is available for free download.