iPhone Game Review: Trucks and Skulls iPhone Game Review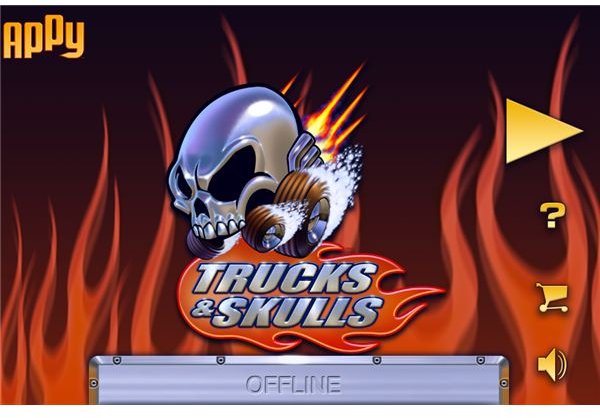 Trucks and Skulls iPhone Game Review - Gameplay
What can I say? Trucks and Skulls is a great game that with lots of explosions and cool monster trucks that you smash into giant skulls. From the moment you fire up this game, you'll immediately notice a striking resemblance to one of the most popular iPhone games to date - Angry Birds.
The gameplay is pretty similar. You have monster trucks to hurl from one side of the screen towards giant skulls positioned and arranged at the other end of the screen. The giant skulls are placed in various types of platforms with various structures that will be difficult for you to destroy. Monster trucks come from a platform which you can control via a finger-swipe. You can position the angle that the monster trucks will take before launching them. You can send those trucks flying into the sky before hitting the giant skulls or send them rolling onto the ground.
As you play the game, you'll be confronted with various obstacles, including hot lava that will hamper your strategy at successfully destroying the skulls. The lower the number of trucks that you've used to accomplish your level goal, the higher your scores will be.
Trucks and Skulls iPhone Game Review - Features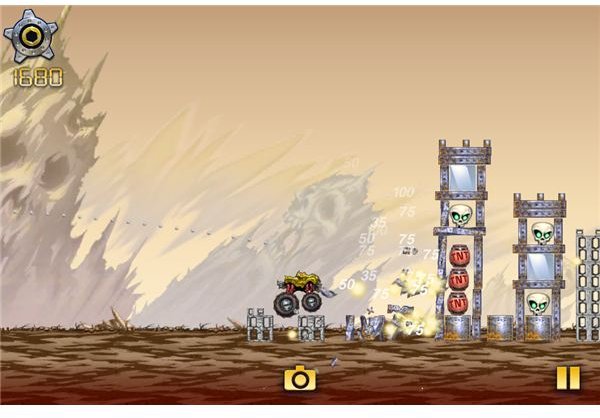 The game gives you 4 episodes consisting of various levels. To advance from one episode to another you must unlock them by finishing the preceding level first. Likewise within each episode you can only play the succeeding levels by finishing the previous levels. But once you've unlocked levels you can go back and play them again to improve your scores.
All in all the game has several monster trucks that you can use to smash down those giant skulls. These include - doomstone, diveosaurus, insanerator, thrust monster, bombzilla, and triclops,
Each of these trucks have their own power that you can successfully take advantage of in destroying the giant skulls.
The game supports Apple's Game Center. Which means all your records and game achievements are recorded if you sign-in to the Game Center before you play the game.
Trucks and Skulls iPhone Game Review - Graphics and Sounds
Two important features of this game which make it fun and entertaining are the excellent graphics and hard-rock type of game sound theme. The graphics look beautiful on the retina display of the iPhone 4 and I'm pretty sure it will look good on other iPhone models as well. Since this is a physics-puzzler type of game, it is important that the game physics must be pretty good - and they are actually great!
When it comes to sound, the game is equally excellent with the choice of soundtrack. Since, this is supposed to be an explosive game with lots of crashing - the game's soundtrack should be equally loud and explosive - and yes, hard-rock music fanatics will love the game's soundtrack.
Our Verdict
If you enjoy playing games which require you to cause damage, the Trucks and Skulls iPhone game is definitely for you. If you've enjoyed the projectile gameplay of Angry Birds and you want to play a game with similar gameplay but different components, you'll enjoy playing this game as well.
Do I have to tell you that Trucks and Skulls is a highly recommended iPhone game? Well, there i said it.
Trucks and Skulls is available now from the App Store for only $0.99, here's the download link.