iPhone Game Review: Sky Combat Review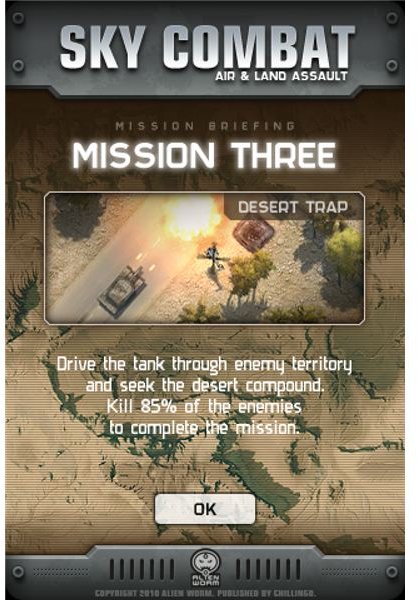 Sky Combat iPhone Game Review - Gameplay
Sky Combat requires you to fight your way through various levels destroying more than 30 different enemies including 8 bosses that pose enough of a challenge against your gaming prowess. The game gives you three aircraft to use - an AH-64 Apache helicopter, a speedy combat boat, and a Humvee armored vehicle. You can upgrade your missiles and bombs along the way by picking them up, as enemies you destroy leave these upgrades behind. There are also several power-ups that you can pick up along the way as well.
To make the game even more challenging, you'll have three difficulty settings to choose. This adds great replay value to the game, as I'm pretty sure that you can finish the easiest difficulty setting in a short time. And after you've finished that level, you will definitely want to play some more until you've finished the hardest difficulty settings.
Sky Combat iPhone Game Review - Graphics, Control and Other Features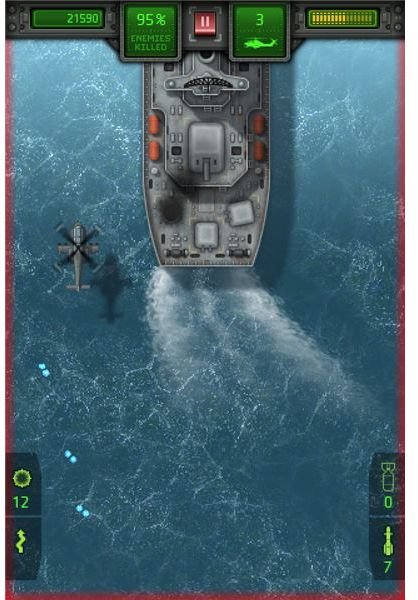 Two features that make Sky Combat a stand-out iPhone game are its graphics and control elements. For an arcade vertical shooter, Sky Combat features one of the nicest and most detailed game environments. You can see particle effects and super detailed landscapes, and vehicles that are truly impressive. For a 2D game, the explosion effects are very well executed. The scarred terrain, canals, mountains, water effects and of course the different enemy buildings ,all contribute to the great look of this game. Those elements all look great on the iPhone 4's retina display.
As for controls, the game also provides you with a variety of settings as well. You have four options for game control. You can use touch, relative touch, tilt, or virtual joystick, to control your vehicle around the game environment. It's up to you to choose which control scheme suits you best.
Other features of Sky Combat include an infinity, or endless mode, which you can unlock after completing the 4th campaign mission of the game. Once this is unlocked, you can play through the survival mode for endless hours of destroying enemies and achieving high scores.
Finally, the game also has the crystal leaderboards and achievement system. Collect as many stars as you can to unlock various achievements, which is then recorded on worldwide leaderboards where other players can compare with your stats.
Our Verdict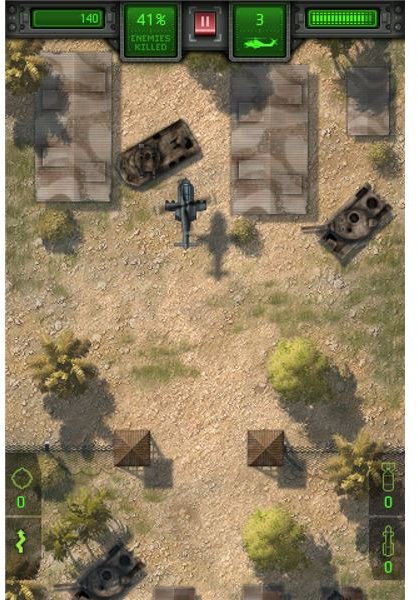 Sky Combat is easily one of the best, if not the best, vertical arcade shooters available on the App Store right now. It has all the elements of a great arcade game - graphics, gameplay, game challenge, extra features and more. One thing that I'm looking forward to on future updates of the game, is of course Game Center integration, additional vehicles to control, more power-ups and weapons.
But as it is right now, the game is highly entertaining and pretty addictive. Plus, for $0.99, it definitely gives you value for your money.
References
Apple iTunes App Store: https://itunes.apple.com/us/app/sky-combat/id413487500?mt=8#
Image credit: Screenshots of Sky Combat courtesy of the author.