iPhone Game Review: Monster Dash Review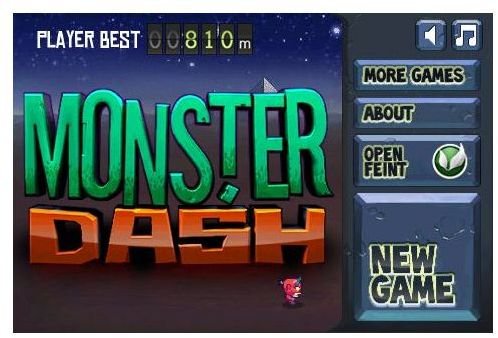 Monster Dash - Features, Gameplay
Honestly, when I read about Monster Dash, I didn't pay attention to the game's press release. I thought, it's just your usual side-scrolling action game with 2D sprite graphics. When I checked it out I found it is actually a side-scrolling game with 2D sprite graphics but it is also loaded with tons of fun.
Monster Dash is an action game which features a witty and funny character name Barry Steakfries whose main occupation is to run and dash while killing monsters that get in his way. Sounds fun? Well, actually yes it is. And there are several reasons why.
First, the shotgun-wielding Barry is cute not because of the way he was rendered in the game but because of the remarks/comments he gives every time you fail to make him proceed to the next level. The game is peppered with these comments. Some will praise, some will insult you for being a wuss because you failed to go as far as you could or you failed to make a crucial jump.
When it comes to gameplay, it's your usual jump-shoot-fall type of game. There are only two controls in the game - the jump button and the shoot button. The objective of the game is to make Barry run as long as he can without falling into platform gaps. If that sounds easy to you, wait till you try the game. The key to successfully beating it is to master perfect timing. Timing when to jump and when to shoot. If you master this well enough, you'll beat the game in no time.
Along the way you'll collect extra lives, more powerful weapons and everything that will help you get through the game. There are also pointed rocks and cadavers that will make life more difficult for you, aside from the slew of enemies that come your way.
An extra feature of the game is a facility to connect to Open Feint. If you have an account on the gaming site, you can share your scores and brag about your game accomplishments to other Monster Dash for iPhone players.
Monster Dash - Sounds, Graphics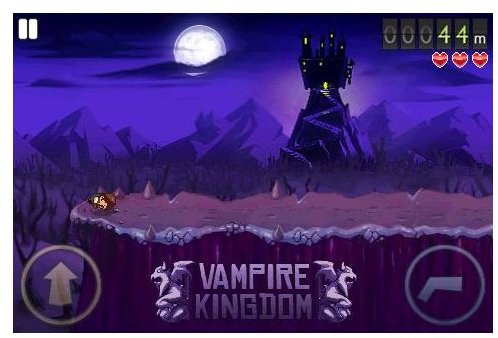 Graphics in the game are pretty good. If you like 2D art with characters rendered in sprite graphics, you'll love this game. The backdrop of the game will remind you of another game we reviewed recently - Wolf Boy. But Wolf Boy has bigger characters. When it comes to the sound, there's nothing extraordinary here. Just about the right type of musical background to add an eerie mood to the action.
Our Verdict
Like I said, I never thought I would enjoy the game. But I did. Why? Because it gave me an adrenaline rush despite the simplicity of the gameplay. I don't know, it kind of reminds you of the old Mario Bros. gaming days. And we all love that, right? So, hopefully this game brings the same excitement to you.
(Monster Dash iPhone Game Download Link)
Image credit
Screenshots courtesy of author (iTunes Download).