What are The 5 Best Multiplayer iPhone Games?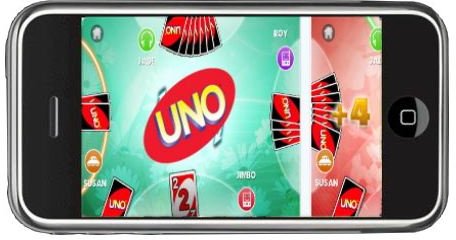 Multiplayer Games
Multiplayer games are games which are played by multiple players. Players can either go up against each other as independent players, form teams to compete against other teams or play as a single group taking on the game. There are several types of multiplayer games including party games, collectible card games, board games, video games, massively multiplayer online role-playing games and mobile games.
With the advent of the iPhone, gamers can now engage friends or complete strangers in multiplayer mobile games whether it be through a local wireless connection or the Internet. If you want to get into multiplayer mobile gaming, here are five of the best multiplayer iPhone games available:
Uno
The classic colorful card game is a natural fit for the iPhone with its intuitive touchscreen controls and fluid presentation. The responsiveness of the controls makes playing the game easier and more fun, but it also has a downside. One stray double tap or sliding motion can make you put the wrong card into play, but it is just a small annoyance that is easy to ignore. You can have up to 4 players playing at once, which is the ideal scenario for playing this game. Uno for the iPhone costs $4.99.
A Home Run Race (3D): Baseball Slugger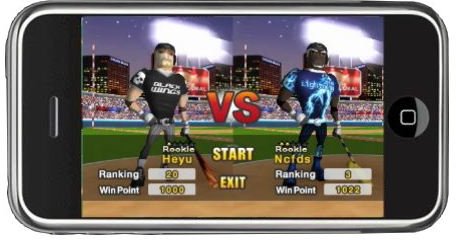 Putting timing and alignment into the equation, the developer of Baseball Slugger has managed to create an iPhone baseball game with gameplay that feels natural and looks good at the same time. Its flawless controls, fun 3D graphics and formidable online capabilities encourage your competitive streak and you'll soon be looking for a friend or a stranger you can go up against. You can play this game alone or with one other person. You can download it for only $4.99.
Scrabble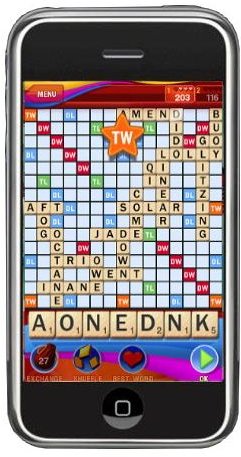 The classic board game has been around for about 80 years already and now it is on the iPhone. This version of the game keeps all the rules of the board game. It does take away the fun of making up words and fooling your friends because the game checks if your words are valid. Another downside is you can only play with one other person. A couple of negative features aside, you will still love this iPhone game if you are a fan of the board game. Scrabble for the iPhone costs $4.99.
Galcon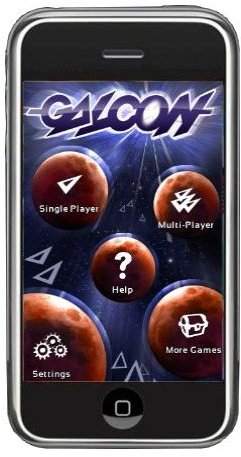 A game of strategy and wit, the seemingly simple look of Galcon can be misleading. The game has give difficulty levels with several game modes, ensuring that even if you're just playing the game alone, you will still be having fun. In multiplayer mode, though, this game really shines. Pitting your strategic prowess against several human players online makes Galcon a solid multiplayer game. You can download it for only $2.99.
Flight Control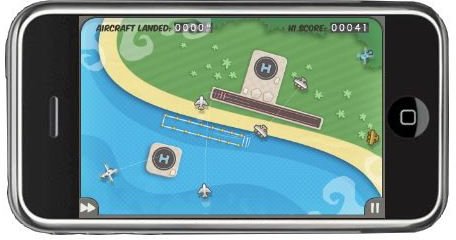 One of the simplest iPhone games available, Flight Control is also one of the most addicting . You draw paths from several different types of planes to a variety of landing areas. Crash a plane and it is game over. It's as simple as that. The fun factor increases because of the game's support for the multiple touch capability of the iPhone. You can have a friend draw paths with you on the same screen! You can also connect to another iPhone via bluetooth for some screen-to-screen action. You can get Flight Control for only $0.99.
These are only five of the best multiplayer iPhone games. There are still a lot of fine games out there. Ask your friends to find them so you can all have a multiplayer good time!