Download Center
Since Apple really controls the flow of iPhone content through the App Store there is really only one centralized location for iPhone games, unless you jailbreak your iPhone. It is in the App Store that you can find an iPhone game specific area where you can search by category and find what you are looking for. There are a few different methods for addressing iPhone games in the App Store, depending on how you want to go about it. Here is a quick and easy guide for downloading iPhone games to your iPhone.
App Store from Computer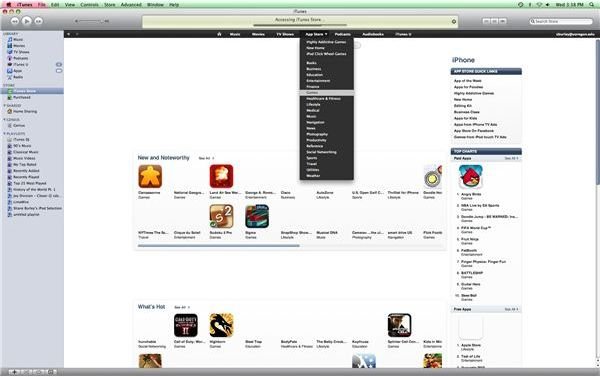 You have two essential ways that you can download iPhone games with an iPhone that has not been jailbroken: through the App Store on your computer and through App Store on your iPhone. Downloading iPhone games is much more standard to do from your computer than it is from your iPhone since it is easier to download full size iPhone games. Begin by simply going to the iTunes' App Store and browsing to find what you want. When you are in iTunes' go to the App Store button and let your cursor sit to the right hand side of it. This will bring a drop down list that will let you see application types. Begin by selecting Games, which will bring you to the section that is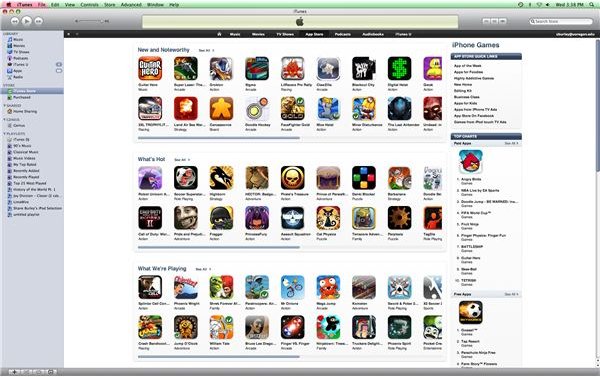 specific to iPhone games. You will see a number of lists, such as best themed games, "highly addictive" games, and lists for top grossing, paid, and free iPhone games. At the lower right hand corner will be a More Games list and this will allow you to choose iPhone games by genre. Here you will be able to see top paid and free iPhone game lists for these different genres, which are accompanied by browsing pages to look at a large volume of these games.
Downloading iPhone Games from Your Computer
When you find one that you want simply open up its iTunes' App Store profile and then find the "buy" button, which will usually be identified by the price of the iPhone game. If it is a free iPhone game then the price on the button will simply be "free." If you are not signed in to your iTunes account then you will be asked to, and once you do the download of your iPhone games to your PC will start. You will be able to watch the progress of the download for your iPhone game over in the left hand panel of iTunes under the Store heading. Once it has completed you can plug in your iPhone and sync it, which will bring that game over onto your iPhone desktop. As long as there is enough room it will appear on there without an issue, and if not you can delete something to create space and then tell it not to re-sync to your iPhone to preserve that free space for your new game.
App Store on Your iPhone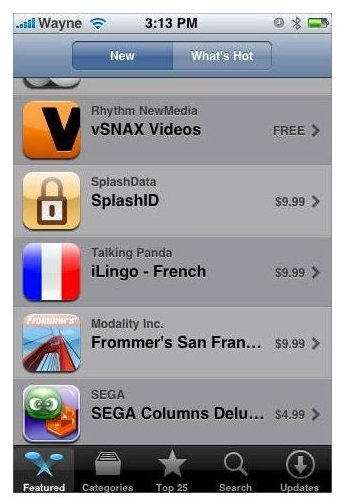 If you want to download iPhone games without ever going near a computer you can do this easily with the iPhones' App Store application. Open this App Store application and you have a few ways to look at iPhone games. You can start by going to Categories and selecting Games, which will be the top option. You will get a series of different game genres to choose from like Board or Arcade, or you can choose All Games. Once you get a selected genre of iPhone games you can see top lists of either paid iPhone games, free iPhone games, or iPhone games by recent release date. When you select an iPhone game you will get a similar profile page as you would from the App Store page on your computer. You go through the same process of hitting the purchase button, signing in to your iTunes account, and then the download will begin.
Working With the Download
An icon for the iPhone game you are downloading will appear on your iPhone desktop, though it will not be in full color and will have a progress bar to indicate that the download is taking place. Once it has finished it will be be in full color on your desktop to denote that the download is complete. When you sync to your computer you will have the option to put your iPhone games that you have downloaded onto your computer for backup and preservation. If you do not just want to simply browse in the App Store on your iPhone you can use a Search, which is also possible on the desktop version. You will not be able to download everything in this format due to size restrictions, and you may be required to use Wi-Fi for some downloads instead of the 3G network. If the iPhone game you are trying to download comes in at more than 10MB then you may just want to download it from your computer and sync it to your iPhone the traditional way. This is also going to be easier for large numbers of iPhone game downloads that occur at once.