Games of Chance
Few games in Neopets are as easy and fast as Tombola. Everyone is guaranteed a prize if you win or lose, but you can only play it once a day. And you should! In case you have never played this game before, wanted to play it but just couldn't find it, or was curious on what you could win from it, this is the guide for you!
Where Can I Find Neopets Tombola?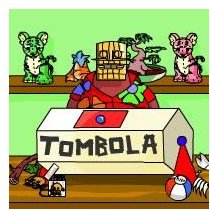 Neopets Tombola is on the Mystery Island of Neopia. To get there, look for the yellow bar near the top of your screen and click the "explore" button. It is right next to the "games" and "news" buttons on the same bar. After you click on "explore," click the "Map of Neopia" option that pops up. From there you will see all the many areas you can access to buy food or play games, but Mystery Island specifically is a green island on the far right of the world with a big stone face sticking out of it. If you cannot seem to find it, look for the bright white crystals of Faerieland right in the center of the world. To the right of that is Krawk Island, and to the right of that island is Mystery Island!
When you arrive on Mystery Island, look for Neopets Tombola at the very bottom of the screen. It is in-between Tropical Foods, Beach Volleyball, and Kitchen Quest is just above it. Clicking on the "Tombola" sign will bring up the game. It's as simple as that!
How Do I Play Neopets Tombola?

Playing Neopets Tombola is even easier than finding it. All you have to do is click the "Play Tombola!" button, and the game will tell you if you won or not. In order to win, you need to get a ticket which number ends in a zero, a two, or a five. Don't feel bad if you are not a winner though, as everyone that plays always wins something. When I played today I got a Rejected Flower Shaped Sand. It isn't that helpful, but it looks pretty cool! (I put a picture of it up on the right so you can see.) They even gave me a bonus 136 Neopoints just for playing!
What Can I Win?
If you are even luckier than I was, you might win Bottled Faeries, Code Stones, or if you are very lucky, maybe even a Paint Brush you can use on one of your own Neopets to change how they look. Not bad for just one mouse click, is it?
Remember: Neopets Tombola is a game you can only play once a day. Please don't make more than one account to try and win prizes faster, they will find out and then you'll lose all of your accounts for being greedy.
Good luck, and have fun on Neopia!