Take A Trip Down The Oregon Trail On Your Nintendo DSi

The Oregon Trail Returns!
Gameloft is taking their mobile version of the Oregon Trail and turning it into a Nintendo DSi title that anyone will love. Back in the day (the late 80's and early 90's for those of you who don't remember), the Oregon Trail was a PC adventures game designed to teach kids about the hardships of pioneer life and how hard the trek was across the budding United States to Oregon. As the years went by, the game developed into a fully interactive title by Broaderbund that offers some challenging, yet fun game play - and you don't even realize you're learning!
Story Line (5 out of 5)
The basic story line of the Oregon Trail is that you are taking your family across the United States to Oregon via the Oregon Trail. You have to purchase a wagon and supplies before you leave, and you have to make it across the country with your wife and three kids in tow. (Yes, you are always the father.) But, along the way will be perils - from sickness to bandits to some odd travelers, as well as the opportunity for you hunt and fish for food when needed. The story line to the Oregon Trail is truly a unique one, and I for one am glad to see it make it's handheld debut on the Nintendo DSi.
Game Play (5 out of 5)
You take your wagon, family, and supplies and head out along the Oregon Trail following the map you have. There will be some choices where you can take different paths, but you have to make sure that you stay on one of these roads. You will have to trod along, keeping up with the oxen, keeping a steady pace, and making sure that your family is safe.
But this is easier said than done. In the Oregon Trail, there are so many different things that befall you and your family along the way. From bear attacks to snake bites, dysentery to cholera, robbers to indians, it is sometimes downright impossible to make it to the end of the game with your whole family in tow.
You will also run out of supplies along the way and have to use your skills hunting, fishing, and gathering to gain the food needed to keep you all going. There will be some friendly indians and other travelers along the way that will help you with things you need, and sometimes you will find goods crossing the rivers - which is always a plus. And, if you have money on you, you can always purchase goods at the next fort that you stop at.
For anyone that loves strategy games or pioneering games, the Oregon Trail has some great game play that will keep you playing well into the wee hours! Just watch out for those pesky bears…
Graphics (5 out of 5)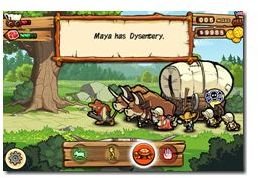 While there aren't many screen shots out there, Gameloft has several on their site that will allow you to see what you can expect with this Nintendo DSi title. While a bit more cartoonish than the little stick-figures that graced the first Oregon Trail, the graphics in the Oregon Trail are colorful and detailed enough to make the game interesting and a ton of fun. Plus, the animations of your family getting mauled by a bear, getting sick, or sleeping are actually a bit funny at times. You won't find much wrong with the graphics here in the Oregon Trail!
Overall Impression (5 out of 5)
While I'm looking forward to picking up this title for the Nintendo DSi, I already love every other version of the Oregon Trail that I have (PC and on my cell phone). It's a fun, challenging game that is great for all ages, from the kids on up to the grandparents. I would completely recommend this title for anyone looking for a fun way to connect with your kids and give you some great adventure games that you will fall in love with over and over again.