The Good Parts (4 out of 5)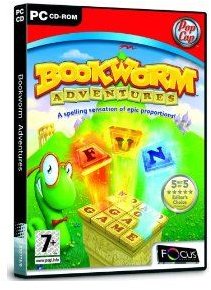 PopCap hasn't always developed good sequels. Take, for example, the adorable and fun video game Peggle that was followed by the less than improved Peggle Night. Bookworm Adventures 2 brings back the magic of the lost art of spelling to the virtual world with a sequel that improves the adventure video game you played before with a few interesting changes and additions to the gameplay. PopCap added basic gameplay combat-mechanics, a lighthearted and engaging story, a nice array of opponents for you to battle during your adventure, and the ability to gain experience points to use to improve your play.
Bookworm Adventures 2 has a few things in common with another PopCap video game, Plants and Zombies. You can unlock new items with each new level but have a very limited number of slots to make use of them. This adds an interesting and entertaining tactical element that requires you to think ahead to what you may face in future chapters and select the proper items to aid you in your adventure along the way.
The Bad Parts (5 out of 5)
Bookworm Adventures 2 is an adventure video game that's a little on the easy side but this is much better than being too difficult. It isn't too hard to beat the game, and can be done in around 20 hours of gameplay time. The game lets your know when you will need to use a health potion and other dangerous situations in the game. This is however, a very helpful thing for kids – which is the target audience for the game.
Graphics (4 out of 5)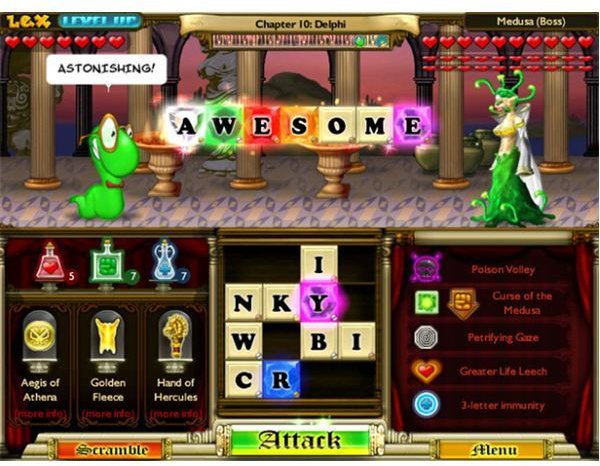 The graphical presentation of Bookworm Adventures 2 has a charming and stylish look that the kids will love as they laugh at the hilarious enemies they face. The colors are bright and crisp, even if the textures are pretty basic and it's still an adorable graphical-formula that continues to entertain after four titles. The paper doll animations of each of the enemies are unique and laugh-out-loud funny each time you see them.
Sounds in the Game (4 out of 5)
The lush and engaging score of Bookworm Adventures 2 sets the pace and atmosphere of the game, and it is used very well and it has enough variety in tunes to make the experience entertaining. The pace of the music keeps the energy high and the mind involved in the spelling action while you play. Bookworm Adventures 2 is also full of funny one liners delivered with skill and timing that have a cheesy kind of charm and style. The high pitched voice of Lex cheers you to greater spelling feats as you play. His voice can be annoying, but he definitely keeps your attention.
The Storyline (3 out of 5)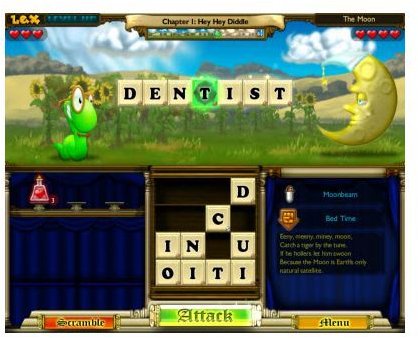 The story line of Bookworm Adventures 2 is composed of 3 books. Each book has 10 chapters that throw opponents and spelling challenges at you until you reach each of the chapter bosses. Opponents attack you on their turn using their unique abilities, while you fight back by getting your spelling right. There's a grid of 16 tiles, each with a letter you can use to spell the longest word you can, with the best letters – some letters are worth more, like the Q and Z. The longer your word and the more powerful the letters you use to spell your word, the more powerful and effective your attack.
Playability (4 out of 5)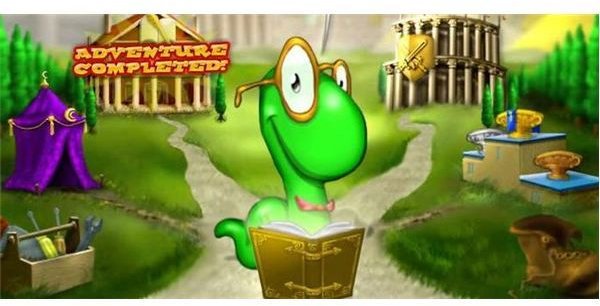 Bookworm Adventures 2 RPG elements aren't going to entertain every gamer, but if you like a spelling game with a few interesting elements, then Bookworm Adventures 2 will provide you with hours and hours of entertainment and fun suitable for the whole family. Bookworm Adventures 2 is a little light on the challenge that a hardcore gamer expects from an adventure video game but the casual gamer will find this a very playable game. They added complexity using special tiles and letters like jewels that have a special effect upon your opponent and various special tools for Lex to use during game play that add bonuses.
Bookworm Adventures 2 can be like sitting down for a long but excellent book that you don't want to put down for the casual gamer that connects with this adventure video game. It can also be a long and boring title that has little to keep the hardcore gamer entertained. It all depends on the type of gamer and the kind of game play that entertains and satisfies each player. Kids will be entertained and will learn important skills while they play and they won't even know it, and for me this is the best part.