Gaming as a Social Activity
A lot of people think of video games as something that nerds do in their basements without the company of other people, causing them to become antisocial or develop such behaviors after becoming addicted. This is far from the truth, however, because games are one of the most social things that media has developed in the last 100 years, often bringing together hundreds of people for parties or events around the globe. If you're looking to throw a gaming party, or just have some fun with your friends, here are the top five games to play with friends of all time.
Mario Sports Mix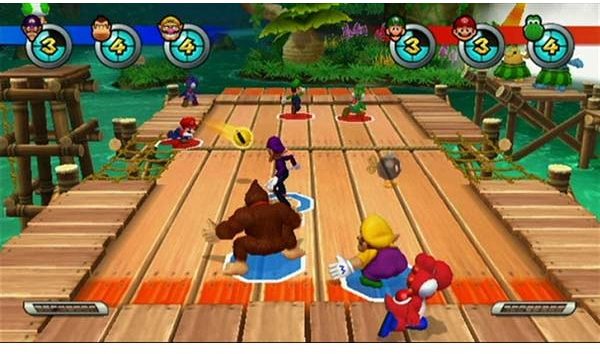 Take the accessibility of Mario and combine with four of the world's most popular sports and what do you get? Mario Sports Mix, is what. As one of the most entertaining casual games to come out of the 'Wii' fad, Mario Sports Mix features Hockey, Volleyball, Dodgeball, and Basketball, all playable by up to four people on one T.V. These games are hectic, and will offer hours and hours of laughing and yelling between you and your friends: Just make sure you have enough controllers!
Rock Band 1/2/3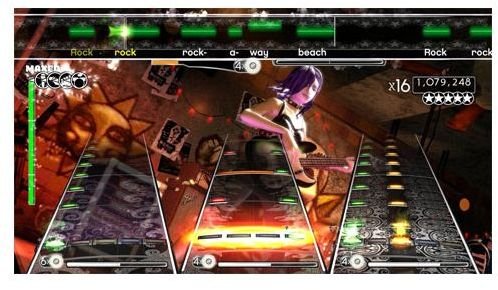 When people start to have parties dedicated strictly to one video game, you know it has to be good. The Rock Band/Guitar Hero fad started when Activision released the first Guitar Hero for the Playstation 2, and ever since then it has grown to include more than 15 games across consoles, and almost anyone can play it without much trouble. The magic in the Rock Band series comes in that everyone (and I mean everyone) knows how to pretend to play an instrument. If you've ever air-guitared around your house pretending to be a rock star, you can play Rock Band with friends at a party; and with a roster of hundreds of popular songs from artists like Linkin Park and Paramore, everyone has a song they'll enjoy.
Mario Party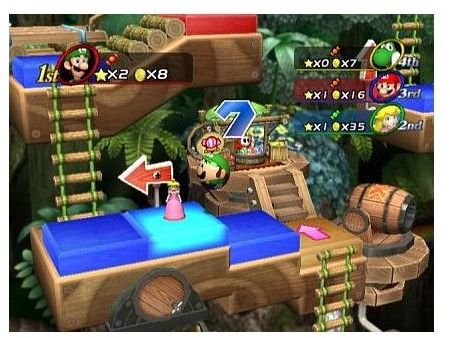 Nintendo is the king of party games, and this was never more prevalent than with the release of the Mario Party series for Nintendo 64 back in the 90s. Mario Party takes the idea of a board game, combines it with the fun interactivity of a video game, and brings people together in ways that you'd never think possible from a video game. Basic gameplay consists of people rolling dice to race around a virtual board game, and after each round of turns everyone competes in a minigame to move up/move back on the board. First player to reach the goal wins!
Super Smash Bros. Brawl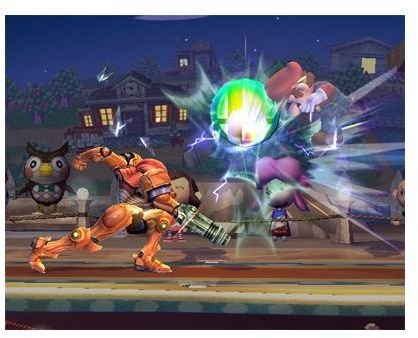 Let's say you want to have a gaming party, but your friends tend to like the more "hardcore" gaming experiences. What do you do if Mario mini-games and pretend music playing isn't enough? Bring out the Smash Bros.
Super Smash Bros., like Mario Party, started on the Nintendo 64 and instantly became a huge success. The game pits all of Nintendo's most famous characters against each other in a 4-player brawl, with the hectic goal of smashing each other off of the stage before losing all of their own lives. The fun can continue with more than four people, though: Set up a tournament mode and you can play with up to 64 entrants, more than enough to accommodate anyone who could show up to even the biggest parties.
Boom Blox: Bash Party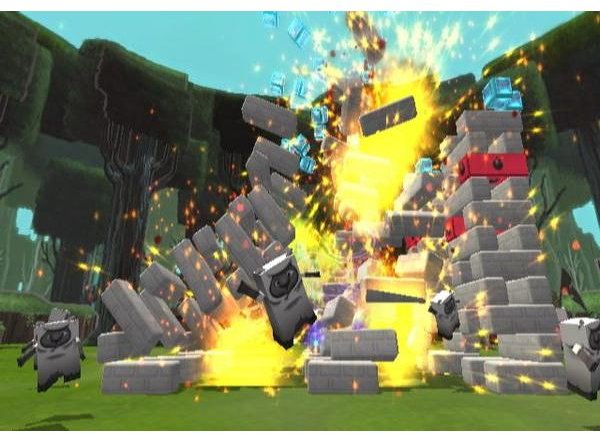 Going back to the more "casual" side of things, Boom Blox: Bash Party is a game created by none other than film industry great Steven Spielberg, and if you know anything about Mr. Spielberg, you'll think the concept sounds a little bit weird by his standards. The game involves players throwing balls at large stacks of blocks in a variety of game types including "Forts" (destroy each other's block forts by throwing stuff at each other), "Points" (hit blocks that are worth points), and many more. The game is a ton of fun to bring together a party like nothing else, and will be sure to have people laughing and smiling through the night.
References:
1. Image References:
https://files.g4tv.com/ImageDb3/241923_S/Mario-Sports-Mix.jpg
https://cache.kotaku.com/assets/resources/2007/09/rock_band_price_date.jpg
https://www.gamingblog.org/images/mario-party-8-q_52.jpg
https://www.smashbros.com/en_us/howto/technique/images/technique09/technique09_071205f-l.jpg
https://media.giantbomb.com/uploads/0/26/11651-boomblox-01_super.jpg
2. Information Reference: All information comes from author experience with the aforementioned games.