Fun Games to Teach Children Manners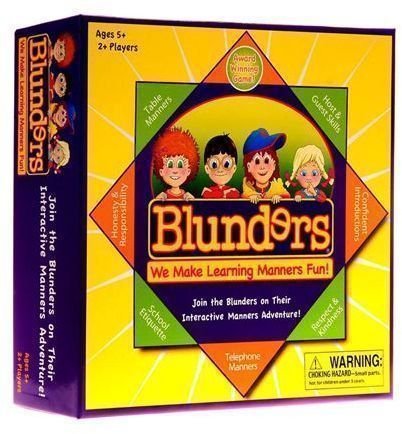 Do Not Live Like the Goops!
Do you look around and feel like you're the last civilized person in your family? Gillette Burgess wrote a poem, "The Goops" capturing the pitfalls of poor posturing. "The Goops they lick their fingers…Oh they live disgusting lives…" If you remember this poem from childhood, you're not alone. It's a funny rhyme. Kids learn best when they're having fun. In addition to having children memorize poems to help them learn manners, you might wish to break out the games. Luckily, you'll find that there's a number of options to choose from. Here are some of the best.
Blunders
If you're looking for a game that will get all players giggling, you might want to look at Blunders. This game is appropriate for children aged five to ten and has attracted the attention of teachers and parents alike. The game operates kind of like the popular party game Cranium.
Game activities include charades, acting out scenarios, multiple choice questions, true/false questions, and reward and consequence questions. The game focuses upon four characters - "The Blunders" - and their etiquette mishaps.
The creator of the game came up with the idea after teaching children's etiquette classes and wanted to find a way to teach children manners in a fun and creative way. Blunders has been voted best game of the year, has been given the Mr. Dad Seal of Approval, and it has received much acclaim for being effective in teaching manners. It retails for $24.95.
Noodleboro's Learning about Picnic Basket Manners Game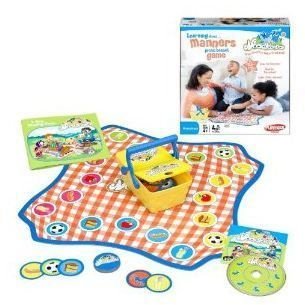 Once you have developed a habit, it's a picnic to keep that habit up. Perhaps that's why Noodleboro thought a picnic would be the perfect setting for learning manners. The point of the game is to keep ants from stealing the food by using the words "please" and "thank you."
While Blunders is a great game for elementary school children, Noodleboro's Learning Manners Picnic Basket Game is a great game for preschool children. In addition to the game, there is a music CD and a story that allows children to follow along with what happens to Rachel, a girl who does not use manners when dealing with her friends. Find out what happens while having fun. This game retails for $19.99.
Mind Your Manners Game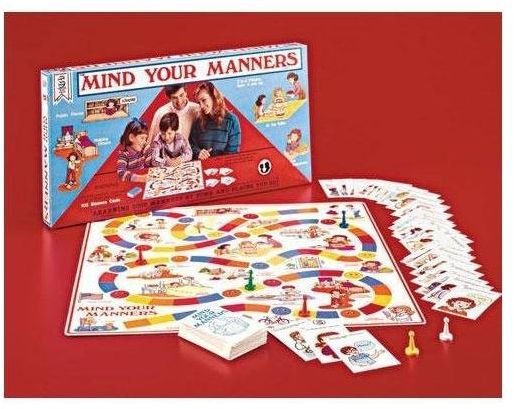 Mind Your Manners looks a lot like Candyland on the surface with its colorful spaces on a colorful board and a bunch of cards. That's where the similarities end.
The cards depict scenarios where the children are demonstrating either good manners or poor manners. Some people have mentioned that the instructions can be somewhat complicated and that the cards may be out of date, but it's still a commonly-used game for parents, teachers, and child therapists who would like to put a fun spin on manners. The game is appropriate for two to six children ages four to ten and retails for $22.50.
Don't Pick Your Nose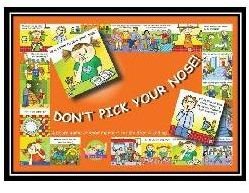 This game is kind of fun and it has some really funny illustrations. It is aimed at children between the ages of three and eight and features the game board you see and cards. Situations include offering a seat to a pregnant woman, and of course, avoiding nose-picking activities. There are 36 questions and six decks of cards. Each of the cards features the humorous illustrations that you see to the right. Don't Pick Your Nose is available in Europe (although you could potentially ship it to the United States) and costs fewer than 16 Euros.
Printable Games
In addition to these fun board games for learning manners, there are also printable games available. For example, A Manners Game features a printable board game and printable cards. Each of the cards has a scenario like "You bumped into your teacher and her papers fell to the floor." When good manners are demonstrated, the player gets to move forward a space. When bad manners are shown, then the player moves back a space. You do have to be aware that when playing, at least one person will need to be able to read.
Forgetful Jones Never Forgets Manners is a fun printable game that features Sesame Street's favorite character with a memory problem, Forgetful Jones. This printable game comes with cards, a game board and even a cover for the game. The Schoolhouse, a popular homeschooling blog website created Forgetful Jones to help children learn manners.
365 Manners Kids Should Know
Finally, while this isn't really a game, but a reference book with a variety of manners-related games and activities, it's a nice reference to have on your shelf. It's important to note that there are games in this book, but that there are also wonderful suggestions for how to incorporate the teaching of manners to your children every day of the year. Sheryl Eberly's 365 Manners Kids Should Know should sit on your bookshelf and find its way into your activities at least once a week.
References
"The Goops" Gillette Burgess https://www.scrapbook.com/poems/doc/1619/53.html
Blunders https://www.blundersmania.com/products.htm
"Noodleboro Games: Teach Them Social Skills" https://besttoysguide.com/toy-reviews/noodleboro-games-teach-them-social-skills
Creative Therapy Games https://www.creativetherapystore.com/Social-Skills/Mind-Your-Manners/SM-1
Don't Pick Your Nose https://www.mannersgames.com/games.html
A Manners Game https://www.bry-backmanor.org/mannersgame.html
Forgetful Jones https://theokschoolhouse.wordpress.com/2011/07/12/dont-forget-your-manners/
365 Manners Kids Should Know https://www.amazon.com/365-Manners-Kids-Should-Know/dp/0609806378