Farming Guide to Country Life - Facebook Game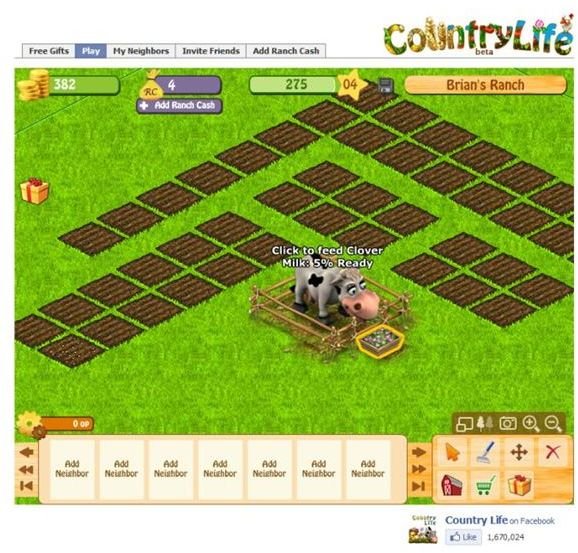 Country Life Game Farming Basics
Country Life is like Facebook games such as Farmville but with one twist. In the Country Life game you can not only harvest crops but use those crops to produce items such as milk, honey and other things to sell. You will find crops such as clover, wheat, corn, tomatoes, grapes, potatoes and others to grow. To make things such as honey you will need a bee hive which can be bought in the game store. The game will start you with a cow so you can already make milk and once you reach a higher game level you can buy a bee hive to make honey.
Plowing and Growing Crops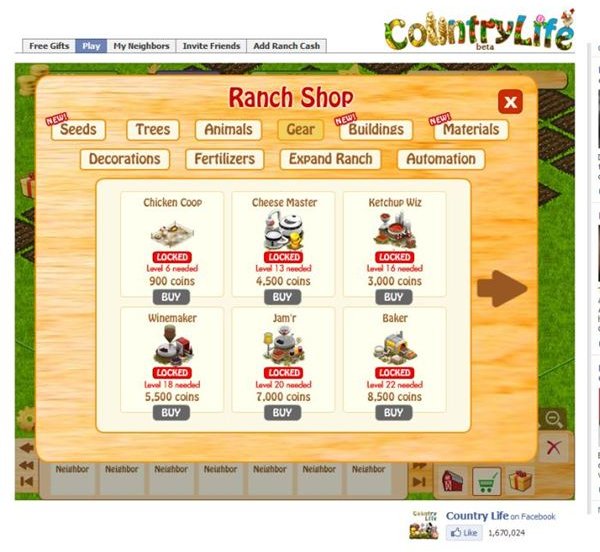 Before you grow crops you need to plow some empty land. At the bottom right locate the plow tool and place your cursor over the area you want to plow. It will turn green and you will have a fleshly plowed field waiting for crops. Do this a few times but don't put down too many or you can run out of coins. Each time you plow you will deduct fifteen coins from your current total. You will also receive a small amount of experience to help you reach the next level. Now that you have some fields ready you can plant crops. Since you already have a cow that eats clover to make milk it would be a good idea to plant some fast growing clover. Clover costs fifteen coins each and the crop is ready in four hours. Click the "Buy" button and place your cursor over the empty plot and you will seed some clover in the ground. Wait for it to grow and you will have fresh clover to sell or make items with.
Selling and Making Items With Farmed Crops
Once your crops are ready you can sell them to collect your game coins. Go to the barn and click on the crops you want to sell to collect your cash. You may want to hold onto your crops at first because you can make items with your crops too. If you have a cow you can feed it your harvested clover and your cow will produce milk. You start with a free cow in the middle of your screen which can be fed clover. Locate the feed tray by the cow and click on it to put some cover in it. After some time the cow will produce a container of milk you can sell. Go to the barn and click on the fresh milk to sell and collect your coins.
Buying Crops
You can buy new crops by visiting the store and clicking on seeds. Clover is great to start with since you can feed the cow and as you level the bee hive becomes available which also takes clover the bees pollinate. The gear section is where you can buy buildings to produce other items.
Conclusion
Have fun with the Country life game and farming. The game is very easy and you will get the hang of it in no time. Now go out there and feed that cow I bet he's getting hungry!