Jillian Michaels Fitness Ultimatum 2010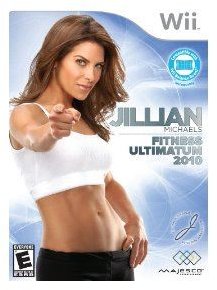 Boot Camp Never Looked This Good
Jillian Michaels has returned with an all new video - video game that is less about playing and more about praying you can make it through without panting. Exercising is good for you - especially when it's done correctly - so let JM be your motivating Guru as you swing, kick, jump and twist through all kinds of exercises that will strength and shape you up. It's a "boot camp" regiment that will make you suffer, but the rewards will be obvious when you look in the mirror. The circuit training alone provides for a way to pursue a course for fitness and shouldn't be overlooked just because there's so much else to see and do.
The exercises were designed by JM so you're not just doing some "same old, same old" but they're classic in that they'll help you achieve your goal of a better, more fit you.
Get With the Program (5 out of 5)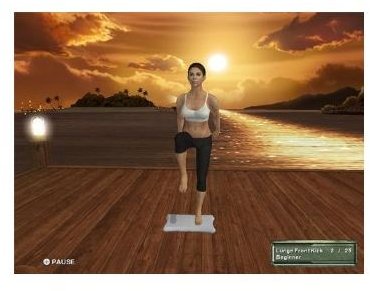 The opening has a video of JM which looks quite good - sure it's just a bit of eye candy to start the exercise going, but it's nice to have included it.
The animated JM was take using motion capture and the Wii projects a fairly realistic looking person amidst the surroundings you will be exercising in.. Movements are fairly smooth, which is a necessity because animation shouldn't be jerky as it causes the eye to be distracted. Distractions you don't need, for sure.
The exercises are not slam dunk easy, although there is an Easy setting besides the rest, and the JM accompaniment makes doing the various exercises easy to understand and follow. The onscreen prompts that accompanies a "rainbow" which displays how well you are doing the movements is a good visual aid as to whether the person is hitting the mark or not.
Locations vary and are very colorful. Running in the Jungle is quite pleasant, although those who opt to do crunches might want to be less distracted and opt for a more sedate setting on the Island. It's no-mans land, by the way, so don't worry that some joker is going to pop up to sneak a peek.
Perhaps the only complaint is that the Help screens (which do exactly what they should) are a bit hard to read - especially on a portable TV (case in point: my old standard-definition 20" tube model). But it's not that big a deal, although using a larger set or even a HDTV can only make the graphics stand out even more.
Listen to What JM Says (4 out of 5)
The ambient sounds are a good representation of the locale, although those without a decent sound system might have a bit of trouble hearing JM's comments during the repetitions.
Background music is innocuous but has a good beat to keep the energy up. It's not quite as heart-throbbing as those old Firm videos, but it does the job even if it does seem to use a lot of synth sounds which I personally am not a fan of. But then again, I'm not the target audience.
Getting Set (4 out of 5)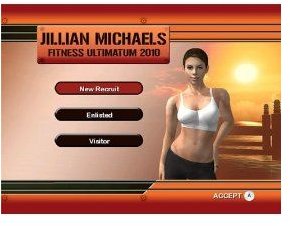 The main menu consists of the program lets you first create a profile so that you can track how well you are doing over time. It's also where you will put together your Resolution calendar for reaching specific goals with JM's help.
There's a locker where you can read tips on dieting and food and health, along with exercise tips. It's also where you can give Jillian a change of clothes if what she's wearing peeves you off (warning: she looks good no matter what you drape her in).
Take Control (5 out of 5)
The program allows for the use of the Wii balance board, with exercises utilizing the board abilities. What is vital is the correct placement of the Wii remote controller in your hand - follow the directions indicated for this that accompany the various exercises so your actions can be accurately tracked, monitored and improved..
Control during the game is fairly straightforward. But for those who might get a bit confused as I did about "going back" on a screen - the Back button that's being shown on the various screens is just an indicator to use the Trigger found underneath the Wii remote controller.
About those Help menus - they provide information when needed and, unlike some exercise programs, the Jillian character is not giving demonstrations today, thank you.. Some might feel this is tougher, but it's more of a circumstance of learning what the exercise is and then following it - I don't really see expecting to understand it all immediately being a valid concern when it's about you understanding what you want to do and then proceeding to do it.
Overall I'd says that Jillian Michaels Fitness Ultimatum 2010 provides for a regiment of exercises that can be of benefit to the participant. The is enough variation and visuals to keep from being bored - but of course the most important thing is to gain results. Repetition and a devotion to exercising will take care of that.