About Fitness Dash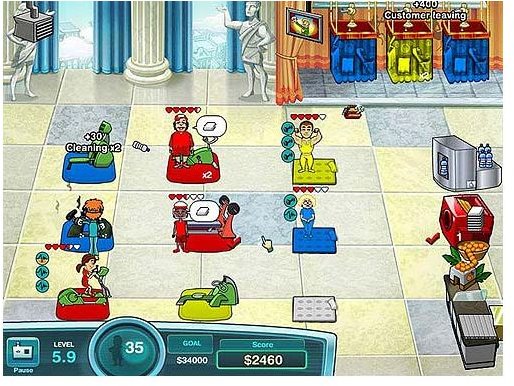 Fitness Dash is another time management style spinoff from the makers of the Diner Dash series. The people of Dinertown are becoming out of shape because of all the fast food they have been eating. Jo the Jogger decides to open up fitness centers to help them lose weight and improve their health.
Game Play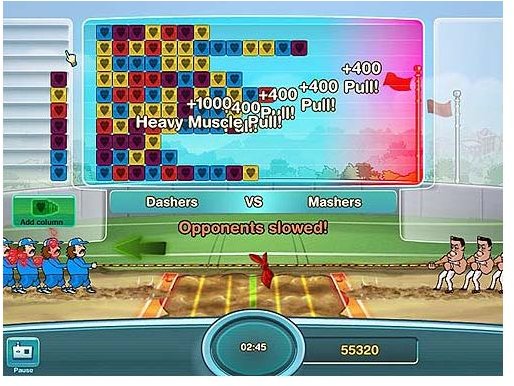 The style of play in this game is very similar to other Diner Dash titles. Instead of serving food, you will place customers on strength or cardio style exercise machines, bring them water, towels and fruit drinks. As customers arrive, click and drag them to the appropriate machine for them to work out on. Items like towels will be located in machines. Click on them to get what you need and bring them to the customer.
When a person finishes working out, they will need to take a shower. Click and drag them to the shower. After they are done showering, the customer will then leave the gym.
You will also need to clean the exercise equipment after a customer uses it. Click on it and Jo will get it all spiffed up so it can be used again.
Each level requires you to earn a specific amount of points in order to move forward in the game. In between levels you can purchase new equipment or upgrades to help improve performance or customer satisfaction.
In between sections of Fitness Dash, there is a mini-game of Tug O' War where Dinertown gym members compete against a rival town. This is a puzzle game where you need to click on matches of four or more like squares to cause the Dinertown people to pull the rope.
To win the game, you will need to complete all 50 levels.
Game Tips
The rowing machine combines cardio and strength training. Use it to your advantage. For customers who like to do both exercises it saves you from having to move them to other machines. It also gives you a bit of flexibility on where to place people when the gym gets busy.
For extra points, try to color match customers to the exercise machines and showers. For every successful match, the bonus increases by a multiple of one (1X, 2X, 3X etc).
To speed up a person working out, click on the exercise machine they are working out on to have Jo give them personal training.
Place customers on gym mats to help increase their patience while they are waiting to use the exercise equipment.
Customers take less time on upgraded exercise equipment. Each one has three levels of upgrades which can be identified by the number of yellow stars that appears next to them.
Juice speeds up a customer while they are working out and improves their mood.
In the Tug O' War mini puzzle game, you can click on individual colored squares to change them to another color. If it is not the right color, keep clicking until you have one that will create a match of four or more squares.
Towels will need to be collected after customers use them. If you leave them on the ground, your towel machine runs out of clean towels until the dirty ones are returned.
Occasionally, there will be mishaps with the showers which cause them to break down. Click on them to have Jo repair them.
The Ice Cream Man is a bad influence on your customers and may cause them to stop working out and leaving the gym. Click on the Ice Cream Man to get rid of him.
Chain actions like cleaning equipment or delivering towels and water to score higher bonuses.
Image Credit
Screenshots for the Fitness Dash article were created by Sheila Robinson.