About Diner Dash Flo on the Go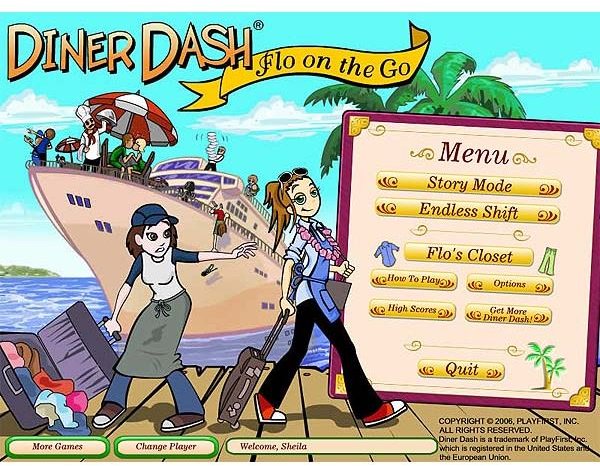 In this Diner Dash themed game, Flo and Darla decide to go on vacation on a cruise. However their festivities come to an end when the ship's cooks quit and Flo's luggage gets tossed into the ocean. Flo and Darla must save the day and help out the short handed crew by preparing food and serving customers.
The chaos continues for the two friends as they keep trying to go back and continue their vacation. Every place they go needs help. Five restaurant locations each with multiple levels must be completed before they can enjoy some fun and relaxation.
How to Play
Game play in Diner Dash Flo on the Go is consistent with other titles in this series.
Customers arrive at the restaurant.
Click and drag them to an open table to be seated.
Menus are then brought to them and you wait for them to decide what they want to eat.
Order tickets are taken to the kitchen counter. Food is prepared and trays are placed on the counter.
Food trays are taken to the customer.
Money and tips are collected when the customer has finished eating. The customer then leaves the restaurant.
Dirty dishes are cleared and taken to the dish washing bin.
Repeat the above sequence with every new customer that arrives at the restaurant until time runs out.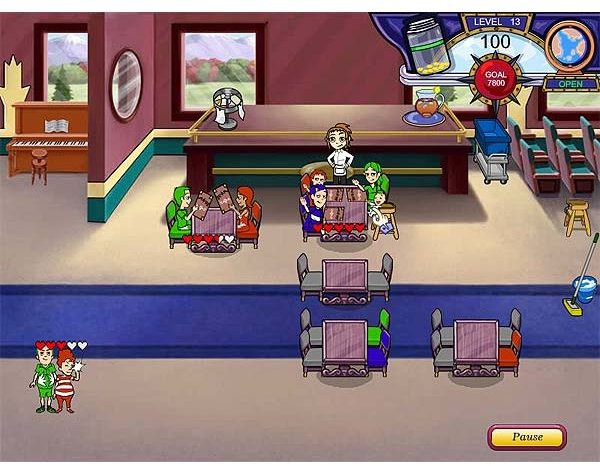 At the end of each successfully completed round, you can choose a single upgrade to improve the décor of the restaurant. A summary screen will be displayed letting you know your total score.
Also as levels are completed, you will unlock new clothing items and accessories for Flo to wear. This is accessed through "Flo's Closet" in the main menu.
Game Hints and Tips
Tourist customers are very patient while waiting in line. However, they become impatient when seated. They will frequently request that you take pictures of them. Doing so boosts their mood and gives bonus points.
Some levels require you to work in the dark. Flo has a flashlight so she can see. Try to memorize locations of tables and other needed items for easier access.
Babies will cry unless they are brought a highchair to sit on. They will also get upset after dropping stuff on the floor. You will need to mop it up or risk loss of other customer's patience.
Lovebird customers will only sit at 2-top tables. They are patient, but will start making out with each other if left alone for too long which will annoy other customers.
Try to chain Flo's actions to score higher points. She can pick up two items at a time. Double up on delivering food trays, collecting money and clearing dishes. When completing chains avoid tasks that will break it up – bringing drinks, snacks, desserts, mopping up messes or taking pictures.
Color matching customers to tables earns bonus points. Every time a new customer is added to the same colored table, the bonus increases by a multiplier of 1 (1X, 2X, 3X etc.).
Bookworm customers are extremely patient but slow eaters. Try to place them in tables after more impatient (or noisy) customers have been taken care of.
Place noisy Cell Phone Addict customers in the corner tables to limit the amount of disturbance to the other customers. Families and Jogger customers can be placed in tables next to them without any problems.
Seated customer's patience and mood can be improved by giving them drinks. Waiting customer's mood can be improved by using the podium.
Resources
Image credit: Diner Dash Flo on the Go screenshots taken by Sheila Robinson.