Diner Dash Unlock Codes and Diner Dash Cheats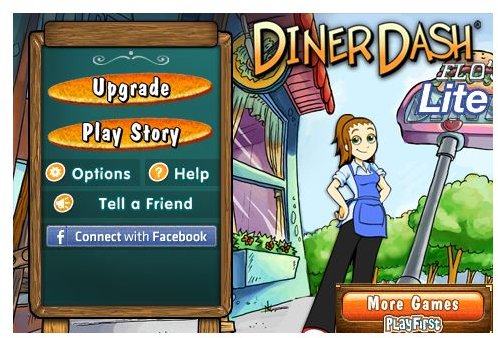 What is Diner Dash?
Diner Dash is a game created by PlayFirst for the iPhone which was released in 2008. It is one of the most influential games in casual gaming and was one of the first games designed for a casual audience to become a massive success. If you are a fan of games such as FarmVille, Plants versus Zombies, or other casual games such as these then you will love Diner Dash. Diner Dash also has unlock codes that enable the player to get more levels and diners to play in.
Diner Dash can be downloaded from the iTunes App Store [Download Link].
Gameplay of Diner Dash
The gameplay of Diner Dash revolves around running a restaurant and moving the main character around to perform different tasks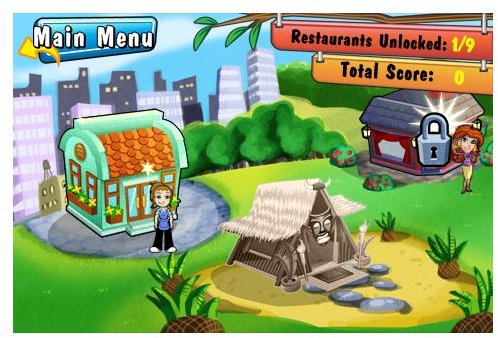 such as taking a customer's order, showing them to their seat, taking their money, cleaning up and so on. The game works very well with the iPhone control system as you can easily move your finger to perform the different tasks very quickly to keep the restaurant in Diner Dash running.
The style of gameplay is a type of "spinning plate" formula in that should you fall behind in one part of the chain of events then it is very difficult to prevent the whole thing from falling apart. Just because this is a casual game does not make it easy!
There are different types of Diner Dash games for the iPhone produced by Playfirst, the two main ones are Diner Dash and Diner Dash lite. Diner Dash lite is the free version of the game and so comes with much less content and many advertisements throughout the game. There are also spin offs such as Cooking Dash.
Diner Dash Cheats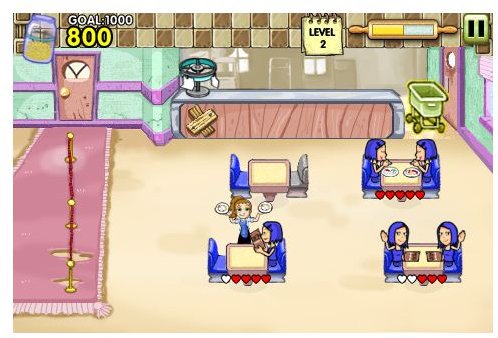 Diner Dash for the iPhone has a very steep learning curve and because of this people are always looking for Diner Dash cheats to help them get ahead of the game and beat the levels. The sad truth is that there are currently no Diner Dash cheats available as it is very hard to cheat on an iPhone. However, there are ways you can earn extra points by sitting people on the same color seat as each other, and by performing multiple tasks at once to save time.
Diner Dash Unlock Codes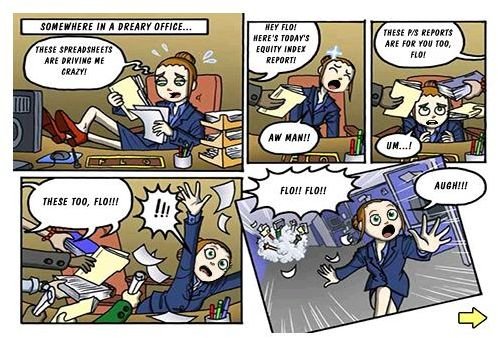 People are also always looking for Diner Dash unlock codes to unlock the extra levels and content. Many websites claim to offer these Diner Dash unlock codes in an attempt to trick the player into downloading malicious software onto their computer. The only way to get safe and official Diner Dash unlock codes to unlock the extra content is by purchasing the extra content from the game developers. Be very wary of downloading any software from websites that claim to offer you Diner Dash unlock codes for free.
Diner Dash Hints and Tips
There are many ways to get better at Diner Dash without using any unlock codes or cheats. Simply follow these tips and hints and you will soon find yourself unlocking new restaurants in no time at all.
If your customers are at a single heart level and are about to leave, simply move your finger over the customer and pick them up as if you were going to seat them. Hold them long enough and your podium heart will recharge and become full. The customer will then not be able to leave.
On the second restaurant and above, when your customers are on full hearts simply give them more beverages and they will then pay you more money than usual.
The elderly customers will have more patience than the others so make sure you seat them last should you have multiple people waiting, however, they will also take longer to eat their meals.
Make sure you are always multitasking and have both hands full, always make sure you are doing something when you walk from one side of the restaurant to the other so as not to waste time. This will be especially useful on the higher Diner Dash levels when you are dealing with multiple tasks at once.
Final Word
Diner Dash is a great game to play and boasts huge numbers of fans worldwide. The best way to get better at Diner Dash without using cheats or unlock codes is to gain lots of practice with the game as you will soon find yourself getting the hang of things very fast.
Diner Dash for the iPhone is well worth checking out for fans of casual gaming.
References
iTunes App Store, https://itunes.apple.com/us/app/diner-dash/id289530584?mt=8
Screenshots taken by author, Leon Eardley.