The Best Restaurant Sim Games Like Diner Dash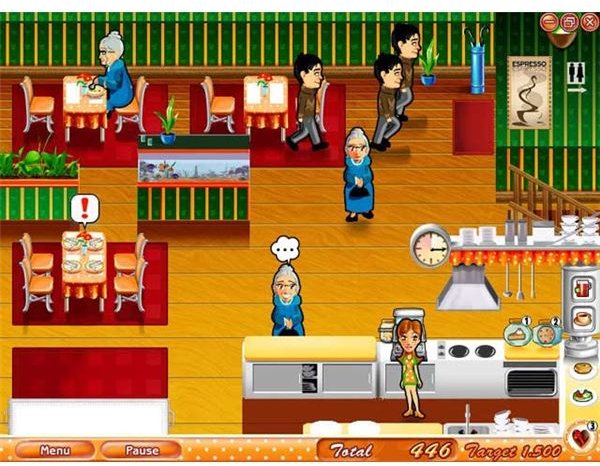 Are There Any Good Games like Diner Dash?
The demand for games like Diner Dash propelled after the sweeping success of the action-packed restaurant simulation game. Diner Dash was the top-selling downloadable video game in 2004, thanks to some challenging gameplay and cutesy visuals. Today, there are several games that are as impressive and challenging as this restaurant sim time management game by PlayFirst. Here are some of the best games that share similar gameplay mechanics with the 2004's super hit title, but have included their own themes and twists to make their games more immersive and entertaining:
Delicious Deluxe
Delicious Deluxe's gameplay is quite similar to Diner Dash. The challenging levels and upgrades are quite similar. The main aim is to expand your chain of restaurants and manage customer flow – the most challenging part of the game.
The real challenge in Delicious Deluxe lies in multi-tasking. You will have to help Emily keep customers happy by keeping tables clean and getting food orders straight. The game has two play modes: Story-based City-to-City or Day in Day Out mode. In both the levels the main objective is to keep the customer's satisfied. The game is quite impressive and is one of the best casual games with restaurant simulation theme.
Cake Mania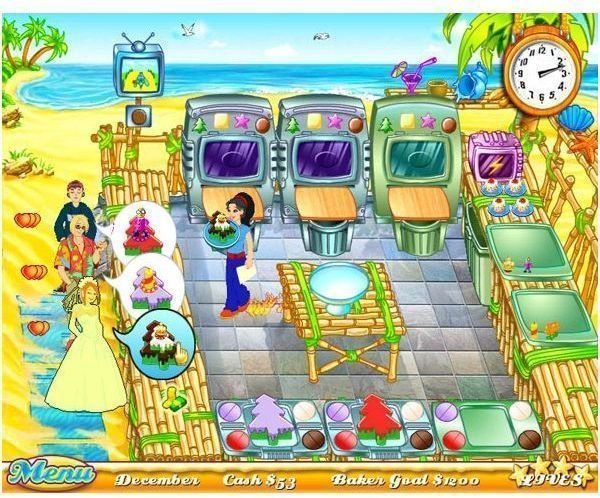 This casual game is, by far, one of the most popular games after Diner Dash. Here the theme is to manage a bakery and prepare delicious cakes and deliver them to the customers quickly. However, the "simulation" aspect is quite missing as Cake Mania is more likely an arcade action game. There are goals to meet and cakes to prepare, but all have to be completed quickly else you will lose customers. There are 4 different locations to bake your cake and several upgrades to quicken the preparation process. Overall, a great game for those who are looking for games like Diner Dash, but want a slightly different theme and gameplay mechanics.
Mystic Inn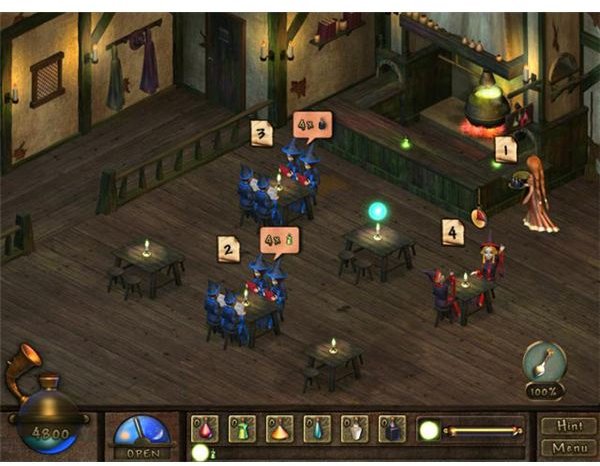 Replace cakes, pastries, soups, cookies and fruity drinks with herbal delicacies and magical concoctions and what you get is a game that's equally challenging as Diner Dash, but is quite interesting because of its unique theme. Well, we are talking about Mystic Inn, another great casual game that has witches and mages as customers. Players step into the shoes of Daphne, who accidentally stumbles upon an enchanted Inn and decides to cook and serve potions to patrons.
The gameplay is very similar to Cake Mania and Diner Dash. Players will have to help Daphne take orders, seat witches and mages at a table and prepare and serve the right potion ordered. There are bonuses to achieve and upgrades to be unlocked, which makes Mystic Inn quite immersive and engaging. There are also cute mini-games to be played, which are quite different from other Diner Dash-type games.
Snowy's Lunch Rush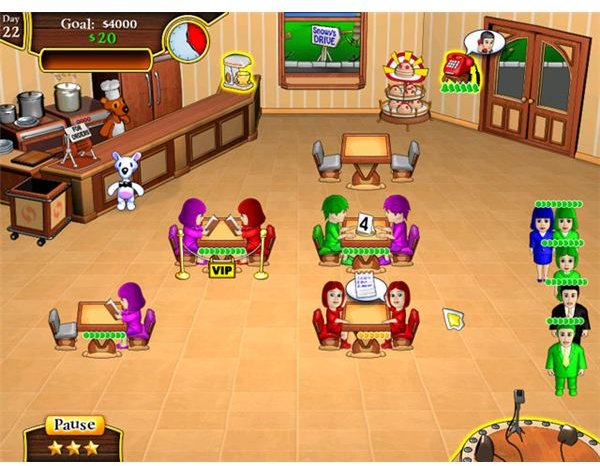 Most players look for more challenge and strategy from casual dining sims. And Snowy's Lunch Rush offers exactly what most players want –strategy. While games like Cake Mania focus more on fast-paced arcade/action, this game focuses on strategy. Of course, you will find the same fast-paced servings and preparations, but there's a slightly more strategic edge than other casual restaurant simulation games. There are new elements and upgrades and excellent 3D visuals, although played from a fixed perspective. If you like games like Diner Dash to have more strategy and fast-paced action, then Snowy's Lunch Rush is the right dining sim for you.