Amelie's Café Review: Yet another Restaurant-Themed Time Management Game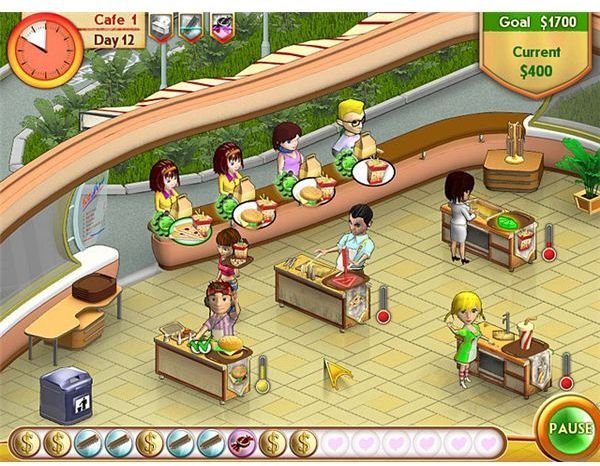 Amelie's Cafe (3 out of 5)
Amelie's Café is the latest restaurant-themed time management game from Alawar Entertainment and Boolat games. Alawar Entertainment is known for its casual games like Mahjongg Artifacts and Treasures of Montezuma. Its latest release has gameplay mechanics akin to popular time management games such as Diner Dash and Restaurant Empire, but does it match their standards?
Gameplay (3 out of 5)
For Diner Dash fans, Amelie's Café might be something they are always used to: running a rundown restaurant, managing customer's orders and taking care of the restaurant kitchen. The only difference is that Amelie runs a café to make her grandfather's dream come true.
For gamers new to the restaurant-themed time management games will find Amelie's Café a nice addition to their casual game collection. You play the character of a poor girl trapped in making business decisions for her Grandfather's rundown café. She has to take up the challenge of managing the café, fulfilling customer's orders, keeping the kitchen spick-and-span, and serving delicious snacks to attract more customers.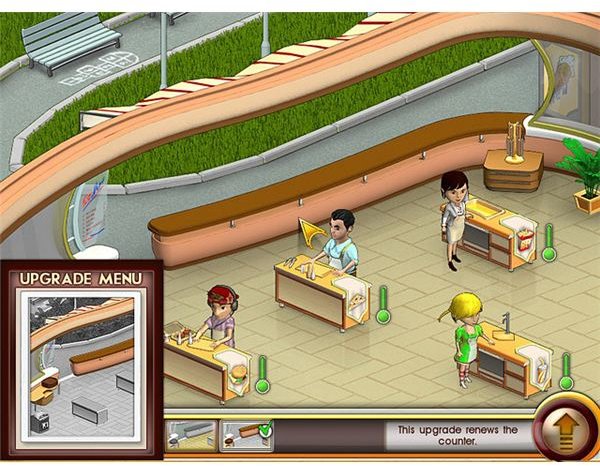 At first, the game follows a rather pre-determined set of actions. You will have to click on the customer to take an order, go to the cook's table to give him the order and then serve the customer. The beginning level provides three cooks for you; one has the responsibility of preparing pizza while the other two manage burgers and fries.
The later stages of the game become more challenging as Amelie is given more responsibilities. You will have to help Amelie clean tables for her cooks to work smoothly. You may suddenly find your customers becoming rather impatient and restless and giving quick orders. This becomes quite frustrating, but once you complete a set of action pretty fast, you will earn powerful bonuses. After a couple of levels, you will have a chance to upgrade your café.
The game has nothing new except some new additions and a fresh new face (cute little Amelie, of course!). Amelie's café has a career mode with just three different cafes to play. There are a set number of "days" for each café that will challenge you complete levels within 15-24 days. There's also a sand-box mode where you can play without any limitations.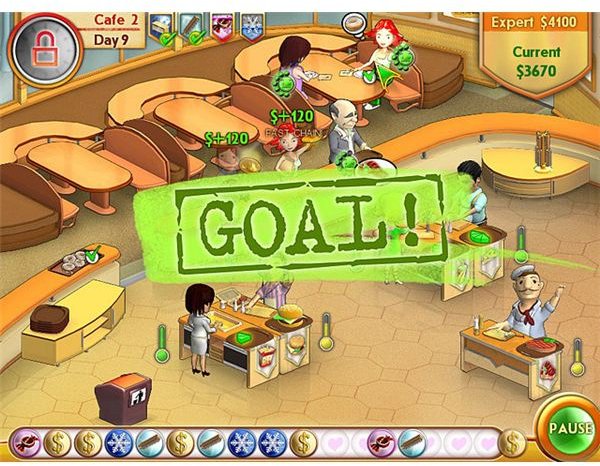 For the first few hours you will find it interesting, but later levels become very fast-paced, which can hamper your gameplay experience. You will find it very difficult to concentrate on one particular action. In my opinion, the later stages of the game have no strategic value. It just tests your reflexes!
Graphics (4 out of 5)
Amelie's Café has nice three dimensional animated graphics. But I found many facial similarities between customers. Although this does not affect the game, still some fresh customer faces would have added something new. Gamers will love the cute features of Amelie and her cooks. The game's opening sequence is narrated in a comic book style with a cartoony feel to it. The menu bar at the bottom of the game screen shows clear 3D icons distinguishable from each other.
Sound (3 out of 5)
There is nothing new in the sound department except some wonderful tunes and good sounds of icons popping up every now and then.
Overall (3 out of 5)
With so many popular restaurant-themed time management games like Diner Dash topping the gaming charts, Amelie's café is still the new kid on the block. But, I don't think it will match the standards of games like Restaurant Empire. You'd better download the demo first and then buy the game if it fits your 'casual' preferences.
System Requirements
Operating System: Windows XP/Vista
Processor Speed: 800 MHz
RAM: 256 MB
Hard Disk Space: 58 MB
DirectX: 7.0