Restaurant Empire (4 out of 5)
Restaurant Empire is 3D business simulation game developed by Enlight Software. The game's lead designer is Trevor Chan, popularly known for designing highly acclaimed strategy games like Capitalism II. The game, which gives players complete control over a realistic situation, provides a deep strategic as well as an enjoyable experience.
Story (4 out of 5)
The game revolves around the adventures of a young chef, Armand LeBoeuf, a fresh graduate who learnt his cooking basics from a notable chef school. His uncle, an expert chef, allows him to run his old restaurant under one condition that he will make the business profitable once again. But, the young chef faces many difficulties as he has to expand his restaurant business to three important cities Rome, Paris and Los Angeles. The task gets more difficult as he has to challenge the flourishing business of an international food corporation called Omnifood. You, as young Armand, have to guide him in his dream to become the prestigious chef in the world.
Screenshots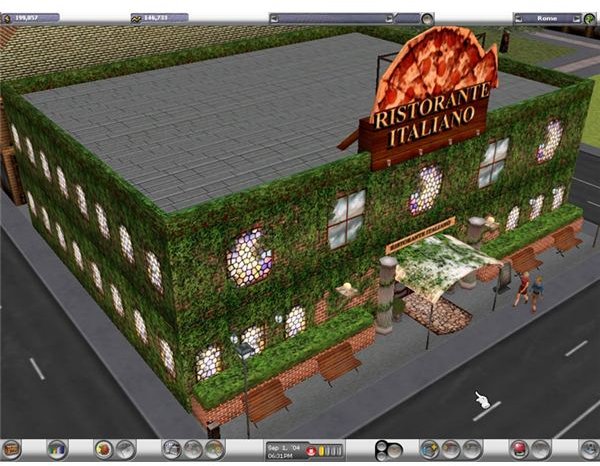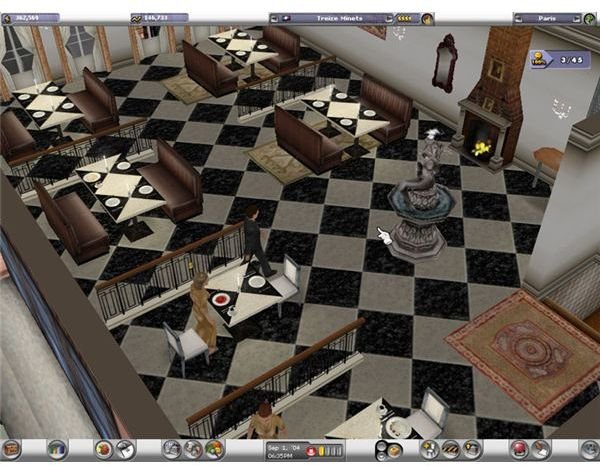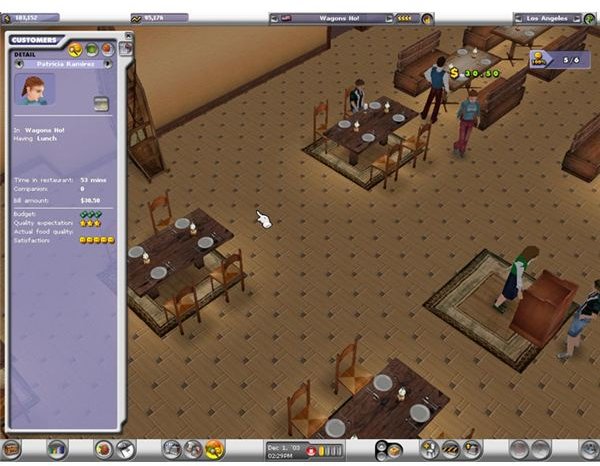 Gameplay (4 out of 5)
Restaurant Empire features two gameplay modes: a campaign mode and a sandbox mode. The campaign mode has 18 different scenarios and a tutorial section. The tutorial mode gives an in-depth training on many options including decorating, building and running restaurants. Each scenario has different objectives and as you complete each level successfully, your chances of increasing your restaurant's reputation are more.
The game's strategy revolves around food, decoration and how to satisfy your customer's appetite. It also simulates every imaginable feature of a real-life restaurant management business. You will face the challenge of hiring general staff for each restaurant. There will be captains, servers, kitchen porters and most importantly, chefs. Each chef boasts a different level of expertise. Some are expert in appetizers while others specialize in main courses. Moreover, their skills are further divided into America, French and Italian categories of food.
The most important strategy of Restaurant Empire is to prepare the best foods for your customers. There are more than 300 recipes to prepare and an equal number of ingredients to add in perfect proportions. The ingredients have a specific cost and price. You can assign a chef in the kitchen and monitor his or her improvements. In later stages of the game, you will learn which dishes are preferred by the customers. Once you understand this aspect you can add more recipes or remove them to maximize your profits.
Apart from the quality of the food, your restaurant's prestige will also depend on the attractiveness of the décor, the appearance of the restaurant and the quality service. You can upgrade your restaurant's furniture or renovate the exterior for better scores or ratings.
The sandbox mode features endless gameplay and customization options. There is no story mode, so gamers can quickly customize their choice of chefs and their specialty. There are also mini games in the form of cooking competitions. You can enter contests by paying a small fee and prepare new recipes and win cash. This is an excellent variation to the regular gameplay.
Graphics (3 out of 5)
Restaurant Empire does not boast great graphics. The game experiences some slowdowns, especially in adventure modes. Character animations are good, but some of them are rendered poorly and look quite repetitive. The colors are also quite dull.
Apart from such major glitches, the game's graphics has some salvage values. You have the freedom to rotate and view to any easy and convenient angle. The recipes and food are rendered so nicely that they can make your mouth water! Hmmm… Enlight has some good taste, doesn't it! The restaurant empire layout is pretty smooth and it seems that the layout got influenced with some of the best restaurants in the world.
Overall, the characters should have been a bit diverse and the animation a slight better, but the gameplay takes the cherry on the top.
Sound (4 out of 5)
The sound department fairs well. You can hear the clattering of dishes, the customers' endless chatters and plenty of slurps and other eating noises. This makes the game more like a real business simulation game.
Restaurant Empire also has some great music. The subtle and light background music provides a much-needed ambience. But, most part of the dialogues appears as subtitles at the bottom of the screen.
Overall
All in all, Restaurant Empire is nice business simulation game. It keeps players busy for hours satisfying customer's complaints, managing staff, preparing new and altering popular recipes and building a successful business. Although the campaign mode features 18 scenarios, the sandbox mode offers endless customizations and options and promises extra hours of gameplay.
Visit the Restaurant Empire Official Site for the Latest Mods and Patches
System Requirements:
Operating System: Windows 98/2000/ME/XP
Processor Type: Intel Pentium III
Processor Speed: 500 MHz
RAM: 128 MB RAM
Hard Disk Space: 700 MB
Recommended Video Cards: ATI Radeon. NVIDIA GEForce
DirectX 8 Compatible Sound Card