Game Play in The Sims Bustin Out (5 out of 5)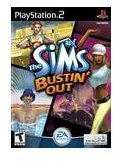 Let's see, basically – you are creating a virtual version of yourself in SIM form in the Sims Bustin Out from EA Games for the PS2. You have so many different ways to customize your SIM, it's almost hard to choose how you want him or her to look. Once you have your SIM designed, you head out into the world to make your living. The fun part about the game play in this SIM sequel is that you can play in normal mode or free play mode. In normal mode, your SIM works every day in their chosen field, they have to raise money, move out of mom's house, start building up a life of their own, have a family, and more. In the free play mode, you can basically just do anything you'd like to do – which can be fun in a whole new way. There are twelve different career paths that you can choose from, including model and military and gangster, so you can truly be who you want to be.
You are constantly on the look out for Malcom, who will be hitting every place you stay at (yes, even dear old mom's), and taking your SIM's things. You will normally have a goal to replace these items for your friends and they will pay you back. So, this is always a fun goal to try to hit, especially when some of these items are pretty expensive. But, you can do so much in this game to raise money for your SIM, from working to painting, so it really won't take you long to raise the money you want or need.
One new thing that the Sims: Bustin' Out offers is several great new areas that you can visit and live at. But, a few of these aren't made for those under the age of 18, which surprises me that the rating on this game is T for teen, it even says Mature Sexual Themes on the rating. For example, one of the areas that you can visit and live in is Pixel Acres, which is a nudist colony. If that isn't enough, you can also kiss and hug other SIMs until they are ready to have a baby. For me, this is a bit much for a teen game, as I personally don't want my young teens seeing this stuff yet.
But, overall, the game play is fun. With all of the different areas and careers that you can choose from, there is no shortage of different paths to take. And, you can have a different experience any time you play. So, the game play gets a 5 out of 5 from me… even with the adult themes.
Sounds and Autio (5 out of 5)
Just like any of the Sims PS2 games out there, the music is a bit on the boring side. But that doesn't mean that the audio and voice acting isn't worth listening to. In fact, the sounds and the voice acting is really pretty funny when you listen to it – especially when the sims are upset. They make these odd clicking/squeaking/squealing sounds, and wave their hands in the air. This is usually accompanied by some odd remark in a chat bubble over their head as well. And, when you don't listen to what your sim wants, and they pass out or wet themselves on the floor – you are in for a butt chewing as well. The sounds and audio of the Sims Bustin Out are great and really make the game when you listen to them. So, they get a 5 out of 5 – even if they music is a bit on the boring side.
Graphics (5 out of 5)
The graphics in the Sims Bustin Out are really great. They are, in my opinion, better than in the first Sim's game, and a heck of a lot more detailed than I would have expected. You can customize basically everything about your SIM, and their world – including yards, houses, walls, windows, cars, and more. To me, the new graphics are awesome, and give players a better way of really getting into the game. Your choice of living areas is no different here when it comes to graphics. You can get so many different things for your pad – from fish tanks to weight benches to doll houses – it's amazing. And, the beauty is, anything that you put in your friend's pad, they will repay you the difference when you move out. It's a great way to put some fun things in your SIM's life and still earn some money in the end. Overall, the graphics are a solid 5 out of 5.
Images from the Sims Bustin Out





Overall Game Score (5 out of 5)
Well, since there is just a never-ending game play scenario here, I can only give the Sims: Bustin' Out a 5 out of 5. I would recommend this to anyone who loves SIM games, specially fans of the first one. But, do make sure that you keep an eye out if your children are playing this one, as some of the more adult themed areas should be kept under wraps.
Want more great Sims articles, cheats, reviews, and more? Here are some on Bright Hub that you can't miss:
The Sims Bustin Out Cheats and Tips for PS2
The Sims 2 Review
PS2 Cheats for the Sims 2: Every Sim Needs a Good Cheat Code
The Sims 2 Pets Review