How to Play FarmVille on the iPhone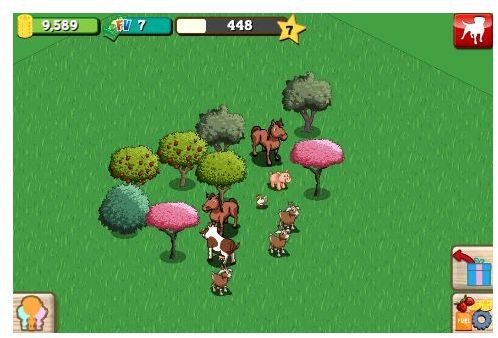 What is FarmVille on iPhone?
FarmVille for the iPhone is a real-time farming game created by Zynga, originally for Facebook, which has recently been ported over to
the iPhone and iPod Touch. FarmVille on iPhone has been a massive hit and has millions of fans and players worldwide, FarmVille has also won many different awards including "Best New Social/Online Game" in 2010 at the Game Developers Conference.
This guide hopes to inform you of the best ways for you to succeed in FarmVille and will teach you how to gain huge amounts of FarmVille plants, trees, animals, crops, and most importantly, FarmVille coins.
How Do I Download FarmVille on iPhone?
To start playing FarmVille for the iPhone you will need to download the game from the iTunes store, once the game has been downloaded you will be asked to log in to Facebook to link the FarmVille iPhone game with your Facebook account.
Next you should open up the FarmVille application, wait for it to load, and then once this is done it is time to start farming!
Your First Days in FarmVille on iPhone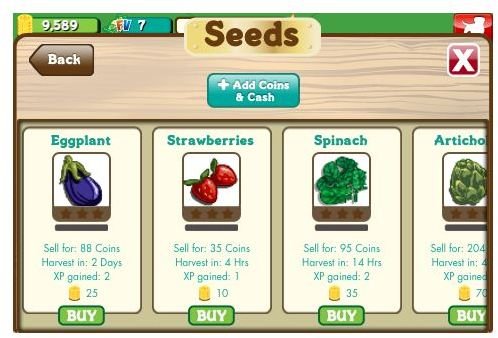 So you are now online, on your iPhone, and are staring at an empty field, where to begin? Here is how to play FarmVille on the iPhone. Firstly it depends on what your starting goals are, you have to ask yourself if you are aiming to level up fast, get rich fast, or go straight for expanding your farm? Simply follow this guide to playing FarmVille on iPhone to get ahead of your friends very fast in whatever goal you choose.
Firstly, how to get rich fast and get lots of FarmVille coins. Start off by planting the seeds for crops that are worth lots of money as opposed to lots of experience, these include seeds such as Strawberries as opposed to Eggplants. The reason for this is that Strawberries only take 4 hours to grow, cost 10 coins and can be sold for 35. You are able to double your investment in simply 4 hours.
Planting lots of Strawberries is a great way for new FarmVille players to get rich fast and earn huge amounts of FarmVille coins.
However, should you decide that your goal for FarmVille on iPhone is to level up fast, then what you should do depends really on how dedicated you are to the game. Since you can only plant either Strawberries or Eggplants at level one you have a choice to make for which to choose. As mentioned above, Strawberries only earn 1 exp at a time, while Eggplants earn double with 2 exp. However, Strawberries can be harvested every 4 hours while Eggplants can only be harvested once every two days.
So, if you are able to check your FarmVille farm every 4 hours to harvest the Strawberries then you will soon find yourself levelling up much faster than somebody who only planted Eggplants, even though Eggplants give double the experience!
How else Can I Succeed at Farmville on the iPhone?
You are also able to perform "jobs" for other FarmVille players if you have any friends who are also players of FarmVille either on the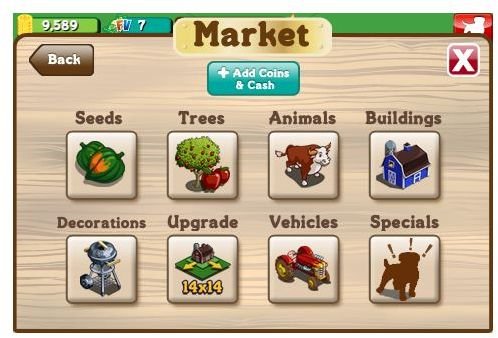 iPhone or on Facebook. Helping your neighbours can be a great way to level up as you will earn 20 coins and some experience simply for performing tasks such as chasing away foxes or crows which will only take a few seconds.
If you want to expand your FarmVille farm on the iPhone very quickly then you will have to do a mix of methods, as expanding your farm requires a large amount of FarmVille neighbours, a higher level, and a high amount of FarmVille coins.
Final Tips for a New Player of Farmville on iPhone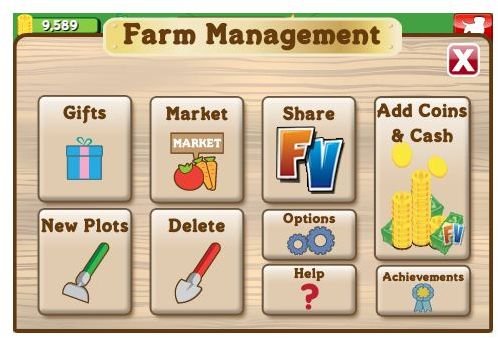 The most important advice that I can give to you as a new player of FarmVille is that you should make as many friends and neighbours as possible, and that you should help them out any chance that you get. Every level you will have gifts that you can give them which will make your neighbours much more likely to send gifts in return. These gifts can contain coins, experience, or even rare items!
Also make sure that you log in to FarmVille on the iPhone every day as just the simple task of logging in is enough to earn you rewards including experience and coins.
There is a reason why FarmVille on iPhone is one of the most popular games in the world today and there has never been a better time for a new player to get started, so happy farming!
More experienced players or for those who are looking to get ahead even further might want to look into further information on FarmVille for the iPhone including an in-depth FarmVille review and also a FarmVille glitch to enable you to make huge amounts of FarmVille coins.
References
iTunes App Store, https://itunes.apple.com/us/app/farmville-by-zynga/id375562663?mt=8