A Guide to Pocket Frogs on iPhone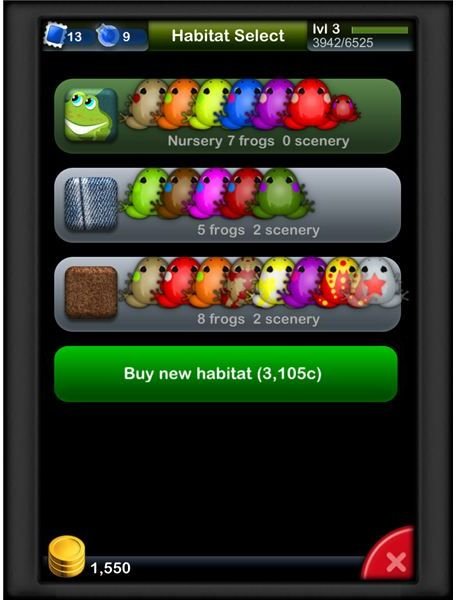 So, you enjoy playing Farmville on your iPhone, and you're looking for something similar, but with different challenges? Read on, to get started playing Pocket Frogs.
Getting Started
The idea of Pocket Frogs is to breed, tame and collect frogs, working your way up through the levels, as the frogs get rarer and more fancy-looking. You gain experience points for how good you are at looking after your frogs and keeping them happy, when you get to a certain number you advance to the next level.
Coins will buy you extra goodies for your habitats, and you can sell your frogs to make more coins.
You have habitats to keep your frogs in, and you start with two of them - one basic and one with a froggy background that is designed to be your frog nursery.
Taming Your Frogs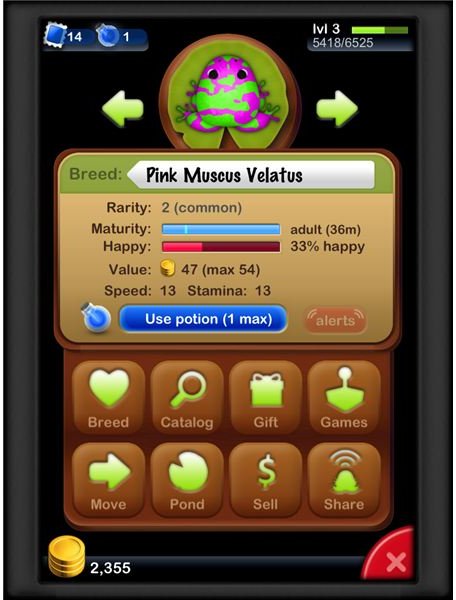 When you first start Pocket Frogs you get two adult frogs. Frogs need to be made tame before you can do anything with them, and all you need to do this is take your frog for a hop around the pond. Tap on one of them and choose the pond option. You then just need to tap from Lilly pad to Lilly pad, collecting as many flies to eat as is displayed at the top of the screen. Just make sure you jump across the fly and your frog will give a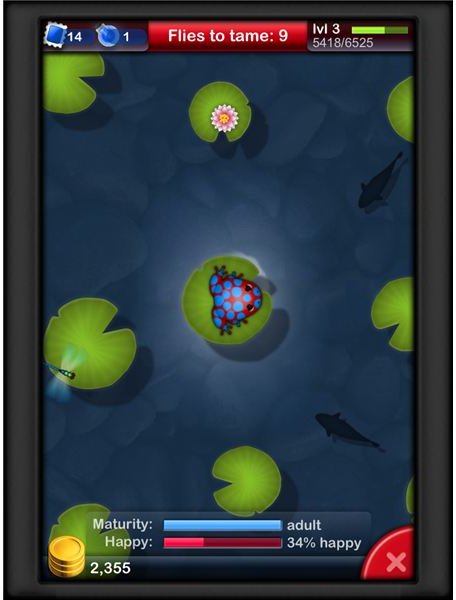 satisfied rebbit! Once your frog is tame you can now make frog babies, and take part in races.
You can carry on gobbling up flies and you will notice that your frog's happiness will increase with the number of flies he eats - the happier your frog the better he is at racing, and the more you'll get when you sell him.
You may also come across gifts on certain Lilly pads which you just hop on to receive - the gifts can be either different habitats, coins, potions, stamps or even a different frog. If you get a frog this will then automatically go into your Pocket Frogs mailbox (in the main menu) - you can then choose which habitat to place your frog into. Your mailbox can only hold up to 8 items at a time, so it's worth keeping some space or you won't be able to keep hold of any of those lovely gifts.
All About Habitats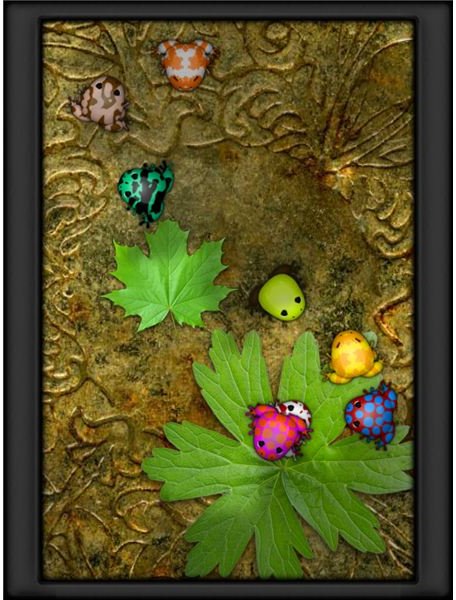 Although you start with basic habitats you can change these as you go along, either by being gifted replacement backgrounds, or by buying them with your coins in the store. The downside of these habitats is that once you've replaced them, your old habitat is gone, although all your frogs stay. This is particularly worth bearing in mind when wondering whether to replace your nursery background, as to buy back the baby frogs background will cost you almost 5,000 coins - you only start with a 1,000 coins.
You can add to your habitats with leaves and flowers, and each one comes with a happiness factor, so will add a certain number of percentage points to the happiness of your frog. Again you can purchase these with your virtual coins, or wait until you get gifted some.
Each habitat can hold up to eight frogs, and you can buy extra habitats as you go along if you have enough coins.
How Can You Make Frog Babies?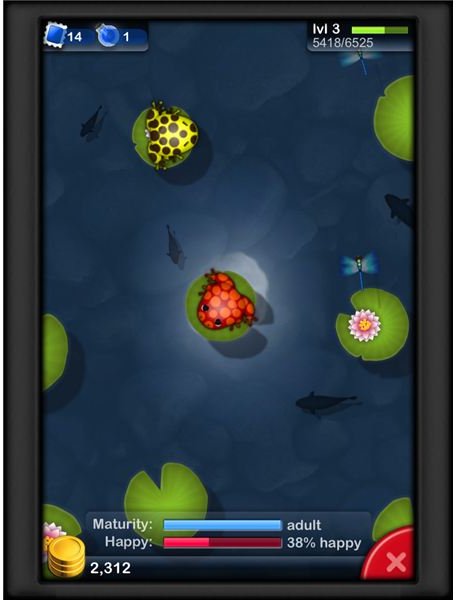 There are two ways of making babies in Pocket Frogs. The first is to use the frogs you already have, and tap on one of them, then tap the breed button. You can then select from your other frogs which one you want to breed with, and you will get shown possible results of what the frog baby will look like. The second way is to hop around the pond until you meet another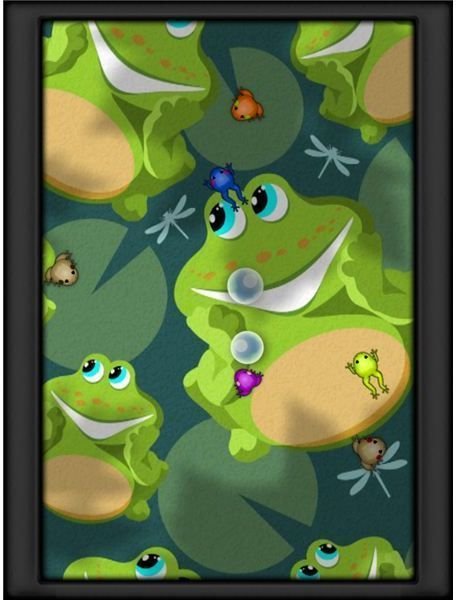 frog, and hop on its back (you may have to do some chasing!). This is probably the best way to breed when you are first starting as you are more likely to come across different breeds and patterns of frogs.
It costs coins each time you breed, whichever method you choose. Your frog eggs then get kept in your frog nursery, and takes about 30 mins to hatch. Once it is hatched it is a tiny frog, but it grows pretty quickly, and can still be taken out to the pond to be made tame, although obviously you can't breed with it until it reaches adulthood (usually only about 30 mins).
Please continue to page 2 where we'll answer more of your questions on Pocket Frogs, as well as giving you some top tips on playing Pocket Frogs.
What Are Stamps and Potions For?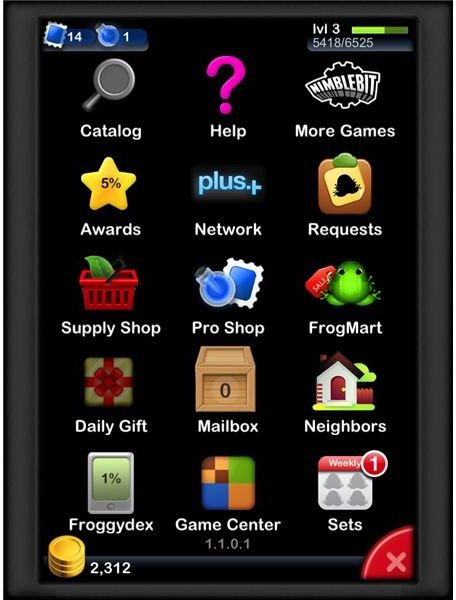 One of the best Pocket Frogs tips, is to make sure you use the stamps and potions for maximum benefit.
You start out with a certain number of stamps and potions, and you can receive them as gifts, or buy more in the store - this is the pro store where you'll need to part with real money rather than froggie coins!
Stamps are used to speed things up when you have been gifted something. It will appear in your mailbox with a certain timeframe of how long it will take to get delivered. Cash in a stamp and you'll get it straight away.
Potions are for boosting your little frogs to 100% happiness. They are also vital in winning a frog race.
How Do You Win Pocket Frog Races?
There are three must-follow tips for Pocket Frogs races.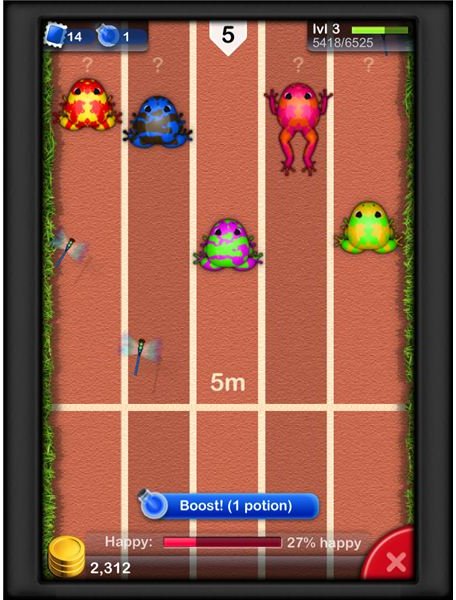 Make sure you pick the speediest frog you have - tap on each of them to see their speed rating.
Make sure he is at 100% happiness before the race starts - hopping around the pond is a great way to do this.
Make sure you have a potion to give him during the race.
When the race starts you'll have the option at the bottom to use a potion - use it somewhere from the middle to the end of the race to give him a boost past the finishing post.
Top Pocket Frogs Tips
Here are some quick Pocket Frogs tips:
You are eligible for a daily gift, which you can see in your main menu - don't forget to tap on this each day as they don't get

stored up, if you miss one then that's the gift gone for that day.

If you win a frog race, you have a choice of coins, or to choose an opponent's frog as your prize. Carefully tap on all the frogs you want at exactly the same time, and you'll get more than one, if not all four.

Keep one habitat filled with happiness boosting items, and move your frogs there before a race, or before selling them.

Get your baby frogs to gobble up the bigger flies in the pond and they'll mature even quicker.

Breeding level 1 frogs with level 7 frogs, gives you an extra 300 points each time.

Make more room in your habitats by cataloguing the more common frogs, and selling them on. You can buy them back later using the catalog.

You can also try being extra sneaky and attempting a time hack to get yourself a daily gift over and over again. However, there are potential risks with this one in messing up certain parts of the game, so use it at your own risk. Change the time in your settings to the next day and tap on your gift. Go back to today's date and do the same thing. You can go back and forth using this method to stock up on potions, stamps, frogs and coins.
How Can I Trade Frogs?
The best Pocket Frogs tip is to make sure you trade frogs. This is the best way get all the best Pocket Frogs and advance through the game. You may have already heard about frog trading and wondered what it is and how you can do it.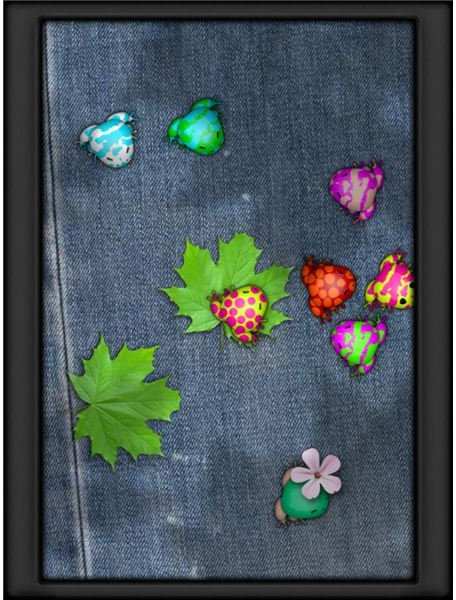 For a start you'll need to register for a Plus+ account - this is free and easy to do - then choose a gamername. If you already know someone who plays Pocket Frogs then all you need do is go to the Plus+ Network from the main menu, and add their gamername, using the "search plus+" option. They will now be seen in your "Neighbors" and you can start trading.
Or if you don't know anyone who plays Pocket Frogs, join the community and leave your gamername in the comments box below - you'll be trading frogs in no time. Remember though that your mailbox can only hold 8 items at a time, so make sure you have room before you agree on a trade.
A last tip to remember is to be courteous when trading, rather than just saying "I want…" Politeness gets you a long way, even in the world of Pocket Frogs.
If you like gaming on your iPhone then check out our list of the top iPhone games.
Remember to leave your Plus+ gamername in the comments below.
References
Pocket Frogs - Apple iTunes Store, https://itunes.apple.com/us/app/pocket-frogs/id386644958?mt=8
All tips are the result of the writer playing the game, or that have been supplied to writer by experienced Pocket Frog gamers.
All screenshots taken by the writer - images remain the copyright of Nimblebit.