MyTown Tips & Tricks Explained
MyTown might seem like a simple game but it really is a lot more complex than it appears. The basic principle of MyTown is to check-in
to different businesses which you visit and gain rewards for doing so. As you gain rewards you can spend them to purchase locations and then earn rent from the locations based on their popularity.
Obviously the more spread-out your properties are the higher chance you have of earning. Purchasing properties in cities with huge populations, such as New York and Miami, will yield much higher rent. Using the money earned you can upgrade properties and they will earn rent even faster. The basis of everything in MyTown is having a high level of income to continue advancing.
Many of the MyTown Tips & Tricks are essentially tips on how to increase your income. There are also some MyTown Cheats and one in particular which provides outstanding results. Read on to learn about these MyTown Tips & Tricks and MyTown Cheats.
Tips & Tricks
Here are a few MyTown Tips & Tricks that will set you on the right path in MyTown. Following these Tips & Tricks will help you increase your income in MyTown and teach you what to do with that income to ensure long-term success.
Tips:
Location, Location, Location. Examine the popularity of a location before purchasing it. Only purchase locations that are high in

popularity. The higher the better.

Spread yourself out. Don't purchase all the properties in just your home town. Take your iPhone with you when you get in the car, record locations in other towns! Vacations are great opportunities.

Upgrade. Upgrade your properties as you have funds available. Always upgrade the popular locations first. Max out your properties before purchasing new ones. Higher levels result in more funds, quicker.

Find hot properties. Pick locations that are always up in popularity. These include amusement parks, fast food restaurants and hotels.

Avoid slow properties. Things like beauty shops, small stores and supermarkets are usually not good choices as they are down in popularity or do not gain popularity.
Tricks:
Rapid check-ins. Don't really wait until you're at the location to check-in. Pretend like you're there and tap check-in. Repeat this for all the properties close to your house once a day to accumulate rewards.
Use rewards. Use the rewards you obtain such as multipliers to check into high popularity locations. This will earn much more than a regular check-in.
MyTown Cheats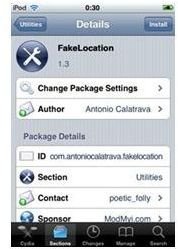 Now that you have learned about the MyTown Tips & Tricks it is time to learn about the MyTown Cheats. There is actually only one MyTown cheat worth mentioning and it involves using a third-party iPhone app.
MyTown will only let you pick businesses that are close to your GPS location. This can be very upsetting if you live in an area where there are not many businesses or popular businesses. By using Fake Location it is possible to set a new location and trick MyTown into thinking you're anywhere. This is a great way to check-in to many different businesses, score big bonuses and even purchase properties in busy cities! This MyTown Cheat will only work for users with a jailbroken iPhone. For more information about jailbreaking read this article: Jailbreaking Your iPhone. Also, Learn How To Use Cydia Here.
Download Fake Location
Launch Cydia. Click the brown Cydia icon which can be found on the iPhone home scree.
Search. Choose search on the bottom navigation bar. Type "Fake Location" into the search field and press "Search".
Download Fake Location. Tap "Fake Location" in the results. Tap "Install" in the upper right corner. Tap "Confirm" in the upper right corner. Allow the app to install and then exit Cydia with the home button.
Set Fake Location. Launch Fake Location by tapping the icon on the home screen. Choose "MyTown" when prompted which apps to fake the location to. Choose a location and press set location. Exit Fake Location.
Cheat MyTown
Open MyTown. Open MyTown by tapping the MyTown icon.
Check-in. Choose Check-In and you will now see businesses located by your fake location.
Repeat. Repeat step four in the above section to change the location. Choose popular locations for better results.
Cheating the System
Cheating the system will help you get ahead in MyTown. While cheating is an easy way to get ahead it does create an unfair experience for other players and ruins the fun of MyTown. Using the above MyTown Cheats will quickly cause you to get bored with MyTown and give you an unfair advantage.
If you truly enjoy MyTown and simply want to get ahead: use the MyTown Tips & Tricks rather than the cheat! For more great iPhone games consider this article on the Top 5 Games for iPhone.
Screenshots courtesy of Booyah, Inc. and Cydia (Saurik).