Puzzle Pirates: Popular Underrated MMO - What's It All About?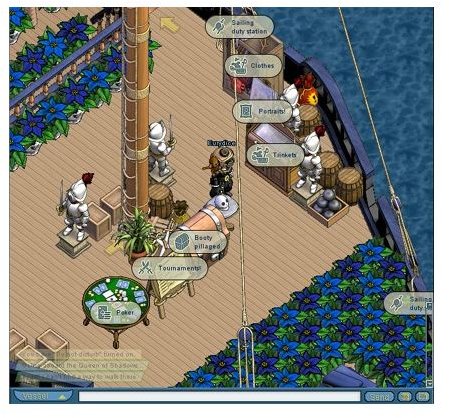 What is Puzzle Pirates?
Ahoy Matey! Come aboard an MMO gem titled Puzzle Pirates. This free MMO game incorporates massive multi-player online gaming with the art of puzzle solving for a good swash-buckling time. Players all around the world log in to play this unique pirate themed game. Geared towards players age 13 and up, Puzzle Pirates places the bar high for other MMOs in this genre. Dead men literally tell no tales in this PG adventure.
There is no simulated violence or depictions of carnage in Puzzle Pirates. Disputes are settled intellectually with the use of puzzles. There are 15 challenging interactive brain-teasers for gamers to indulge in. When you enter the world of Puzzle Pirates, there are various islands and oceans to explore. Pirates join a crew of fellow players and work together in their adventure across the seas in search of hidden treasure. The main objective in Puzzle Pirates is to have fun.
What You Can Do in Puzzle Pirates
Once sign-up is completed you can create your pirate. Available options allow you to select your preference for hair, skin color, and wardrobe. Players are free to roam around the virtual world and explore. There are practically no limitations to what players can do in Puzzle Pirates – within reason, of course.
The entire game is based on puzzle solving and working collectively. How much you progress in the game depends entirely on your puzzle decoding skills. Each player earns credit for being social, creating crews, and leading adventurous expeditions. You can tell stories to other pirates, update your wardrobe, gather enough money to buy your own ship, chat with your crew, or break out a fox trot. Most of the activities in Puzzle Pirates require you to solve a puzzle to complete them. Tasks needed to maintain your ship and even sail often involve a strategic puzzle. Sword fighting between players is done through an interactive puzzle as well.
Optional Subscription Model
Although, Puzzle Pirates is a free MMO game, there are optional fee-based subscriptions available for players seeking more freedom in environments. The use of special features scattered throughout the Oceans require the purchase of a micro-currency named 'Doubloons.' One doubloon allows access to one particular feature. Subscriptions can be purchased by plans or through doubloon packages. Plan subscriptions are $9.95 USD per month, $19.95 quarterly, or $74.95 annually. The cost of doubloons ranges from 12 for $2.95 USD to 500 doubloons for $99.95.
According to the official Puzzle Pirates wiki, players who do not subscribe cannot:
Be promoted beyond the rank of cabin person
Create new crews
Take a job at a shoppe
Produce fruit while foraging, or apply for a forage offer from the notice board
Open a stall, or change the size of a stall they might already have
Use many types of clothing, swords, mugs, and bludgeons.
Play most of the land-based puzzles, except on particular days
Play the Navigation puzzle.
Visit Atlantean outposts or Cursed Isles
Walk a pet other than a rat
Invite other pirates to be their hearty
In addition, players who have never subscribed or purchased doubloons are at risk of their pirates being deleted if they don't play the game for a while.
Puzzle Pirates Screenshot
Why is it Popular?
Puzzle Pirates is growing in popularity because it's so different from other MMOs. The sense of community it advocates generates a distinct online gaming experience. The challenging puzzles make gamers think while having a great time with new friends.
Puzzle Pirates' unusual signature swordfighting contest is also a major reason players love this virtual world. It's the most popular game in Puzzle Pirates. Brightly colored blocks drop from the sky and you must re-arrange them in order. The blocks add up and morph into big shapes depending on how you move them. "Breakers", which resemble swords, also drop. These pieces have the power to shatter the other colored squares on contact. Players must strategize a method to get their opponents blocks destroyed first. The Puzzle Pirates swordfighting game is loads of fun and very addictive.
The game is also very accessible. You can play it on just about any PC - including Netbooks!