Microsoft Train Simulator Retro PC Title MTS Reviewed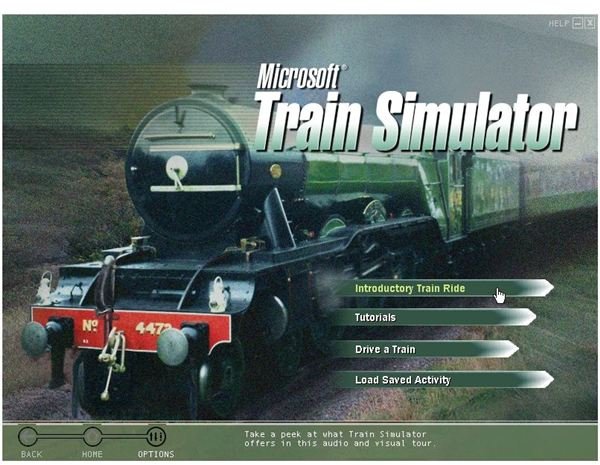 A Train Simulator
Released in 2001, Microsoft Train Simulator gives the player the sought after opportunity to drive steam, diesel and electric locomotives across routes in Europe, Asia and the United States.
Coupling the technical basics with a realisation of the actual scenery en route, Microsoft Train Simulator does for trains what Flight Simulator does for aircraft.
With realistic sound effects, control mechanisms, and task-based journeys, this train sim is for anyone who never quite got what they wanted from Railroad Tycoon or A Train.
System Requirements (2 out of 5)
Microsoft Train Simulator ships on 2 CD ROMs and requires a PC with a minimum CPU speed of 266 MHz with 64 MB RAM, a minimum of 500 MB of HD space, CD-ROM drive, and a 4 MB GFX card. A full installation will require 1.5 GB of HDD.
As with many retro XP titles, Microsoft Train Simulator benefits greatly from modern system hardware that really lets you get the best out of it.
Installation is slower than expected, probably due to the discs being designed for 16x CD ROM drives rather than modern multispeed combi drives.
Usefully, Microsoft Train Simulator includes PDF version of the manual in the installation, as well as Train Simulator Editors & Tools that allows the design and teaking of new maps and landscapes to power your locomotive through.
Microsoft Train Simulator Screenshots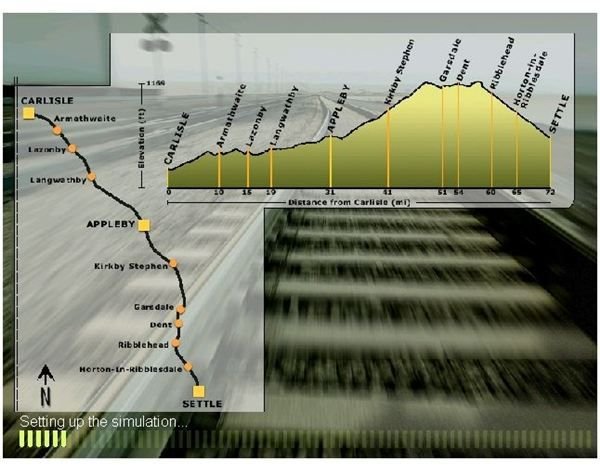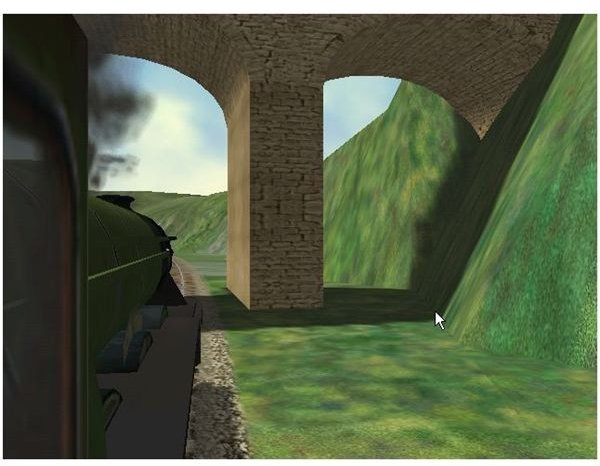 Train Driving Gameplay (4 out of 5)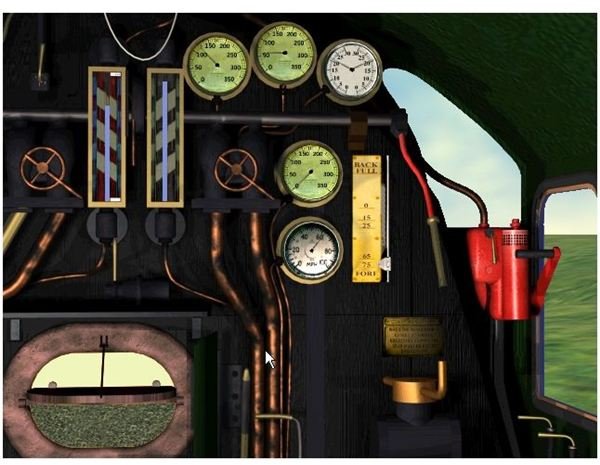 Control of the Microsoft Train Simulator locomotive engines is via keyboard and/or mouse, configurable multifunction input device or by RailDriver, the specialist train sim controller for purists.
Most users will of course have a keyboard and mouse, and this option is absolutely fine. The tutorial is designed for keyboard and mouse users and proves a useful introduction toTrain Simulator.
As this is a simulation and not a straightforward game, Microsoft Train Simulator doesn't really possess the usual difficulty, playability and addictiveness qualities. What it does possess however is a certain magnetism and fascination that will really only count for train enthusiasts – those of you who stare wistfully at viaducts and wander in awe around railway museums.
There are a variety of tracks and routes to choose from, each with its own train. Different trains require a different process to get moving, and it is this variety that lends Microsoft Train Simulator the degree of authenticity that is always required by simulator games.
Graphics (3 out of 5)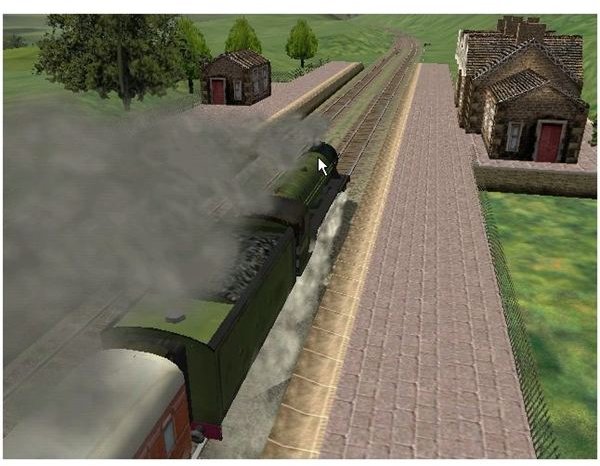 Microsoft Train Simulator is an eight year old title, and as such the graphics have weathered well. They're not perfect or representative of anything contemporary of course, but the scenery – weather the gorgeous Cumbrian countryside in the North of England or the slightly dusty plains of the Asian locations – is evocative of the actual locations.
The design of the various locomotives in the game is good, with a required solidity to the polygon objects racing through the countryside, mixed with a more traditional bitmapped interior train control panel and passenger lounge view.
Sound (2 out of 5)
With a minimal set of sounds required, there isn't a lot to be expected from this aspect of the sim. However the various horns and whistles certainly seem authentic, while the general train chugging sound is tailored for each of the engines in the game to be as close as possible as the real world version.
Microsoft Train Simulator's various outside views showcase both the different view available in the game and the different sounds, and the realisation of the Doppler effect (the change in tone of a sound as it travels close to the listener, past them and then away into the distance) is well executed.
Ramping the volume on your PC speakers or headset up a couple of notches when playing is recommended to get the full experience of driving the train, particularly when riding the Flying Scotsman (as seen in the screenshots).
More Microsoft Train Simulator screenshots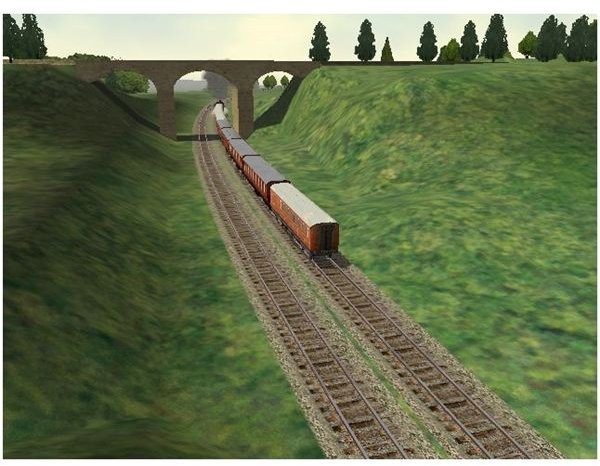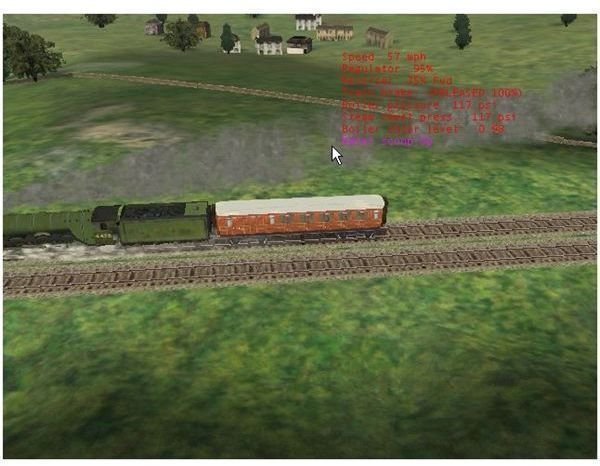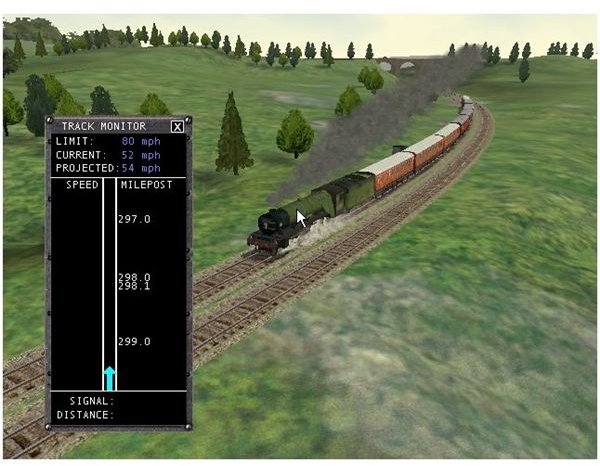 Closer To The Dream (4 out of 5)
Lined up alongside other train sims, Microsoft Train Simulator has the benefit of a household name and a superb team of developers behind it.
While train sims on the whole have been limited to locations' territorial markets (Japan, North America, Europe) and had limited support for multiple laguages, Microsoft Train Simulator has thrived thanks to its presence in computer stores, supermarkets, and advertising.
Microsoft Train Simulator might not be the best train simulation software in the world, and might not be the best supported in terms of add-ons and maps; however it is marvellous fun and a great way to get closer to the dream of driving a locomotive.