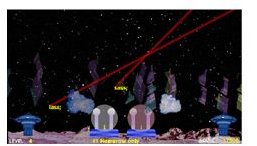 Introduction
Practice makes perfect, and typing is no exception. But who wants to sit in class doing a bunch of boring drills, let alone spend money trying to improve one's words per minute output? Free typing games has become a growing way for adults and children to increase their keyboarding abilities while having the fun of gaming. Some people also just love typing fast and use the games as a way to see how far their fingers can take them online. There are a number of fun typing games that can be legally played for free online.
Free Typing Game
Free Typing Game is a website that offers free online typing games, free typing lessons, and free typing drills. This is a great resource for those seeking both entertainment and education when playing games online. Fun typing games such as Martian City Defender make it easy to forget that the basis of the entertainment is typing. There are also selections available such as Keyboard Triathlon and Meteor Typing Blast. These games are all played within the Web browser, and no downloads or registration are required to use Free Typing Game.
The Keyboard Playground
The Keyboard Playground is a small website that provides 10 online typing games to users of all ages. There are also free typing tests and lessons available, without any downloading required to use the games and educational material on the website. Online typing games offered on The Keyboard Playground include Typo, Typo II, Speed Typing, and Key Block. Registration is required to participate in the online typing games provided.
Free Typing Tutor
Free Typing Tutor offers a number of unique fun typing games that do not require any registration or software downloading to use. Type Type Revolution is a typing game twist on the arcade game Dance Dance Revolution. Other selections at Free Typing Tutor include QWERTY Warriors and QWERTY Warriors II, along with free typing games like Krazy Keyz and Spell Duelist. There are also four free professional typing speed tests available, perfect for those who need to provide some sort of certificate for a job application.
Free Typing Games
Free Typing Games provides both downloadable and online typing games. Online options include KeyMan, a typing twist on the retro arcade game PacMan. There is also a Bubbles Typing Game, which might be especially fun for kids or teens. Registration is not necessary to play the online games or download a Windows typing tutor that provides lessons and free games.