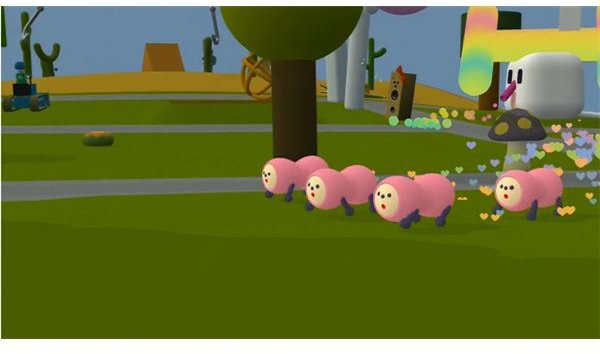 Noby Noby Boy: A Game for the Quirkiest of People
Noby Noby Boy is a concept that was created by Keita Takahashi, the famed creator of the equally as weird Katamari Damacy. This game is filled with vibrant colors, an odd collection of creatures on each of the planets, and Boy, a cute worm like critter who can stretch to large proportions. Other people play online as well, and when the world's stretching record reaches to certain points, new planets will be revealed.
Story (4 out of 5)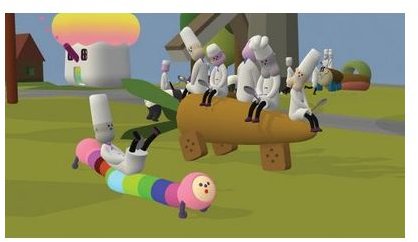 One of the simplest stories to ever be told, you play as boy, a little creature that has the ability to stretch to various lengths. You must stretch boy as far as you can across the screen to earn points that will be fed to Girl, the one who will allow you to venture to other planets once the world record breaks. Boy ventures to various planets such as Mars, Earth, the Moon, Jupiter, and Saturn. Each world has a wide array of the most odd creatures, such as barnyard animals wearing clothing and half moons riding in bicycles and cars. And that's it, that is the basis of the entire game, making it simple to understand as well as one of the most time consuming yet can't get enough of games.
Game Play (5 out of 5)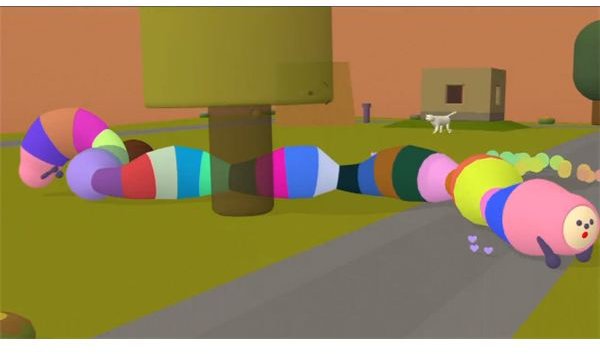 Stretch Boy across the screen as much as you can, you can even move him upwards and reach into the sky flying, which will stretch him out even more. This is all you do in Noby Noby Boy, but you can also walk around and look at the oddities around you, you can even make Boy eat some of the creatures walking afoot and some of the blocks as well. This will sometimes make Boy pop them out of his behind and say a silly word for a funny effect. The game play of Noby Noby Boy is ridiculous, out of the ordinary, and just plain bizarre, but that is what makes it so loved!
Controls (4 out of 5)
The controls can be a tad difficult at first for someone new playing this game. Move the camera with the top left and right buttons and move Boy along with the analog stick. You can zoom in if you use your motion sensor ability on the controller, or zoom out, which is especially handy when Boy is stretching far and wide. You can also fly by repeatedly pressing the R button and suck in some objects with the L button. Pressing the start button brings up the menus and tutorials, as well as an option to change the tones of music.
Graphics (5 out of 5)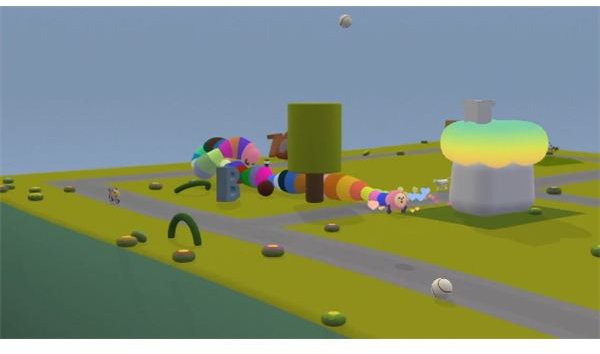 Bright, fun and colorful, Noby Noby Boy uses the brilliance of the PS3 to its advantage. Boy is oddly cute as he walks across the screen, and the critters he encounters are just so out of this world, you haven't seen anything like it. Each planet has different colors to it, which bring out reds, greens, and blues. There is nothing too fancy here but it is unique in its own right, especially since there is no game quite like it out there.
Sound (5 out of 5)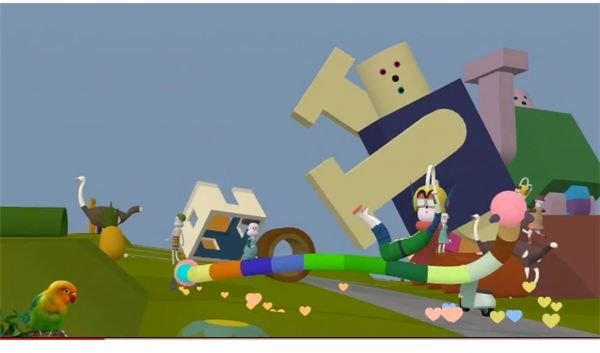 Filled with ambient tunes, a strangely catchy theme song at the start of a game, and some relaxing guitar sounds, the soundtrack to Noby Noby Boy is a great one for anyone who has an open mind and a bit of quirk. The sound effects can remind someone of the old SNES days with beeps and boops and of course there is no dialog in this game other than random shouts from the animal people who run away from Boy. This game features a fun soundtrack that can bring joy in a rainy day.
Overall (5 out of 5)
Noby Noby Boy is for anyone that ventures into the abnormal and is intrigued by strange and peculiar things. It can also be considered a piece of art because of how different it is even game play wise, compared to other video games. Sure, it is redundant and can get tiring, but Noby Noby Boy is a keeper solely for the fact that it never ever ends and will always be there for you to play when you are bored out of your mind.
This post is part of the series: Noby Noby Boy Guide
A collection of articles about Noby Noby Boy.