Larryboy and the Bad Apple - Your Playstation 2 Game Review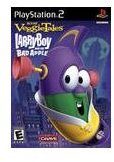 When it comes to PS2 games, they aren't always appropriate for all ages to play. So, you worry about your kids getting a hold of a game that might be a bit beyond their years, and you're constantly on the lookout for games that even those younger gamers out there can play and enjoy. Well, LarryBoy and the Bad Apple is just that type of game. Want to know what all you're in for with this Veggie Tales game? Let's take a look at the game so you can see why this is a great one for any age.
Game Play (4 out of 5)
In LarryBoy and the Bad Apple, you are (of course) LarryBoy. And, in your humble little town of Bumblyburg, the Bad Apple is taking over your friends and neighbors and making them succumb to her web of temptation. The town is in desperate need of a hero - so LarryBoy comes to the rescue.
During your time as LarryBoy the hero of Bumblyburg, you have to help save the townsfolk from the Bad Apple's temptations using your funny superhero gadgets. Along the way, you will have to beat several different mini games to defeat the Bad Apple. These mini games range from matching to speed runs to just insane cookie jumping. You will also come across different VeggieTales songs - that are just too funny - and have the chance to play them whenever you want instead of the normal music of the game, which can make the game play even better. You will come across different scenes from the movie of LarryBoy as well, like mini trailers. You do have to be quick on your controller buttons to get through some of the levels and you have to pay attention because this game can get a bit hard if you don't.
But, the game play overall is great, and even adults will love this one. So, for the overall score on game play - I give it a 4 out of 5.
Graphics (5 out of 5)
When it comes to the graphics, they are superb. It's like playing in a VeggieTale's movie. The characters are all awesomely done, the colors are great, the action and movements are flawless, and overall, it's just awesome. I was really impressed with the graphics on this one, especially since it's marketed as a kid's game - and normally they fudge a bit on those graphics. But, they did an awesome job here. If your kid's love VeggieTales movies or shows, they'll get the exact same graphics here in game. Overall, I give the graphics a 5 out of 5.
Sounds and Music (5 out of 5)
Let's start with the sounds. The game uses the same voices from the shows and movie that they do here in the game for your favorite characters. This is a great touch, as kids notice this type of thing. The dialogue is great, with some jokes and funny areas of the game that will have even adults watching in stitches.
As for the music, it's great too. While the normal background music for the game is just a generic computer generated song - you have the ability to unlock and play over 30 VeggieTale's songs as you play. This is a great touch, as most of these songs are just hilarious. So, this adds to the sounds and music, as you now have funny songs to go along with the game overall. To me, this makes a big difference in your experience because you can customize your music.
So, for the score on sounds and music, I give this area a 5 out of 5.
Overall (5 out of 5)
Overall, I actually really like this game. My kids love this one, and even my baby loves to watch them play it. I have played this one with them several times and I love it too. It's hard enough to be challenging and make you want to get to the next level, but easy enough that kids can understand and make it through the levels of the game. Plus, it's a good, wholesome video game that will actually teach them the dangers of temptation - and we all have to learn about that one - so, they get a good game with a lesson in there as well.
I would recommend this game to anyone who has kids that love video games. And, I score the game as a whole at a 5 out of 5.