PS2 Review - Nicktoons: Attack of the Toybots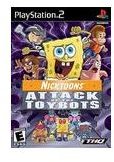 Game Play (5 out of 5)
For those that love Nicktoons, this is one PS2 game that you cannot live without. Here, you can play as just about any of your favorite Nick characters that you please - from Spongebob to Danny Phantom to Jimmy Neutron to Ren & Stimpy (for you older Nicktoon lovers out there), and many many more. Your favorite toons have to save the world from the evil Dr. Calamitous' (Jimmy Neutron's enemy) toy factory and his evil minions. You will fight your way through the different levels as your chosen hero, fighting off evil toys, making your way through scary areas, and performing super cool stunts, jumps, and actions. Each level holds different evil toys that are based on some of your favorite Nick characters, such as: El Tigre, Rugrats, Fairly OddParents, Hey Arnold, Angry Beavers, CatDog, ChalkZone, Rocket Power, Invader Zim, CatScratch, Spongebob, Jimmy Neutron, and more. So, no matter what your favorite Nicktoons show is, you are likely to find your favorite characters here.
Overall, the game play is great. While it's easy to get bored with a level, especially if you're having a problem passing it, the next one will be something new and completely different. The whole game is set up so that there is a wide variety of great fights and toons at your disposal, so it's easy to keep yourself - or your kids - interested in the game as you go through. Since there is such diversity in the game overall, and the levels are challenging and fun, I'm giving it a 5 out of 5.
Graphics (5 out of 5)
When it comes to graphics for video games that are based off of movies or television, it can be a crap shoot to see which way they will go. Either they are really good - or really bad. But, thank goodness, in this case, they are super good. The toons that you play are as close to playing their on screen versions as you can get - even the evil ones that you have to fight. The surroundings and levels that you will go through are fun, colorful, and well designed, so you will easily have plenty of areas to explore and fight in. And, the graphics on your fight moves are extremely well done and really fun to watch and do. Even for someone that is really picky when it comes to graphics on a video game, I was impressed and I even got in and played more than I thought I would simply because of the graphics themselves - ok, that and the fact that my kids watch too much Nick and I love their cartoons too.
So, overall, I'm giving the graphics a 5 out of 5 as well. I mean, sure there are probably some areas that could be better - but very few from what I can see.
Challenge Level (4 out of 5)
While this game starts out kind of easy, it gets more challenging as you go - which is what you would expect from a video game right? Well, being a game directed towards kids, I assumed that it would be pretty easy to pass levels and beat the game. I was wrong. There were some levels that took me a few trys and a few times of just walking away before I figured them out… and even a few that my kids had to help me on. While my kids seemed to be the smarter ones when it came to beating this title, I finally did as well and had fun doing it. So, when it comes to a challenge, this one offers a great time trying to figure everything out and beat levels.
The Verdict
Overall, this is a game that I would recommend to anyone who either has kids or loves Nick cartoons. They are all here for you to enjoy - even some of the first ones that I used to love. So, you really can't go wrong with this title by adding it to your collection. It's a super fun time, no matter how old you are, and you are sure to enjoy it as well. So, the next time you are out checking out some video games and you come across this one - I would recommend that you pick it up and take it home.