iPhone Best Driving Games Top Ten List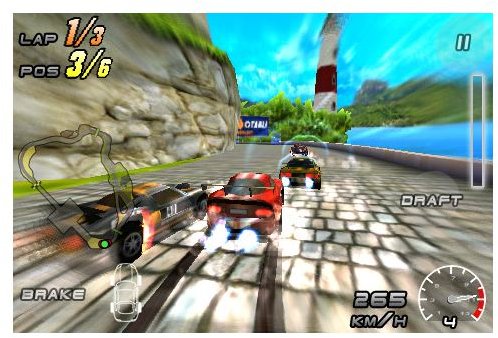 Get Behind the Wheel
There are so many great driving games for iPhone, that it can be tricky to pick a favorite. To some extent it depends on the kind of driving games that you like to play. There are some supremely good, high quality iPhone racing games, with top drawer graphics that can even rival console versions, and there are also some more retro and cartoon gaming options to appeal to the youngster in you.
Raging Thunder 2
If you like street racing through amazing scenery such as tropical beaches, and snow topped mountains, then this will definitely become one of the best iPhone games you own. Raging Thunder 2 has great graphics, although doesn't completely take advantage of the iPhone's retina display. You can of course buy cars that you can then pimp up into the ultimate ride before you take to the streets for some intense racing. As well as 5 different single player game modes, you also have the option of multiplayer racing over the internet on a cross-platform basis, which is pretty cool if all your friends don't have an iPhone. The controls are intuitive, which is a good job as this game is fast paced all the way.
Reckless Racing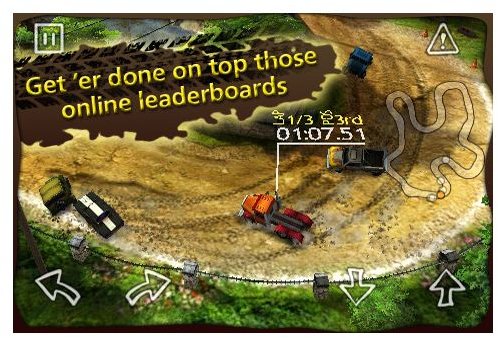 If you like your driving games dirty and difficult to control, then look no further than Reckless Racing. Drive around a gravel and dirt track, and drift round the corners in your truck. You get a real sense of the surface you are driving on, and it definitely requires a different mentality to other driving games. The graphics are OK, but as the view you get is a bird's eye view details aren't too important. Ridiculously fun, Reckless Racing is also available as a lite version, so you can get your hands on this great game for free.
See our full-length review of Reckless Racing on iPhone, if you need more convincing of the game's credentials.
Road Blaster
A retro iPhone car driving game in the style of animé, this game is actually a lot better than the graphics would have you believe. Road Blaster is based on the original arcade game, with simple controls to master. Although essentially a moving video, and you just pretty much need to make sure you stay on the road, there is a bit of a story to it too, that is fairly engaging. It won't appeal to everybody, but for a break from the norm this a really fun, and playable option. Teenagers especially are likely to love this game, as will fans of the original SEGA edition, but make sure you get them to use the movement controls to make gameplay easier.
Fastlane Street Racing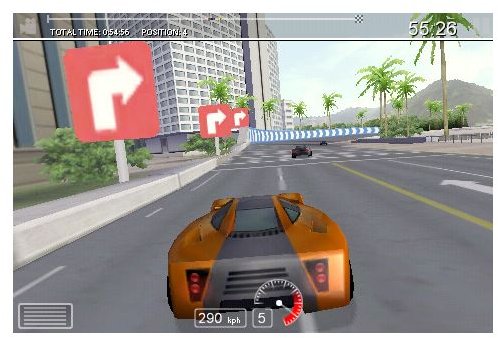 Fastlane Street Racing does exactly what it says - it's street racing at its best, with high speed city routes to master in a choice of 10 cars designed to burn the virtual rubber over 8 different courses. The graphics are pretty good even when you're zooming around the streets at high speed. There aren't a lot of customizable options with this speedy game, but it's such a well-polished game, there will still be plenty of options to please.
As well as offering a lite option, the full version is currently on sale so get in there quick!
Need for Speed Hot Pursuit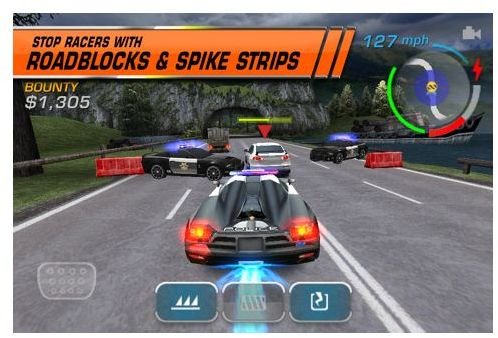 There are so many Need for Speed versions that it's hard to pick just one. However, the award for iPhone best driving game in the Need for Speed category is… Need for Speed Hot Pursuit. The graphics are simply amazing, it's just like having a mini console version of the game. You have the option of playing cop or racer, with a quick play option and career mode too. You get a different mission each time, and collect various awards along the way (how many road blocks you crash through etc.), and in turn these awards unlock more options. The cars are so awesome, even cop cars can look good. Really easy to control, and you get some optional extras to tap on as you drive too, such as oil slicks, and jamming police radios. Everyone will love this game from you, to your kids, to your brother-in-law, to your other brother-in-law - just make sure you get your phone back!
Real Racing 2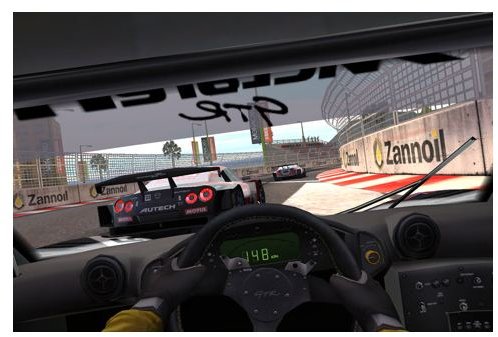 Before you fall in love with this game, first be aware that it costs 10 dollars, which is pretty steep even for one of the best iPhone games in the driving arena. Real Racing 2 isn't just one of the iPhone's best racing games because of its eye-popping graphics (although this alone does score high), but because it is such a well-rounded game in all aspects (yep it should do for 10 dollars, you're right). There are 30 officially licensed vehicles to choose from which all have a different feel as you race them. There's a career mode that alone will take up a good 10 hours of your time, or you can just jump in for a quick race. Another attribute that sets Real Racing apart, is that you can disable some of the driving assists to make the game more challenging, or simply sit back and enjoy controlling your 2012 Maclaren using the intuitive controls. A Wi-Fi option means you can meet up and race against other iPhone petrol heads in an 8 car race too. If you love your driving games, then this is an iPhone must-have; nothing has been left out.
BMW Sauber F1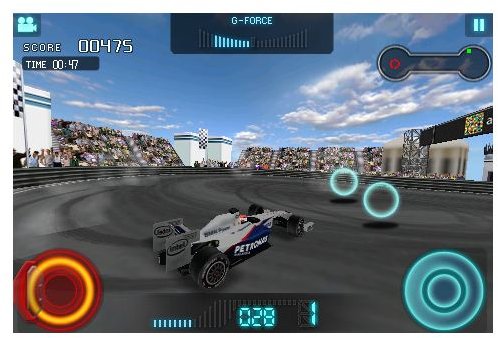 Top racing game BMW Sauber F1, is worth a look for a few reasons. The graphics are good, and you really do get a sense of the on-the road bumps and bounces as you drive around the track. The controls are easy to master, and in fact there are a number of ways you can choose to control your F1 car on the iPhone, so surely one of these will suit you. There are a number of other elements that make BMW Sauber F1 so compelling, such as the changing weather conditions, pit-stops, engineering mode to fine tune the car, and even a bonus donut challenge. It's not a game that is easy from the off, so is great if you like a challenge. The only negative to the game is the sound, as it's a bit sporadic and jerky in places. A must-have racing game for F1 lovers with an iPhone.
Dirt Moto Racing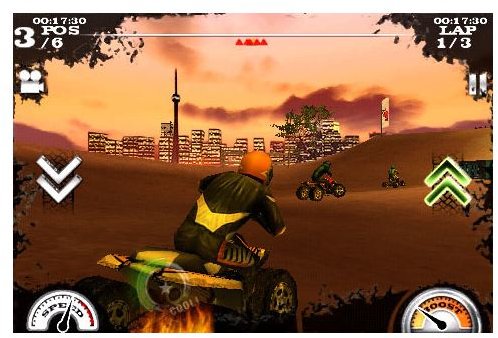 If you're bored with racing only cars on your iPhone, then take a break and get on your quadbike for some muddy and sandy fun. Dirt Moto Racing let's you have fun racing around beaches, and other places that cars just can't reach. There are various difficulty levels to keep you interested, and the added element of pulling a stunt or two as you go makes it a top racing game. The iPhone displays the graphics nicely, although they are not awe-inspiring. Really fun to play, especially in contrast with some of the more serious car driving games - the original soundtrack is pretty cool too.
Krazy Kart Racing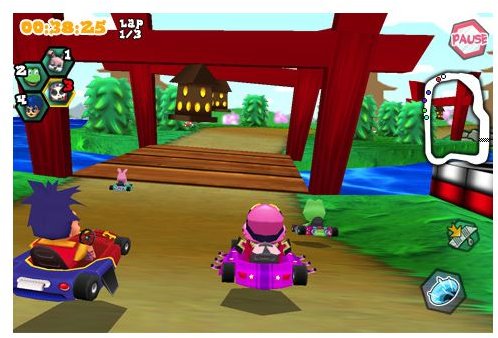 A serious driving game this isn't, but don't let the cutesy characters and cartoon appearance put you off, this game is well worth a play. Krazy Kart Racing has loads of different options and aspects that won't just keep the kids happy. There are 10 characters and 16 race tracks to choose from - some characters perform better on some tracks than others, and some are easier to control (a child would find Robbie Rabbit easier to control, although he's no speed freak). You can pick up extras along the course, such as the usual nitros, but being a cartoon-based game reality goes out of the window so look out for different colored bells that will unlock various weapons, and avoid different obstacles along the way. The great game to keep kids and adults alike entertained for a good while.
GT Racing Motor Academy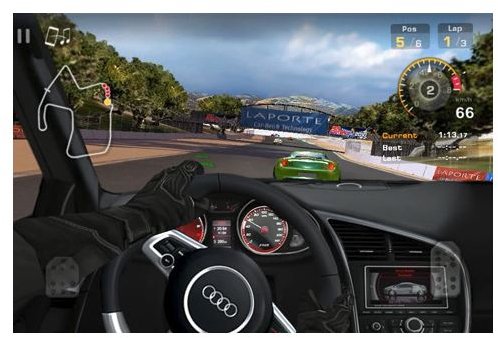 As one of the mid-priced racing options for your iPhone, GT Racing Motor Academy has a lot to recommend it. At first look it will be the tremendous graphics that suck you in, and although these are pretty tough to beat, this game is not just a pretty boy. There are over 100 cars to choose from, going back as far as 1909, so you can go all modern and hot, or rip up the track in a true classic. It also has a great range of tracks from iconic tracks, to urban and rally tracks, so this game is definitely no one trick pony - there are options to suit all moods. Local and online multiplayer races are possible, and the intuitive controls will see you as a champ in no time. One of the iPhone's best racing games without doubt.
References
All screenshots remain copyright of the respective developers.