Slotz Racer Review: A Fully-Featured iPhone Racing Game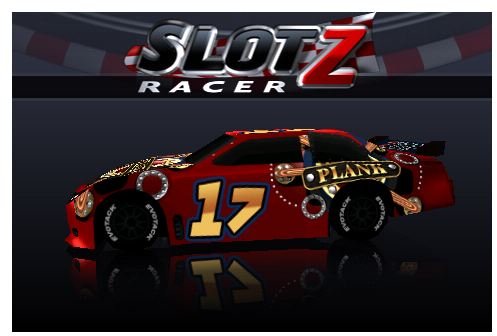 Slotz Racer Features (4 out of 5)
Slotz Racer is a paid app, let's be clear about that. It currently costs $2.99 at the iTunes App Store. Since it is not the cheapest iPhone game in the Apps Store, I expected the game to have loads of goodies that would compensate for its price. Expectations met. Slotz Racer's got several types of cars to race and several uniquely designed custom race tracks. If you've managed to unlock the race tracks and you want some more variety you can use the track editor to design your own race tracks. You can create two lane tracks to add some degree of difficulty in your game as well as create a full club style circuit.
Gameplay (4 out of 5)
The game lets you play three types of races that you can play solo or against friends. Quick Race lets you jump into the game and starts racing your chosen car on standard and highly traditional race tracks. Time Trials lets you race against the clock. Endurance Race lets you test your patience in slot car racing as you drive for several minutes, non-stop.
Adding more fun to the race modes is the fact that the game simulates day and night racing pretty well. When you race at night, the background turns black and only your car's headlight is on. This maybe a little bit challenging but nonetheless adds to the novelty and fun value of the game. If you get tired of playing solo, invite three of your friends and have an iPhone gaming night through the multiplayer race mode via a unique control system.
Graphics (5 out of 5)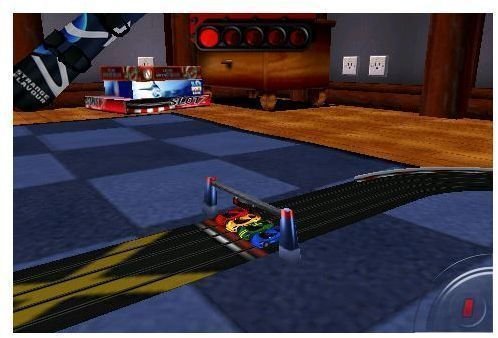 The game developer, Freeverse, was successful in rendering a cool and sleek-looking game once again. From the vibrant colors of the cars to the elements in the background image, the game is definitely a total eye-candy. The game has recreated a real-life slot car race tracks with small and fluidly rendered slot cars. Despite the small size of the cars, you can still appreciate how fluid they move and speed through the race tracks. Even when you make false turns and acceleration and cause your car to bump off the race tracks the motion was realistically animated. Slotz Racer's graphics will keep you hooked onto the game.
Gaming Controls (4 out of 5)
The game employed only one type of control - the acceleration button that you need to press while guiding your car along its slot on the race track. Although controlling the car's speed is as simple as tapping off/on the acceleration button at the lower side of your iPhone's screen, proper timing and calculation on when to do this determine your race performance. Release the acceleration button too early before a loop and your competitors will pass by your car quickly. Release the button a little late will cause your car to bump off the race track. It maybe hard at first, but once you get the hang of this control, you'd take every corners and loop on the race track easily. You control when to stop by releasing the acceleration button (removing your finger off the iPhone screen).
Final Verdict of the Slotz Racer App (3 out of 5)
There's no doubt that Slotz Racer is a solid iPhone game. It may not be the best iPhone racing game or best iPhone game in general, but it is certainly a fun and enjoyable iPhone game. If you've loved slot car racing when you were a kid or even up to now, you'd certainly want to have Slotz Racer on your iPhone. But that is of course if you don't mind paying $2.99 for the app. It's definitely cheaper than how much your dad paid for the real slot car racing toy he gave you on your 7th birthday.
Photo credits:
Screenshot of Slotz Racer by Freeverse.