Days of Thunder, Gives iPhone Users a Solid Racing Title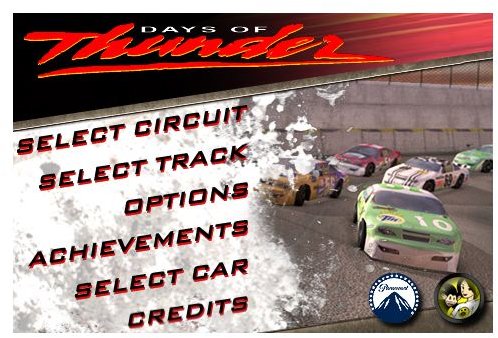 (4 out of 5)
Days of Thunder for the Apple iPhone is a fast-paced racing game that stems straight from the 1990 film, starring Tom Cruise. Now sadly, you will not see Mr. Cruise in the game himself, but the characters, Cole Trickle and Harry Hogge are there.
The first thing you will notice about this game is that there was some effort put by the developers, in all aspects of the game. From controls, sound, presentation, and graphics - even to the licensing from Paramount Pictures, they really hit the nail on the head. Developers, Freeverse Inc., did a great job putting this little title together.
The point of the game is obviously to race and build up points by finishing high in the standings. As you do this, you will unlock new tracks, cars and so on. They do try to throw in a little bit of a story from the film. There are little cut scenes (if you can call them that) before each race, kind of pushing a little story along about your rivals and such. You even get to see Cole Trickle and Harry Hogge appear, Trickle, even has a slight appearance to Tom Cruise, if he had blonde hair.
So let's start first and foremost with the graphics. As the iTunes application store has grown, we have seen production value skyrocket, as developers begin to see how far they can push the iPhone's capabilities. The graphics of Days of Thunder are just that, creating a racing game that moves smoothly, without a bunch of jumble, is pretty impressive. Now don't get me wrong, the graphics are still that of a mobile phone, but you see these games getting closer and closer to older console graphics like Sega and Nintendo. I don't think, many people ever thought they'd be able to have that on a mobile phone.
The controls are also done well, and simple at that. You have a gas and a break button, that's all the buttons you have to push really when racing. Occasionally, there is a pit button that pops up that allows you to pit, but that's it. The turning is all done through the motion sensor in the iPhone. The recognition responds well and you don't get disoriented when trying to maneuver the car around the track, which is always a good thing in a racing game.
One of my favorite things about Days of Thunder is the number of things you can unlock. There are six circuits that you must unlock by winning the one prior to it. You begin with Amateur Circuit, and work your way all the way up to Endurance Circuit. As you complete these circuits, you will unlock new tracks. Places like Arizona, Las Vegas and of course, Daytona, are all available. If those are not enough to keep you busy, you also have 11 achievements you can unlock as well, things like finishing in the top three, or taking one of your rivals out of a race are just a few examples. Finally, you have ability to unlock different racecars and drivers. If you're familiar with the movie, you'll recognize name like Rowdy Burns and Buck Bretherton played by John C. Reilly in the film.
Days of Thunder probably feels the strongest in the sound department. You hear every crash or bump when you hit cars around you. You also have the engine noise, wall scrapes and everything. Throw in a strong rock track in the menus and you have a pretty good experience.
Days of Thunder for the Apple iPhone is a solid racing game. With the backing of Paramount Pictures, you get all of the licensing and names from the official Days of Thunder film. Include great graphics, a slew of unlockables, and easy controls and you have yourself a nice little purchase. Days of Thunder, can be purchased from the iTunes application store for $2.99.
Days of Thunder Screenshots