Nintendo DS Gamers TrackMania DS Review

The good parts (3 out of 5)
TrackMania kicks the entertainment into gear pretty quickly with a variety of Formula One, muscle car races, and rally car arcade-like events that show off the slick DS Engine. You will execute huge jumps and loop-de-loops in an effort to be awarded gold medals, which are necessary to unlock additional challenges in the form of harder events.
TrackMania just has more and more layers, even if you loose you make money, you can always try for a new record, and there's always something to unlock, so there's lots of reasons to play again and again,
Parts that could be improved (3 out of 5)
Racing against the clock becomes old pretty quick; it's just not as much fun as having the option of slamming your car into a competitor for space and trophies trying to impede your progress.
Puzzle mode allows you to build tracks with a limited number of pieces and strict objectives, but is a frustrating experience in which you try to manipulate 3D space on the tiny DS screen. You will be forced to repeatedly zoom and rotate the camera to make sure the track pieces line up properly, especially in the case of heights. You can build you own tracks, but they can only be shared locally, not on line, which in a space-age world is a no-no.
Game graphics (3 out of 5)
Firebrand has done a good job of using their PC game developing experience to help them produce a game that has smooth graphic presentation with pretty good detail. I experienced no starts and stops that weren't due to my driving, so the experience was immersive and clean.
Screenshots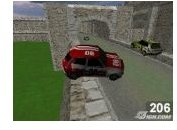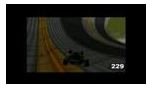 Sounds in the game (4 out of 5)
The sound track is a mixture of energetic engine noise and Euro techno beats that keep the energy high, and racing fun and engaging while it lasts. For this type of game, the sounds are great. So, I would recommend taking the time to listen and enjoy them while you are playing.
Playability (4 out of 5)
TrackMania is a challenging game to beat, the difficulty increases pretty fast, and you need to race almost perfectly at all times to beat the top time and gain the medals you need to progress further in the game. This transmits to the Platform mode and the Puzzle mode as well, which makes TrackMania a game that can have you cursing and constantly hitting the restart button.
The bottom line (3 out of 5)
The game concept of TrackMania is solid and the game play is challenging, engaging, and entertaining enough to fill a few minutes with a handful of fun moments. The track building editor could have been a real show stopper but the idea needs a little work to be successfully executed on the Nintendo DS and provide the entertainment level is appears to potentially have. In the final analysis TrackMania shows signs of a race game that could be one of the best racing experiencing for the Nintendo DS we have driven, which hopefully means sequels to this first TrackMania title for the Nintendo DS will be even better.