A Guide to The Best Windows Mobile Football Manager Games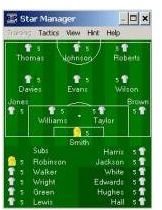 StarManager
When managing a football team from your Windows Mobile phone, you are looking for something different from a console or PC-based football manager game. Mobile gaming should allow you to pick up your phone and start gaming immediately, without the need to page through multiple screens. This is a huge advantage of StarManager - a lot of the unnecessary steps and information have been taken out, or simplified, so you can just get on and game.
The game begins towards the end of the season with just a few matches left to play, and player profiles are simply rated from 1 to 10 - no endless player stats and performance information. If you don't want to get bogged down in, "Should we play 4-4-2?", or other gaming tactics, then you can use the hints button that will take care of this for you, or for the more experienced football gaming manager you can take control with these decisions too.
There are the usual options to make such as what league and team you want to play, and within that you can choose whichever players you like. Added together with realistic style commentary, StarManager is a nice little "pick up and play" football manager game for your mobile. Download for free.
Real Football: Manager Edition 2010
A big bonus for this Windows Mobile football manager game is that it is the most up to date offering on the market,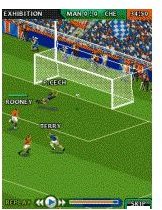 including transfers and player information from 2010. You have full control in Real Football Manager, with over 13 leagues, 200 teams, and 4,000 players at your disposal.
The graphics aren't bad for a mobile football game, and there are realistic crowd noises too to add to the atmosphere - although you can skip the actual game part, and move on to the final score if you wish. There are extras too, like regular news deliveries, with information on scout reports, upcoming fixtures, and transfers etc.
The only small downside is that because Real Football Manager doesn't have an official license, the team names are manufactured, but this doesn't detract from the play.
All in all it's a realistic feeling game that emulates console games on your mobile - and it's free to download.
Retro Football Manager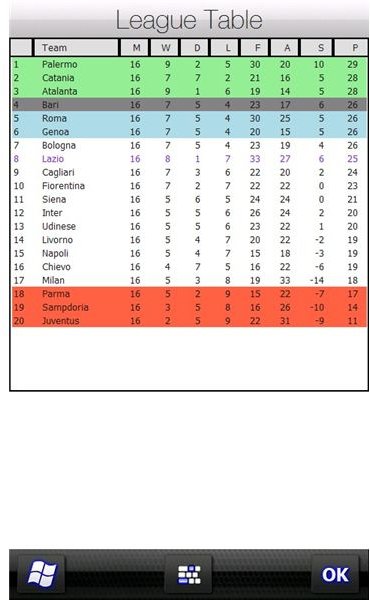 Definitely the simplest of the Windows Mobile football manager games, but a great game nonetheless, especially for retro gamers. The developer created this game after becoming nostalgic about the football manager games he and his friends used to enjoy on the old Commodore 64 console, and developed this game for Windows Mobile phones.
As you can see from the screenshot, it is not high in quality graphics, but that's not really the point. You have the basic controls that you need in a football manager game, with the must-have-ingredient - it's completely addictive. You can compete in league and cup competitions, and you can even be sacked as a manager, or offered a better job. So if you crave some nostalgia in a simple old school game format, this is the perfect choice for you. Download for free.
SoccerManager PPC 2009
For a Windows Mobile football manager game that leaves you in control of every single aspect of the game, then look no further than SoccerManager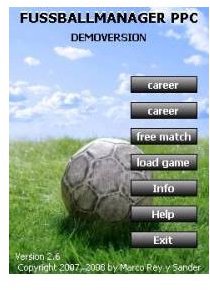 2009. It's a bit more like "The Sims" than a football manager game, as you have to build the stadium and decide on visitor attractions before you start. You can also adjust the price of tickets, and are in control of the club's budget. You are also responsible for the business end of player transfers and contract negotiations, as well as the usual football manager tasks like team selection. The emphasis is more on budgetary concerns than much to do with the actual football - if you go too far into the red it's game over. Maybe that is a fair reflection of the way football clubs are run now, but if you want a traditional football manager game, this isn't it. It is nonetheless an attractive and addictive game, though.
The full version costs $12.95 which considering the great free downloads we've looked at, you may not find an appealing option. However, there is a free demo version, you can download first.
Whatever your personal preferences when it comes to Windows Mobile football manager games, you are sure to have found your ideal match on this page - now it's time to kick off.