Where to Find Terraria Updates and How to Use Them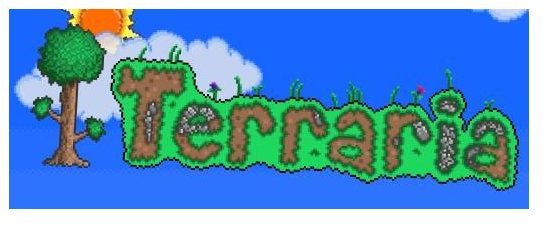 What Is Terraria?
Terraria is an adventure game with a very robust exploration and crafting system that takes cues from Minecraft and other such games. Inspired by the infamous Minecraft, but focused more on crafting, survival, and adventure, Terraria allows you to build your cahracter from the ground up. Forge weapons and armor as your progress, explore your world and dig tunnels to hidden areas. Fight monsters ranging from the lowly bats to the Eater of Worlds. Though really, the developers said it best:
Grab your tools and go! You can do many things in Terraria: make weapons and fight off a variety of enemies in numerous biomes, dig deep underground to find accessories, money, and other useful things, gather wood, stone, ores, and other resources to create everything you need to make the world your own and defend it. Build a house, a fort, even a castle, and people will move in to live there and perhaps even sell you different wares to assist you on your journey. But beware, there are even more challenges awaiting you… Are you up to the task? -Terraria.org
Sounds awesome! Where do I get it? Terraria is available now on Steam for a measly $10! Or, if you're feeling exceptionally generous, you can purchase the 4-pack! Four copies of the game for $30, the price of three. Keep one for yourself and get three friends playing with you, for half the price of a new high profile game.
Terraria Updates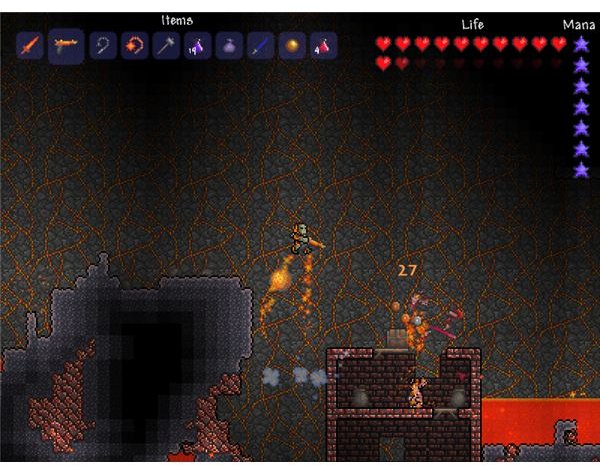 For those of you who have the game, you may be wondering where all this wonderful content comes from. Well, the answer is updates, of course! So how do you install, apply, or otherwise use the Terraria updates? Fortunately for you, the answer is simple! Automatically!
Because Terraria is a game distributed through Steam, you sould never have any trouble getting and applying updates, a far cry from how PC gaming used to be in the days of old. When you boot up Steam, often when you boot up your computer, the program will check the Steam servers for updates to your games. If such an update is found, Steam will automatically download and apply the update! No tedious prompts, no cautious installations, no wondering if this update breaks your save file. It's simple, it's clean, it's easy.
What comes in an update?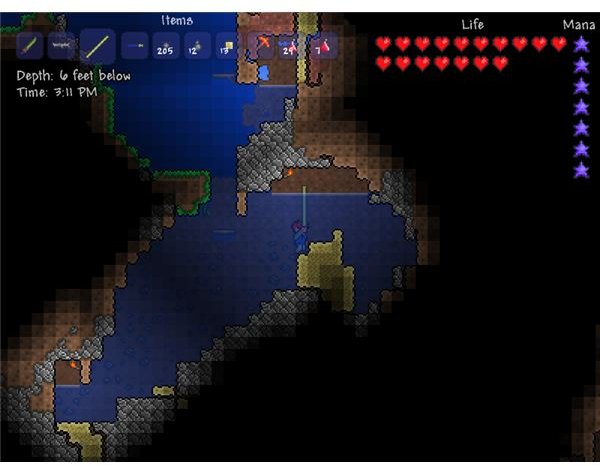 Tons of content, improvements, and tweaks to the game, that's what! The developers of Terraria are always listening to the community and are constantly improving the game, taking into account user feedback, bug reports, and a myriad of other information.
If you're having a problem with the game, updates, or otherwise anything making the game unplayable, be sure to check with the Terraria forums! This community is designed to help other players play the game, and any information you can provide about why the game doesn't function as it's supposed to will help the developers fix issues for the next update.
If you're curious to see what the developers are doing with their time, be sure to check out the Dev Blog. Here the developers publish teasers about upcoming updates, hints at new content, and discussions witht he community. It's a glimpse into the minds of the people who make such an awesome game. Be sure to give them a piece of your mind, be it positive or negative feedback; every little bit helps!
First Patch: 1.0.1
Previous Patches have come in five major iterations so far. While the change logs are far too long to post here,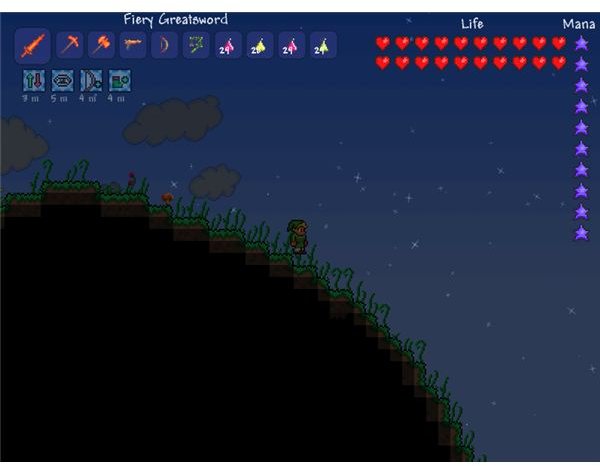 a sample of the content in them can be posted. If you were wondering what each patch might include, read on! Or, if you want detailed patch notes, click this link. It takes you directly to the Patch Notes forum.
Patch Notes Selections
Tweaks to items to make the function correctly
Developer-only items removed
Inventory controls made remappable
Spawning doesn't delete chests under spawn points
Graphical tweaks
Second Patch: 1.0.2
The second major patch came out not long after the game was released and does quite a bit to improve the game and fix the reported bugs.
Patch Notes Selections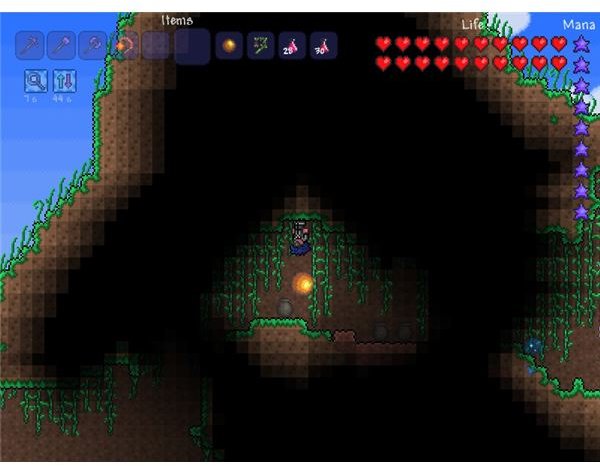 Added multi-crafting to craft multiple items at once
Added sticky bombs
Prevents the cases of spawning in deserts with no wood to use
Changed multiplayer port to 7777
Changes to mining functionality and sounds
Third Patch: 1.0.3
The third patch is the first real graphical update, making helmets especially look much better on your character.
Patch Notes Selections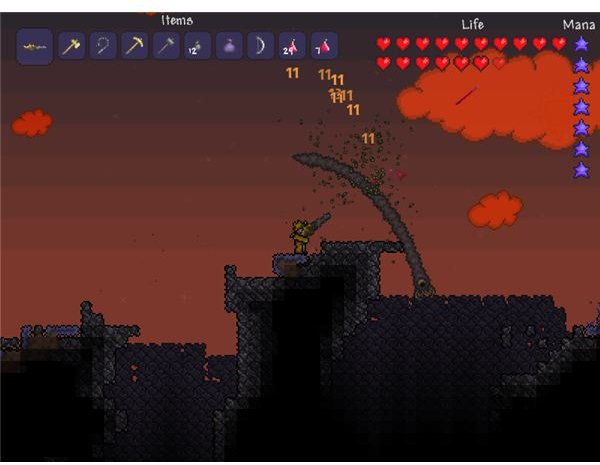 Graphic changes for certain helmets
Guide can now be killed
Trees can be corrupted and purified instead of destroyed when corrupted
Allows changes to multiplayer port for server hosts
Game window is resizable
Fourth Patch: 1.0.4
The fourth patch adds vanity items, among other things. Vanity items are a second set of inventory equipment slots that you can toggle, "social" equipment. It changes the look of your character while still retaining the stats of the primary set of equipment you're using.
Patch Notes Selections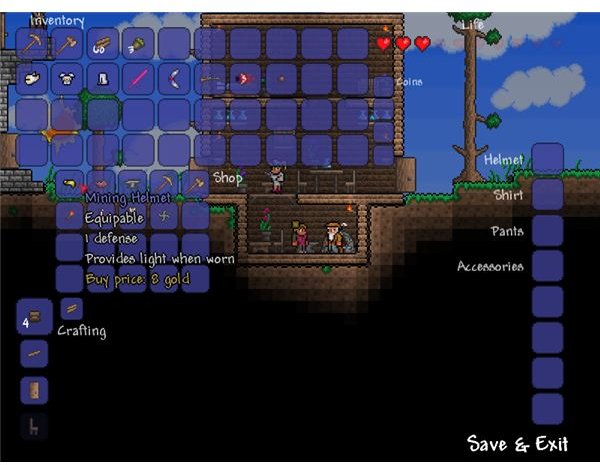 Vanity items added
New NPCs and enemies added
Increase multiplayer security
Improved server fucntionality to reduce lag
Added crash reporting
Fifth Patch: 1.0.5
The largest patch yet, this fifth patch adds an entirely new alchemy system, including potions to allow you to walk on ceilings of caves. It also addresses concerns that the Guide NPC is worthless and vastly increases his functionality.
Patch Notes Selections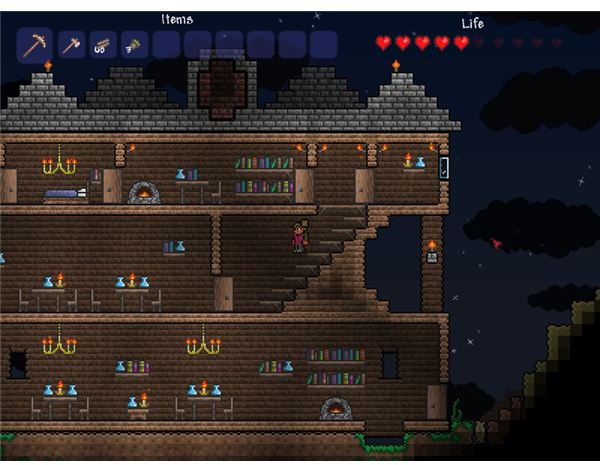 New enemies
Improved Guide NPC
Entirely new alchemy system
50+ new items
Tons of other exciting changes!
As you can see, the Terraria updates include all sorts of awesome content, bug fixes, and tweaks to make the game better with each iteration. For more detailed information click the link above, and view the patch notes directly.
Credits and Resources
Terraria basic information from Terraria Official Site and from User's Own Experience.
Patch Note information from the Terraria Patch Notes.
Game and Price information from Steam.
Images from Terraria Promotional screenshots and Dev Blog.