Retro Review: Rollercoaster Tycoon for Windows PC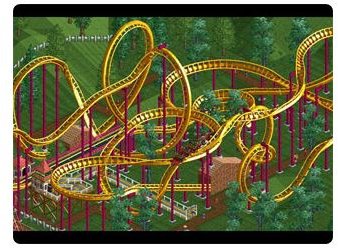 Ridin' High (4 out of 5)
Rollercoaster Tycoon is the first part of the three-part Tycoon series. The game is designed by Chris Sawyer who designed the popular DOS game, Transport Tycoon, in the early 90's. It comes under the Sim/Strategy genre. Unlike other strategy games which focus on building a city or an army, Rollercoaster Tycoon offers fun and excitement by allowing players to build their own theme parks and rollercoaster rides.
Gameplay (5 out of 5)
This PC simulation game implies more than just constructing rollercoaster rides and theme park. It is a combination of park management and innovative engineering along with sound business strategy. The objective is to develop a theme park that attracts more visitors due to its entertainment factor and increase profits. Gamers are presented a list of scenarios to select. Each scenario has a different objective and players have to complete it in order to unlock the next level. One can change landscapes, build paths, zoos, place amusement shops and build loads of rollercoaster rides in a particular level or scenario.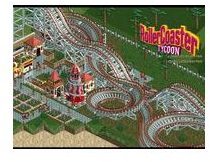 Rollercoaster Tycoon does not limit itself to just park-building, it also tests the managing abilities of gamers. Players can borrow loans to construct parks, set the price for amusement shops, pay off any previous debts and hire engineers to repair the park. One can also start advertising campaigns to attract more and more visitors.
Another great aspect of this game is the ability to customize and construct complex rollercoaster rides and test it. One can build rides from the classic wooden roller-coaster to the popular steel bobsleigh rides. Players can also customize and have their own version by creating steep drops, slopes and corkscrews. The most important aspect of the building process is to test it. The results are categorized in three: intensity, excitement and Nausea rating. It is recommended to build a ride that assures more excitement and less intensity.
Graphics (3 out of 5)
The graphics are a bit realistic but have a cartoony feel. The game is played from an isometric 3D view. Players can shift the ground into different angles. The animations are good and the framerate slowdowns may occur rarely. There are some options to change effects like changing views to see the underground and turning off supports.
Sound/Music (4 out of 5)
Expect typical carnival and circus songs from Rollercoaster Tycoon. It contains the basic entertainment music that most mini-games would play. However, you can hear the crowd and carnival music. The music is not repetitive and the sound effects are excellent.
Conclusion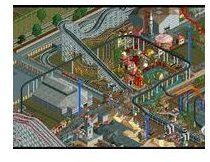 Rollercoaster Tycoon is a fun way to build a theme park in a 3rd person perspective. It certainly is an addictive simulation game which combines entertainment and strategy. However, some scenarios take time to complete and are not for those who lack patience and dedication. The game was released in the late 90's and can be played using a low-powered PC.
Screenshots: Atari.com
System Requirements
Operating System: Windows 95/98/2000/Me/XP
Processor: Intel Pentium Processor 90 MHz
Hard Drive Space: 180 MB
Video Card: 1MB SVGA Video Card
RAM: 16 MB
Direct X 5.0
Sound: 16 bit sound card